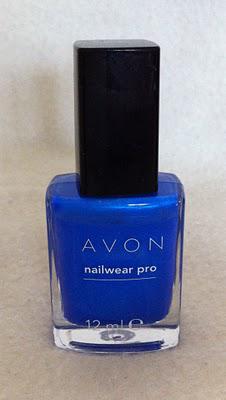 Avon Nailwear Pro in Blue Shock
What makes a good nail polish? I think a nail polish should be a good consistency making it easy to apply without having messy edges or polish dripping from the brush before it meets your nails. It should only take two coats or less to achieve a bold, even color and the results should not chip within the first day of wear. It should cost under £6.00, anything more seems a little too pricey. Finally it should produce the results it claims to, so if it says 'dries faster than you can say lying' or 'lasts for 30 days without chipping' then it should.
So how does Avon's Nailwear Pro Enamel stand up to Never Too Broke For Beauty's strict criteria for nail polish?  At £6.00 it ticks the box for affordable polish and often Avon have offers where they can be purchased for half price, which makes them a bargain. But a bargain is only a bargain if the product performs and this product does perform. The consistency is good and the brush is large enough that nails can be coated in two or three applications. The nail polish also has a super shiny finish and gives a good two to three days wear before the chips start to appear.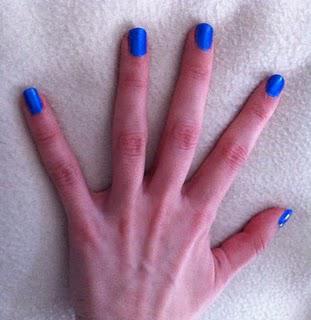 Avon Nailwear Pro Nail Polish in Blue Shock
For me, the downfall of Avon's Nailwear Pro is that it took at least three coats to get a solid color when I applied it in Blue Shock. Once the color is on it is very bright, shiny and has great impact. I'm always on the hunt for time saving products but if time isn't a factor this polish is definitely worth a try.
Avon Nailwear Pro Enamel ReviewProduct
: Long lasting nail polish from Avon
Longevity
:  Good two to three days wear
Affordable:
£6.00 and sometimes on offer for half price!
Easy to use:
  Good brush and good consistency makes it easy to apply.
Availability:
Avon online or a local Avon rep
The Verdict: 7/10 A long lasting and super shiny polish from Avon, takes a few applications though! 
Follow my blog with Bloglovin