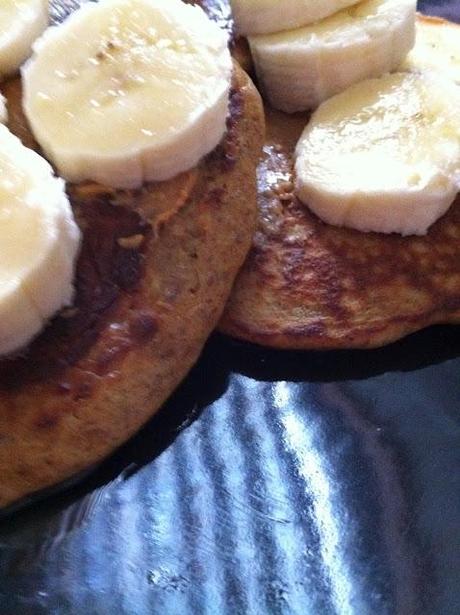 Happy Saturday!  I decided to make these for breakfast this morning(inspired to experiment by Carrots n' Cake!) 
 Protein Pancakes:-2 eggs-1 and 1/2 Tbsp. Vanilla Protein Powder-2 Tbsp. Ground Flax Meal-1/4 cup applesauce-1 Tbsp. creamy Peanut ButterMix well.  Heat pan to medium heat, cook until bubbles break in center(3 minutes or so) flip, and cook for 1 to 2 more minutes.(makes 3 cakes)  I spread a little more peanut butter on mine, sliced a banana and drizzled maple syrup.  YUM!
I was really craving coffee(again) this morning so I brewed some decaf and had a big cup with a little almond milk.  It was just what I needed with these tasty cakes.  It's really important for me to focus on the fact that this is a way of eating that I want to strive to keep.  While I may be more open to certain foods in the future, this basic way of eating works well for me.  Where I get into trouble is when I start telling myself "I can't" have certain foods, or I start to think of this as a "plan" I am on for now, and in 12 weeks - I can go back to how I was eating.  
1) I can NOT go back to the way I was eating, it was killing me emotionally, spiritually and physically.2) I can NOT feel overly deprived because I will feel like I am being cheated, and I will head straight to my old habits.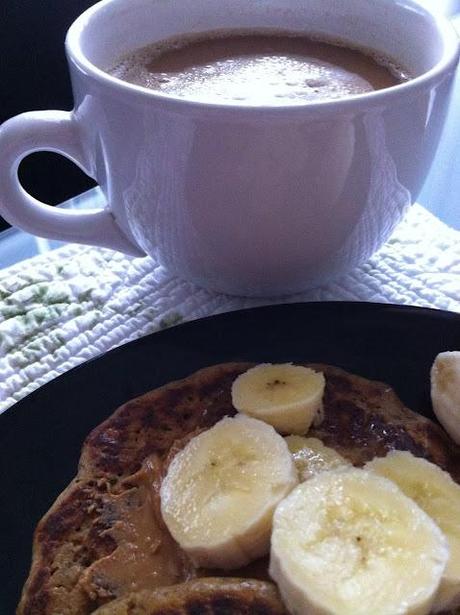 One of the problems I have with "diet" plans is that they assume that the one plan works for anyone.  I think that dismisses not only our individual biology, but our individual psychology as well.  We are often so busy comparing ourselves to one another; how we look, what we eat, where we work, what we wear, the house we live in, who we spend time with, etc. that we forget to really examine our own lives.  What works for me may not be what works for you, but perhaps parts of it will - and that's what keeps us connected.  What if we all focused on ourselves, and our own needs - and when we look at another person, we looked to see how we are similar instead of feeling the need to compare ourselves to them? 
One of my hardest lessons is to trust that I am good enough - right now, and that I am exactly where I am supposed to be.  It is a lesson I relearn often.  Cheers to our human connectedness, and the diversity that makes it all interesting!  Enjoy your Saturday.