AvoEatery Featuring Avocados From Mexico. America's avocado obsession is being served in new, innovative dishes in Dallas, Texas, as Avocados From Mexico, in partnership with Trinity Groves, just opened the world's first polished-casual restaurant focused entirely on avocados.
Featuring 29 avocado dishes, 10 avocado cocktails and a full bar, AvoEatery aims to drive innovation on menus nationwide.
Avocados From Mexico supplies 84 percent of the U.S. avocado market, and the brand has employed increasingly creative marketing techniques to both drive and satisfy consumer demand.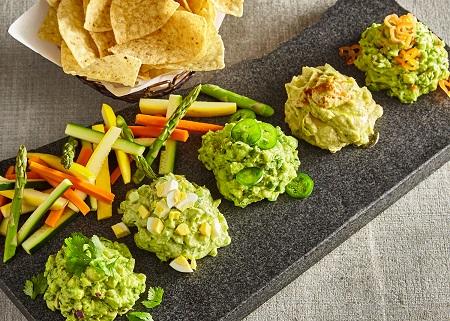 The new restaurant concept expands these efforts by serving as an avocado innovation incubator to test inventive avocado uses across the menu and use these learnings to validate consumer interest and share insights with restaurants coast-to-coast.
"With the opening of AvoEatery, we are moving beyond brand marketing to experiential marketing, where we will be able to inspire consumers with the versatility of this super-fruit while learning directly from those same consumers about what they crave," said Alvaro Luque, CEO of Avocados From Mexico.
"There's so much more than guacamole – you could come into AvoEatery every day for almost a whole month and try a new avocado dish each time!"
Culinary Driven Menu Drives Innovation
The culinary driven menu provides traditional avocado lovers with new twists on their old favorites, while the more avo-venturous eater can try avocado dishes they have never seen. There is something for everyone:
To start, a guacamole flight offering mild, medium, hot, hummus and egg guacamole options, plus six other mouthwatering appetizers
A suite of six different avocado toasts from a colorful caprese toast with mozzarella, heirloom tomatos and a balsamic glaze to a Labneh toast for a truly Mediterranean experience
Salads and bowls that put the avocado front and center with global flavors, like the Asian avocado shrimp salad that combines blackened shrimp with pickled avocados, vermicelli noodles and more enclosed by a fan of sliced avocado for a dish that is as stunning to see as it is delightful to devour
Differentiated entrées, like the spaghetti squash and zoodles with a grilled avocado half center plate for a tasty vegetarian option that will please every palate and a

New York

strip steak with avocado herb butter, fries and an avocado chimichurri side for a fresh take on a hearty steak dinner
For dessert, an avo chocolate mousse served up in an avocado-shaped chocolate cup, a chocolate avocado brownie a la mode with vanilla avocado ice cream, and avocado popsicles for those hot

Texas

summers