Modern cuisine has a tendency to overwhelm.  It's a highly complex and esoteric movement that attracts new ingredients, new techniques, and eccentric, ego-driven chefs who fancy themselves scientists.  The vast majority of human beings – myself included – are dumbfounded by the ability of these chefs to transform perfectly ordinary ingredients into such abstract, almost extraterrestrial forms.
Haute cuisine is so dissected and deconstructed these days, so removed from reality.  If you don't believe me just walk into molecular gastronomist Wylie Dufresne's wd-50 and order an omelette.  You'll probably get something foamy in a martini glass.
This is a stereotype, of course.  And although most stereotypes are rooted in a seed of truth, not all modern cuisine is as stuffy and pretentious as the critics make it out to be.  A number of those eccentric, ego-driven chefs I so graciously described above haven't lost touch with reality – at least not yet.  They pride themselves on their ability to simplify traditional cuisine with modern techniques.  So what may seem like an overly-complicated, alien dish is actually a profound attempt at gastronomic truth.
Take Copenhagen's noma, for example.  Danish chef René Redzepi opened the restaurant in 2004 to apply his rigorous training (see: El Buli, the French Laundry) to Nordic cuisine.  His cuisine.  The name is derived from the Danish words "nordisk" (Nordic) and "mad" (food).  The restaurant's website is a clear testament to Redzepi's vision of a return to clean, simple food – lowercase lettering, lots of white space, and a quote Thoreau would have been proud of.

The menu echoes Redzepi's simple yet bold approach to Nordic cuisine, with dishes named "Dried scallops with beech nuts" and "Biodynamic greens and watercress."  Twenty of them, in fact, for each and every patron that manages to reserve a seat for just north of $300.  A small price to pay for the best restaurant in the world.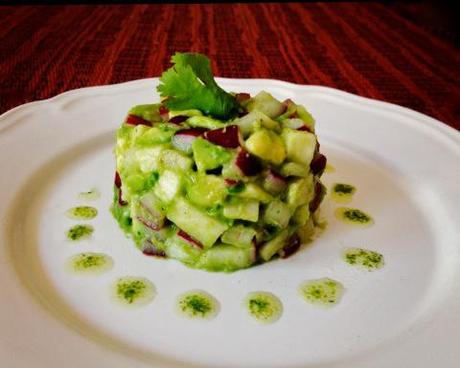 Today's recipe is a tribute to noma's decorated simplicity.  Redzepi's minimalist approach to modern cuisine screams back to nature, despite the irony that his revenue and accolades might suggest.  It inspired me to reinvent the meaning of tartare, a preparation of finely chopped raw meat with various sauces and seasonings.  Most restaurants do beef or tuna.  I chose avocado, due to its seasonality and its lack of animal products (see: reinvent).  Tossed with a few other Mexican ingredients (cilantro, lime, serrano chili, jicama) to celebrate the beautiful flavors of the Latin south.  I thought about taking a page from noma's book with the words "comida" and "mexicana," but then realized would result in a coma.  Oh well.
Ingredients (for 2):
2 avocados, diced
1/2 red onion, diced
1/2 cup diced jicama
1 serrano chili, minced
1 lime
sea salt
3 tbsp cilantro oil (see below)
1 cup safflower oil
1 cup cilantro leaves
2 green onions
1 garlic clove
For the cilantro oil:  Place safflower oil, cilantro, green onions, and garlic in a blender or food processor.  Process until smooth.
For the tartare:  Combine avocado, onion, jicama, and serrano chile in a large bowl.  Toss with lime juice, sea salt, and cilantro oil.  Pack into 2 ramekins or round glasses.  Place ramekins face-down over a plate and tap with a knife or spoon to release the mixture.  Remove with care.  Finish with more sea salt and cilantro oil, a tu gusto (to taste).