So summer is basically over! I always know once the pumpkin spiced latte shows up while I'm on my yearly post-labor day family vacation that the long days of summer are about 3 seconds from being gone, until next year. 
Max and I have been back in Sausalito for 3 days and we're in a major heat wave. Summer, you're not leaving us yet!!! It was 95 degrees yesterday at his grandma's house in Benicia. Did you know Max and I are trying to buy a house??? We are, hopefully in Benicia but we're realizing we will probably end up in Vallejo. It's been an emotional roller coaster. I don't think buying houses are for the weak. I'm definitely weak when it comes to buying houses.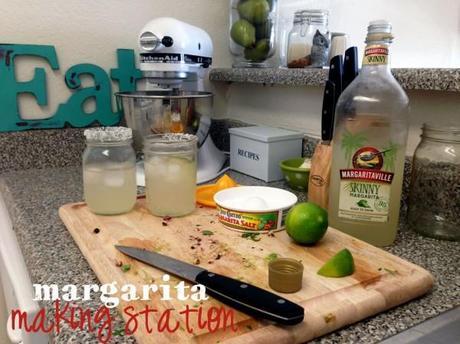 Anyways it's been hot, like HOT! Max and I are super frustrated with our latest house buying attempt and I decided I simply had to have a margarita before I go back to work tomorrow, which only meant one thing… MEXICAN FOOD FOR DINNER!
(side note: I'm always a fan of the 'skinny' version of pre-made margaritas and it has nothing to do with calories! I don't like super sweet cocktails and pre-made marg's are about 2 seconds away from being adult candy.)
I did have some inspiration from Jenna on this recipe, but mine is kinda different so I'm going to post it.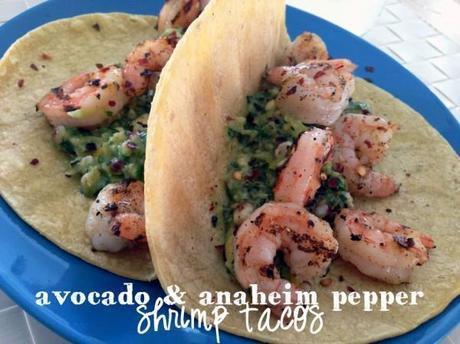 Max is (literally right now) eating the avocado & pepper salsa with his fingers chips…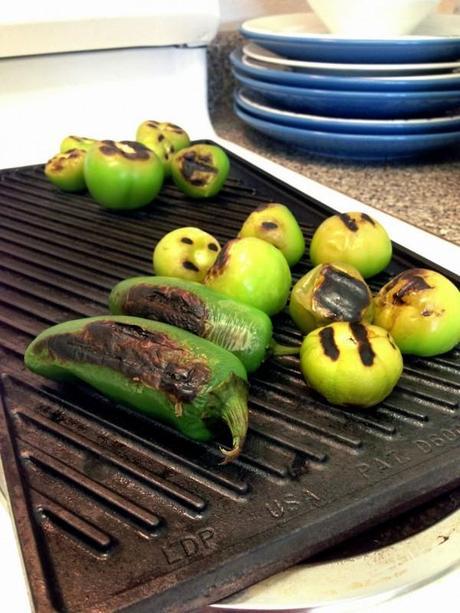 I also made my favorite Food Processor Salsa for munching.
Roasted Tomatillo Spicy Salsa 2013-09-08 21:00:01 a really quick and easy salsa that will wow your friends Write a review Save Recipe Print Prep Time 20 min Total Time 20 hr 30 min Prep Time 20 min Total Time 20 hr 30 min Ingredients 1 pound tomatillos, husks removed 2 jalapenos the juice of 1 lime 2 tsp green chili hot sauce salt and pepper to taste 1 bunch cilantro Instructions Heat up your grill. Place the husked tomatillos and the whole jalapenos on the grill and let sit, turning every few minutes until the jalapeno skin is charred and bubbly and the tomatillos are charred and a yellowy green color. The tomatillos should also be squishy. Place the leaves and small stems of the cillantro in the food processor, top with the lime juice, green chili hot sauce, a little salt and pepper and the charred tomatillos and jalapenos. (Don't forget to remove the jalapeno stems) Food process until desired consistency. I like mine mostly smooth with tiny chunks. Chill in the freezer for 30 minutes or in the refrigerator for 3+ hours and serve with salsa. Notes Don't forget your salsa in the freezer!!! Just set a timer or things get funky! Nothing worse than realizing too late and having salsa ice cubes. Adapted from Jenna at Eat Live Run Adapted from Jenna at Eat Live Run Marens Morsels http://marensmorsels.com/blog/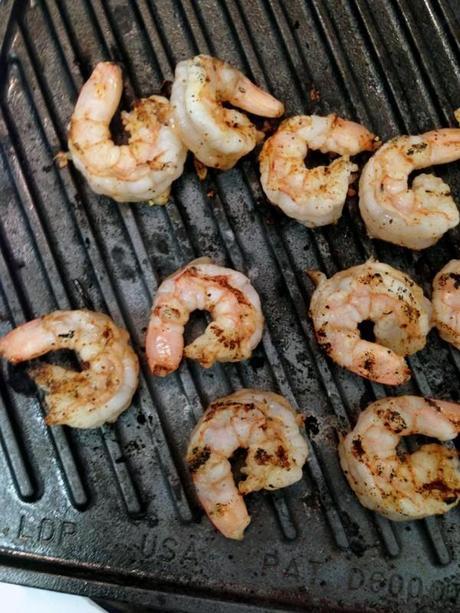 I love grilling but Max and I live in an apartment so we can't have a BBQ. I found this cast iron grill at TJ MAXX for under $30. It's my favorite accessory and I can always grill but still follow the rules. :)
Okay now for the good stuff…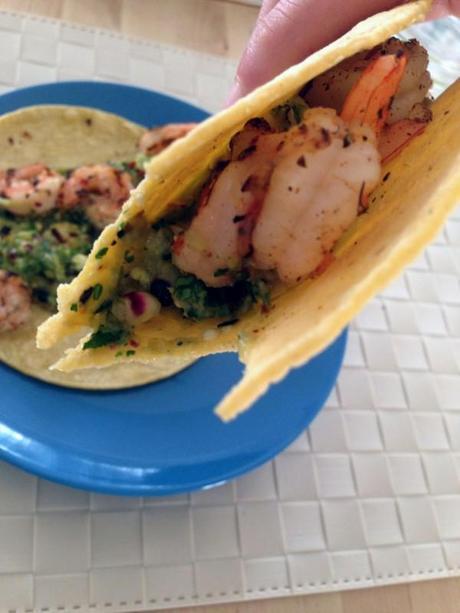 Tacos!!!!!!!
Avocado & Anaheim Pepper Shrimp Tacos 2013-09-08 21:09:35 Serves 2 holy delicious shrimp tacos with tons of healthy fats! Write a review Save Recipe Print Prep Time 20 min Total Time 30 min Prep Time 20 min Total Time 30 min Ingredients 2 large anaheim peppers 1 large avocado 1 bunch cilantro 1 lime salt and pepper, to taste 2 large handfuls grape tomatoes 6 scallions 1 ear corn garlic powder 1 pound raw shrimp, tails removed corn tortillas Instructions Heat up your grill. Grill the scallions, corn, and peppers until they are nice and charred on the outside. I'd say about 4 minutes per side. I had to do my peppers and corn longer, but you'll know when they're done. In a food processor cut the leafy ends of the cilantro stalks and put them in a food processor, add the whole grape tomatoes, the juice of half the lime, a little salt and pepper, garlic powder, the charred scallions, peppers (stems removed), and the avocado meat. Pulse the food processor until everything is combined and large chunks remain. Transfer the salsa to a bowl. Using a sharp serrated knife, cut the corn off the cob and fold into salsa. Taste and add salt, pepper, or lime if it needs it. Place the shrimp on the grill. They will cook quickly so pay attention! Turn the shrimp after 2-3 minutes (they should be pink) let cook another 2-3 minutes and remove. Make your tacos, top with a little lime and red pepper flakes (if you feel spicy). Enjoy. By Maren Adapted from Jenna: Eat Live Run Adapted from Jenna: Eat Live Run Marens Morsels http://marensmorsels.com/blog/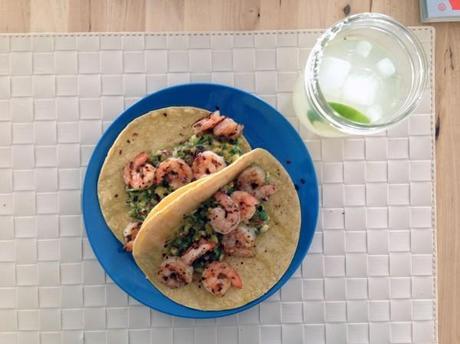 Enjoy with a margarita… just a suggestion. :D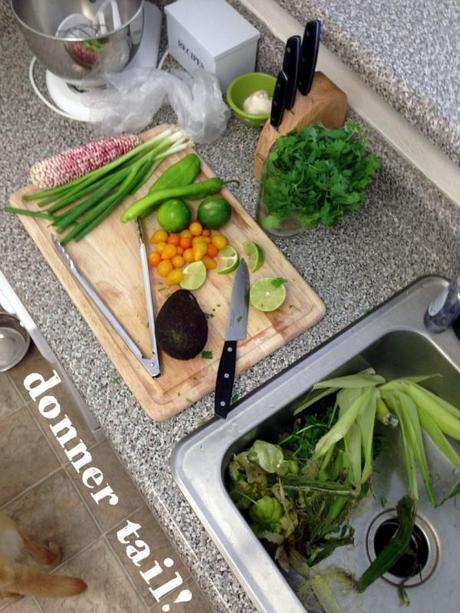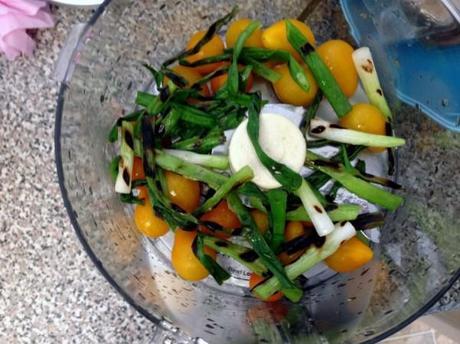 the food processor is what makes this recipe easy and quick! But you don't have to have one. You can always slice up the tomatoes, scallions, peppers and mash the avocado in. No one will ever know the difference.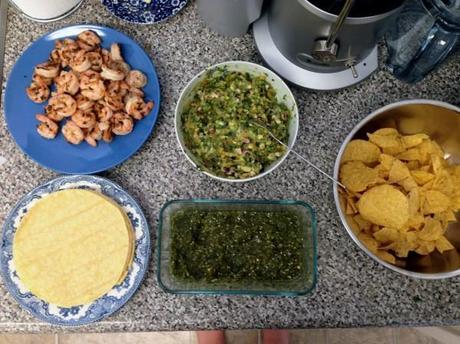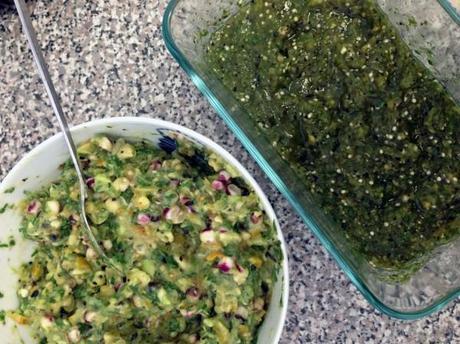 Salsa duo!!!
I did a small amount of seasoning on the shrimp but it's definitely not going to make or break the dish. After I thawed my shrimp (they were the frozen kind) I removed all the tails by hand. Then I sprinkled a little chili powder and black pepper over the top.