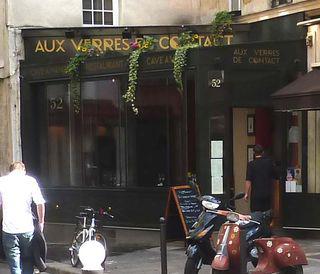 5.5 Aux Verres de Contact, 33, rue de Bievre (Mitterand's street) in the 5th, (in the old Vartan space, which with La Bievre, he used to frequent, if memory serves me correctly), 01.46.34.58.02, closed Sundays (Metro: Maubert-Mutualite) is the second by the Jadis gang and was where I had a reservation for June 25th when electricity was lost on the street.  So, back today we go.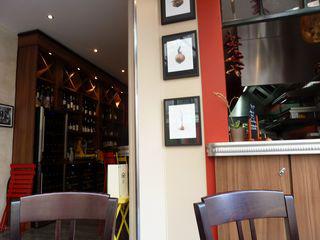 It has an open kitchen and impressive wine bin as well as a back room with primary colored chairs, etc.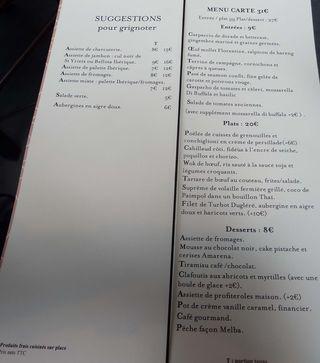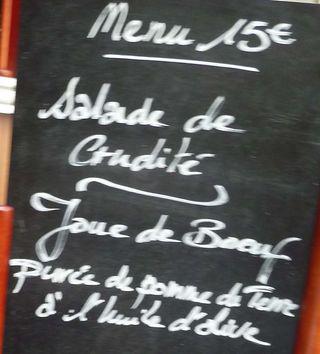 Originally I read the Verres as just wine but then realized it was a real restaurant too with a full carte, tapas as well as a 15 E 2-course lunch "menu" which I almost had, the plates of which I saw go by were very appealing.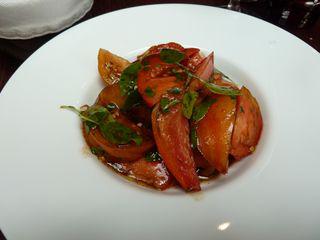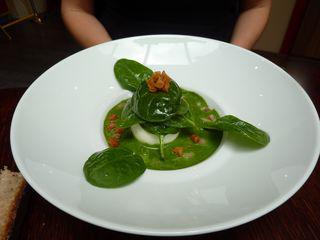 I went for the delicious heirloom tomatoes with basil and Balsamic and my guest had the oeuf moellet with spinach and what I thought was spinach essence but on reflection was a salpicon of smoked herring (which I couldn't taste).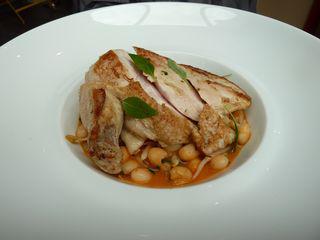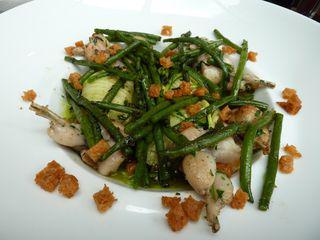 Then she had the chicken with cocos de Paimpol (white beans) and Thai sauce (that I couldn't taste either) and I had frogs' legs (whose taste once again eluded me) with haricots verts and pasta shells and a cream of parsley sauce.

Finally we had a most tasty and tasted chocolate mousse.
Our bill, with 50 cl of a Domaine de l'Ancienne Mercerie from Languedoc Roussillon, 50 cl of their house made water, a 6 E supplement for the frogs' legs, wonderful warm bread and two Illy coffees was 92 E.
Go?  Despite the elusivity of tastes of the sauces, I'd say so.