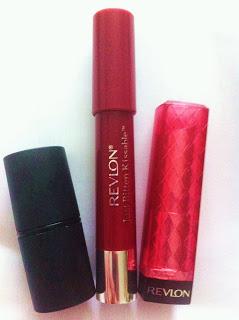 Hello lovely people

!

Hope we are all excited for the September Weekend

!
Today I am going to show you the lipsticks/stains I have been loving for the start of the A/W season. Above I have Sleek's True Colour Lipstick in Smother, Revlon Just Bitten Kissable Balm Stain in Crush and Revlon's Lip Butter in Raspberry Pie.
I am a berry lip "fan" during these seasons and the lip colours I have above are ones I wear daily. I have chosen three different textures, to give you a selection to suit different preferences. 
Sleek is one brand I have fallen in love with over the last few months. Smother is a deep berry shade, with a sheen finish. I love Sleek's lipsticks, although I tend to need a gloss seal to provide lasting power. This lipstick is perfect if you are going for a "vamp" lip look and are confident to wear a bold lip.
Revlon's Just Bitten Kissable Balm-stain's have a love/hate relationship with me. I love the minty taste and the smooth application of this product, the lasting power is also excellent. This product is similar to Carmex Original in the taste and feeling on your lips and has a beautiful color. I recommend this product to anyone who would like a long lasting product with a vibrant pop of color.
Raspberry Pie is my favorite of the Revlon Lip Butters, along with Cr
è
me Brulee. I love the color of this lip butter and the moisturising texture. I am hugely disappointed in the lasting power of this product, like the Maybelline Babylips I feel I have to re-apply a few times throughout the day. This product has more of a deep pink colour, compared with the purple shades of the others. I recommend this product if you have time to reapply it during the day and prefer the pink undertones this product gives.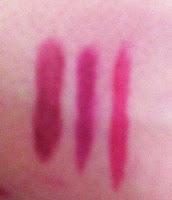 Swatches L to R: Revlon- Crush, Sleek Smother & Revlon's Raspberry Pie.
Thanks for reading!

x