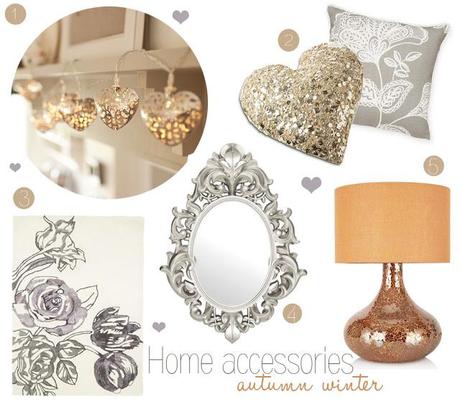 1 / 2 / 3 / 4 / 5
My favorite kind of shopping is definitely home decor! I could literally spend hours and hours online browsing through it all, making up wish lists and finding fab bargains! Making the collage above actually took me over an hour because I got caught up in browsing....oops! I've made up a list of my favorite accessories, above and below, let me know what you think!
Scatter Cushions
I'm addicted to them! Seriously, we currently have 8 on our bed, all for decoration, but they just seem to make it look so much more comfortable and snuggly! The great thing about them is that you can mix and match colours, designs and shapes, the less they are all matchy matchy, the better reaaly, go for a few fluffy ones, some silk ones, a funky heart shape and add a thick throw over your bed too for that extra touch, perfect for winter & for babies to hide behind... :)
Fairy lights/Candles
Probably my favorite accessories, they just really add that finishing touch to any room, I prefer to get battery ones so there are less wires hanging around, especially with a toddler running around, she tends to grab everything she's not meant to have! We have some pretty rose fairy lights in Abbie's room, as soon as I put them up the whole feel of the room changed! There are lots of halloween and Christmas styles out at the moment, from jack o lanterns to glistening stars, christmas trees to hearts, plus you really don't have to spend loads of money either! The same goes for Candles, they make your home smell so inviting and yummy, I've recently ordered some from a little local business so look out for a future post about those! :). Again, I love 
battery candles too, 
firstly they are safer with having a toddler around, especially led ones as they are cool to the touch, they can be used as night lights, setting the theme to tell a super spooky halloween story or just creating a toasty warm atmosphere for entertaining in your winter home!
Plants
Whether they're real or not, they will add a splash of color to your room, from pretty orchids to ponytail plants (are you impressed with my plant knowledge? Not just a mommy eh!) Ha. Bringing some nature indoors really makes your home feel more natural and welcoming! In the summer we had hanging baskets outside our front door, granted we forgot to water them but they still looked nice! Ha. If you have a toddler it's a great way to even grow your own together, get some seeds, a few pots and soil and get planting, line them up on the fireplace and get them to water them every day, a great way to get them involved :)

What is your favorite home accessory?

I've recently been loving the vintage style bird cages, we have a local market once a month full of shabby chic bits and bobs and I'm so tempted to buy one of them, if it wasn't for the  hefty price tag they put down I wouldn't think twice..One last month  was marked at £50....I think i''d much rather try and do up my own! Lol :). Oh and I am IN LOVE with the French styled furniture, the gorgeous designs and swirly patterns along with the natural rustic look and somewhat girly feel, I have fallen deeply in love! Maybe Santa will be nice and generous this year! :) 

x