Welcome to another book promo/ author spotlight  on Lipsyy Lost & Found.
Today I'm spotlighting a renowned author of Science Fiction who is currently re-releasing not one, but nine classic titles – some for the first time in ten years!
Sci-Fi fans who may have missed John E. Stith's work the first time round are bound to love his unique take on the genre – well-researched, 'hard' science  fiction which sticks closely to the laws of science and have been praised by Science Fiction Chronicle for being 'full of wondrous situations and and marvelous discoveries'. 
Three of his chosen novels, Deep Quarry, Manhattan Transfer and Reunion on Neverend (details below) have already been re-released so far this year, with one more, Redshift Rendevouz due exactly a week today (check back here next week for more info!).
The fourth book to be re-released, Memory Blank, will be with us in December with a further three titles expected next year.
Deep Quarry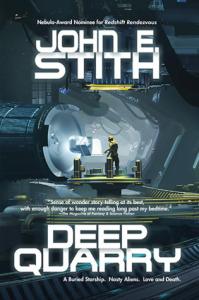 July 1st 2016
ReAnimus Press
160 pages
Ben Takent is a private eye on a hot, dusty world at the edge of the civilized galaxy. When he's asked to find out who is stealing artifacts from a 10,000-year-old archaeological dig in the desert, he reluctantly takes the case.
Then, when it becomes clear that the artifacts are pointing to an ancient alien spacecraft, the stakes in the case go up—way up.
"Bright and breezy, flip and fast"   — Analog
Manhattan Transfer
August 1st 2016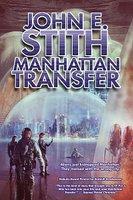 ReAnimus Press
326 Pages
When aliens abduct New York City, carrying it into space inside a huge dome, the citizens trapped inside must find out why and what they can do to save themselves and dozens of other cities which aliens have stolen from other planets.
 A stunning tour-de-force of science fiction and storytelling with gripping action, believable characters and a plot that will keep you on the edge of your seat!
One of the better surprise endings to come down the cosmos in light-years." — Chicago Tribune
Reunion on Neverend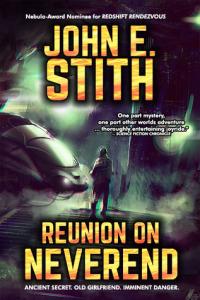 October 1st 2016
ReAnimus Press
320 pages
Lan has come home to a high-school reunion in the underground colony of Neverend, at the edge of humanity's reach. An ancient secret waits there, one involving instantaneous access to far-flung planets.
Also in Neverend is his high-school sweetheart, Tessa, who is in the way of people who have stumbled onto this ancient technology and plan to use it for their own purposes.
Fortunately for her, Lan is no longer the boy he used to be. And fortunately for Lan, Tessa is no longer the girl she used to be.
"One part mystery, one part other worlds adventure… thoroughly entertaining joyride."  —  Science Fiction Chronicle
Meet the Author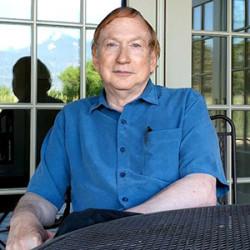 Science fiction and mystery author John E. Stith writes across many worlds. His books have been translated to French, German, Italian, Japanese, Portuguese and Russian and are even available in braille for the sight-impaired.  His stories have been categorized as "Hard science fiction," a label given to those stories thoroughly researched to play fair with the rules of science; something any die-hard SciFi fan can appreciate.
Stith holds a B.A. in physics from the University of Minnesota, has served as an Air Force Officer, where he worked at NORAD Cheyenne Mountain Complex. The passion for science runs in his family, as his father George worked at the White Sands Missile Range on such projects like the rocket sled
He has appeared on a live nationwide PBS broadcast or Science-Fiction Science-Fact (SF2) and his work has also been sold to film and television. His novel Reckoning Infinity was chosen as one of Science Fiction Chronicle's Best Science Fiction Novels,  Redshift Rendezvous was picked as a Nebula Award nominee and Manhattan Transfer received an honorable mention from the Hugo Awards and a nomination from the Seiun Award in Japan.
Stith is a member of Science-Fiction and Fantasy Writers of America (SFWA), Mystery Writers of America (MWA), Writers Guild of America (WGA), International Thriller Writers, Rocky Mountain Fiction Writers (RMFW), Colorado Author's League and Mensa.  He currently lives in Colorado Springs.
If you want to know more about John and his work, come back next week for a spotlight on the next re-release and a Q&A. 
Many thanks to the author/publisher and Sami @ Roger Charlie