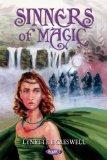 You are stranded on a desert island, which one of your characters would you want to be stranded with and why?
Hmm, that is not an easy question as most of my characters would be useful in one way or another on a desert Island. However, I think I would have to go with the powerful magician Bridgemear. He is strong and brave and can obviously cast spells so plenty of food and water would always be at his finertips. He would, I'm sure, also work out how to get us off the Island whether it be by using magic or not. I have kind of visualised him to look a little like Thor and in my movie rendition I have chosen Christopher Hemsworth to play the role so I wouldn't be in too much of a rush to get back to reality!
Your character has died and gone to…
Now you're trying to upset me! lol Bridgemear would be met by one of his imperial forefathers and he would say … 'Bridgemear you're supposed to be alive for at least another couple of hundred years and who's going to look after your daughter now and keep her out of trouble!'
If you could live anywhere in the world where would it be and why?
I would never live anywhere else except my own Island of Great Britain. Although it isn't the warmest of places this is indeed my home. I love the people, the bond of close family life and the gift of belonging. Yes, the UK is where I will always live and I believe it is the most beautiful place in the world on a warm summer's day.
Where do you get ideas for your stories?
My ideas come from various sources. I like to go to museums or look at paintings. I love to read and this is indeed the best place to get inspiration as other peoples work can ignite fresh ideas inside your own mind. I also get ideas from the dictionary! I look at a certain word say for example 'frugal' and immediately I can conjure a man who is mean spirited and known to be a villain, yes my imagination is already running away with me!
What was the hardest scene/chapter/section to write from one of your stories?
I think the hardest scene for me was the very beginning. I had so much I wanted to say that my prologue ended up being a little book in itself. I know this is not the way you're suppose to write but then again if you conform to what everyone else tells you to do then how does your writing stay unique? I pondered over this point for far too long and my book took two years longer to publish because of it. Simply listen to your heart and not other people when it comes to your own work.
What do you enjoy most about writing?
Everything! I love creating something no one else has! The excitement of building new and engaging characters that will steal readers hearts and imaginations just blows me away. Writing is such an amazing tool. You can make people laugh by your words or break their hearts. I don't think I could live if I couldn't write. It soothes me, enchants me and takes me away to somewhere else where reality doesn't exist – it's simply marvellous!
In your writing where do you see yourself ten years from now?
I see myself with a considerable amount of books under my belt by then. I am currently working on my third novel Defenders of Magic and my second Novel Betrayers of Magic has only recently been released on kindle. I am hoping to have my paperbacks out by the end of April beginning of May. I hope in ten years time to be a full-time writer with workshops or some kind of online website to help and encourage new writers who have only recently picked up the pen and who need a little encouragement and support.
A character of yours is on the TV show The Taste…
I think this would be down to Princess Amella. She is the daughter of the Elf King Gamada. Amella isn't a bad cook considering she is a princess and there is a dish she cooks which has Feefalas in it which is a wild bird native only to the Kingdom of Nine Winters. The meat tastes a little like roast duck and she will cook it with herbs and spices that will be so tasty she will knock them dead with her culinary skills. I think therefore she would receive a very impressive score fit for a princess.
What is your favorite genre and why?
My favourite book is called 'Lady of Hay' by Barbara Erskine. I love this story because she is able to bring present day life alongside the past and she does it in such a way that you become spellbound with the characters. It is a great story about a woman who gets regressed and finds herself going back to the days of King John. The plot then thickens by the people in her life being seemingly reincarnated by those who were at King John's side at the time of his reign. This book is an excellent piece of work which is thoroughly enjoyable.
Who would enjoy reading your stories and why?
I have tried to write a book which could be enjoyed by all ages. I wanted anyone to be able to pick up the book and read it. I would say readers from the age on 14 years would enjoy my story which has many twists and turns to keep the reader on their toes. I have 29 reviews in the UK from all age's right up to seventy four. If you love reading stories which are filled with excitement, breathtaking adventure and startling surprises then Sinners of Magic is just for you!
Sinners of Magic book blurb:
Crystal is no ordinary sixteen year old girl. Ever since she was a small child she's been able to sense things, feel when danger approaches and now she's gone one step further and saved a boy's life by summoning a supernatural being.
Little does she know it but her natural parents are powerful immortals. Secret lovers in a magical land where procreation outside of their own realms is forbidden, the Elders punish Amella and Bridgemear by banishing their new born child to the world of mere mortals.
Years have passed and dark times have descended upon the Elf Realm. Crystal is visited by a shape-changer and tricked into believing if she returns to the Kingdom of Nine Winters, she will find the answers regarding her newly revealed birth right.
Soon she is caught up in dangers greater than anything she could have ever imagined while those who fight at her side, battle to protect her from a wicked sorcerer gone insane and one who is willing to take her to the very edge of destruction…
Author bio:
Lynette, the author of the new novel 'Sinners of Magic' was born in London, but was raised in Burnley, Lancashire. After writing several short stories for children, Lynette decided to write something a little more substantial and so 'Sinners of Magic' was born. Her love of fantasy stemmed from books from her childhood such as Enid Blyton's Faraway Tree and The Wishing Chair Again. The Harry Potter films gave her great inspiration.
'Sinners of Magic' is a wonderful fantasy story, filled with wicked witches and powerful magician's and the book is deemed a cross between Harry Potter and Lord of the Rings. The age range for this novel is roughly 12+ and if you would like to contact Lynette about 'Sinners of Magic' please use the email provided as she would love to hear from you: [email protected]
Connect with the author:
FACEBOOK
LYNETTEE CRESWELL