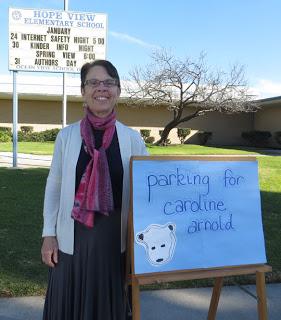 Arriving for Author Day at Hope View School, Huntington Beach, CA
Almost every year for the past thirty years I have participated in the Huntington Beach Author Festival, a day that includes a school visit during the day and then a celebration at the Central Library, where children and their parents come to meet the authors, buy books, and to receive awards. Many authors participate, going out to schools throughout the community.  For the authors, the afternoon library reception is a chance to meet students and their families, catch up on news with one another, and to renew friendships from previous years.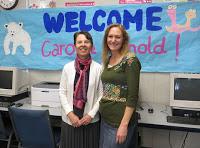 At Hope View School with Jenni Bielecki, Parent Volunteer
This year I was one of three authors visiting Hope View Elementary School in the Ocean View School District.  I spoke to four groups of very enthusiastic second and third graders.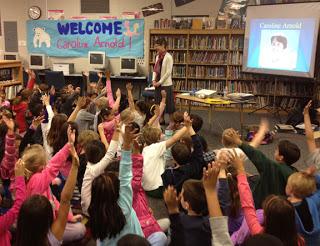 Presenting in the Hope View School Library
Most of them had had a chance to read some of my books in the library and some of them had even looked me up on the internet.  I am always pleased when the children are prepared for my visit because it means that they get so much more out of my presentation. I thank all the teachers and staff who helped prepare the students and the wonderful PTA parents who helped organize the day, providing a delicious lunch and helping with the book sale.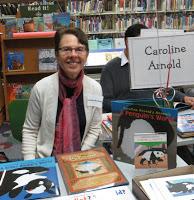 Signing books at the Huntington Beach Library
I also thank Gail Page and her amazing hard working volunteers at the Friends of the Children's Library in Huntington Beach for all the work they do to put on the Author Festival and to keep it going all these years.  There used to be many author festivals.  This is one of the few that still exist. The children of Huntington Beach are lucky to have such good support for books and reading.