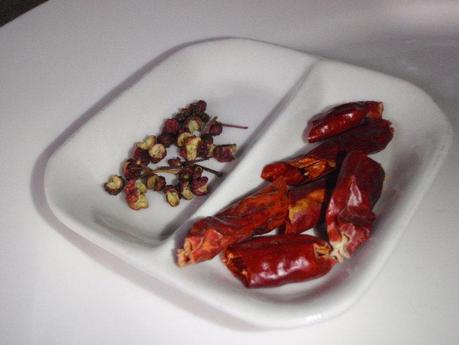 One of my not-so-secret travel obsessions is taking cooking classes in new cultures.  Discovering new cuisines and the proper way to make them is something that I find absolutely fascinating, and is likely one of the few tourism jobs I would be interested in pursuing sometime in the future. 
While spending a month in China, I did not shy away from taking a cooking class to learn one of the country's most important cooking styles:
Sichuan
.  I came back with recipes for the tasty dishes Mopo Tofu and Hui Guo Rou (Twice Cooked Pork)
Sichuan style cuisine is unlike any other in China as spiciness plays a large roll in most dishes.   To balance with the added heat, Sichuan cooking uses an interesting pepper known as
Sichuan Peppercorn
which produces a slight numbing sensation on the tongue when consumed.  Add more peppercorn and your tolerance to heat goes up to new levels.  Needless to say by the time I left Chengdu, my mouth was feeling the effects quite readily.
Mopo Tofu
I will be the first to admit that I never had an interest in tofu based dishes.  There is something about the texture and complete lack of flavor that makes tofu get a resounding 'meh.'   Somehow the Sichuan dish Mopo Tofu has lifted my inability to consume the item as the spicy sauce adds the incredible flavor that the bland ingredient is often lacking.   I like the sauce on this recipe so much that I think it could be used for a number of other meat based dishes which we will be trying out on our sister site,
The International Food Project
, in the future.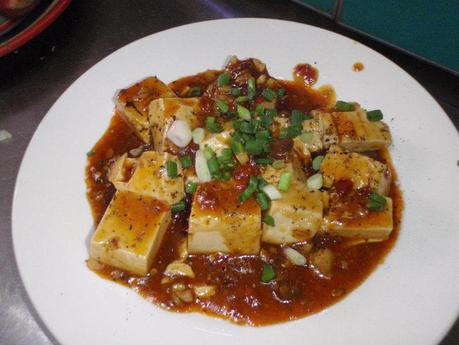 Ingredients
Tofu
Spring Onion
Garlic
Ginger
Bean Paste (Dry variety - Pi Xian Dou Bon)
Cooking Alcohol (Liao Jiu)
Soy Sauce (dark)
Sichuan Pepper Oil (oil + sichuan pepper or red chili pepper)
Sugar
Salt
MSG
Corn Starch
Sichuan Pepper Powder (Hua Jia Man)
Directions
Cut a 2" by 2" cube of tofu into quarter inch (1/4") squares
Chop 1 large garlic clove and one quarter inch (1/4") square of ginger
Heat 1 large ladle of oil in a wok
Add garlic and ginger, stirring quickly
Add 1/2 to 1 tablespoon of bean paste, stirring quickly
Add 1 tablespoon of cooking alcohol
Add 2 to 3 ladles of water depending on the amount of tofu used
Add tablespoon soy sauce
Add 1-2 teaspoons of red chili pepper oil (spicy)
Add half teaspoon of sugar, 1/4 tsp salt, 1/4 tsp MSG as desired
Add tofu, stir two minutes
Add 1-2 tablespoons of cornstarch+water to thicken as needed
Serve topped with sichuan pepper powder (sprinkled) and spring onion on top.
Hui Guo Rou (Twice Cooked Pork)
The second dish we made in the cooking class in Chengdu was Hui Guo Rou (Twice Cooked Pork).  Much like the previous dish of Mopo Tofu, the Twice Cooked Pork came packed with an amazing balance of flavor and less heat.  My only complaint with this dish was the excessive topping of garlic shoots that was used on top, which took away from the base ingredient of pork.  You could remove the vegetables entirely from this and still make me happy.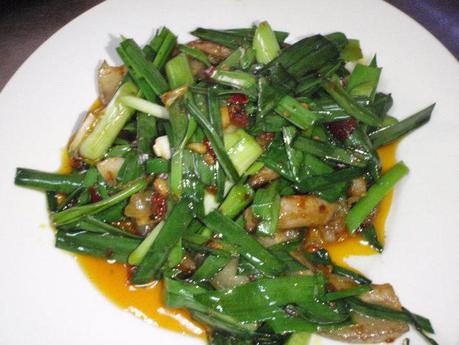 Ingredients
Pork Butt
Garlic Shoots (or spring onion)
Ginger
Garlic
Bean Paste
Chinese Cooking Alcohol
Soy Sauce
Sugar
Salt
MSG
Directions
Boil one cube of pork (2" by 2") for a few minutes until cooked through, some red is ok on the inside.  Cool and slice as thinly as possible.
Cut garlic shoots or spring onion into three quarters of an inch (3/4") pieces, at an angle
Cut 1 large garlic clove into slices
Cut 1 half inch square (1/4") piece of ginger into slices
Heat 1 ladle of oil in a wok
Add pork slices and stir fry for a few minutes until dry
Add garlic and ginger, stirring quickly
Add 1/2 to 1 tablespoon of bean paste, stir
Add 1 tablespoon cooking alcohol
Stir Fry for one minute or so
Add garlic shoots or spring onion pieces
Stir fry until vegetables begin to shrivle
Add 1 tablespoon of soy sauce
Stir fry for 10 to 15 seconds
Add half teaspoon sugar, 1/4 tsp salt, 1/4 tsp MSG as desired (very little is needed)
----------------------------------------------
It is necessary to make one comment about an ingredient in these dishes that you might be questioning at this point: MSG.   Chinese cooking uses MSG and has been the center of much debate in Chinese restaurants around the world.  Most now advertise that they do not use MSG in their cooking, however most Chinese residents are adamant that MSG brings out the flavor of a dish, to a stronger extent than salt.   If you are uncomfortable cooking with MSG or would like an alternative, more salt may do the trick just fine.
Out of all of the cities I traveled to while in China, I had a hard time finding delicious food.  Restaurants seemed to be lacking in the tastes I have come to appreciate, and street food was my only source of authentic cuisine that I could stomach.  That is, until I got to Chengdu in Sichuan Province.   All of a sudden everything began to taste amazing and was a completely different style than the previous cities in China I had visited.   My decision to take a cooking class here was well warranted, and I will be cooking these recipes at home again very, very soon.