Vettel wins season opener in Melbourne (updated)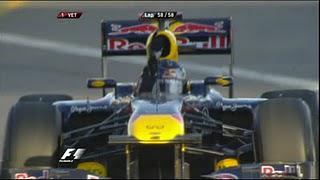 Vettel celebrating his victory at the Australian Grand Prix
Sebastian Vettel's victory was not difficult to predict after his stellar performance in Saturday's qualifying, when he beat his closest rival Lewis Hamilton by more than three quarters of a second.
Rather surprising, though, was how close Lewis Hamilton came to Vettel's pace in the race, even more so considering McLaren's performance issues throughout winter testing.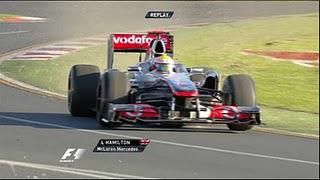 Hamilton regaining control after having been on the grass.
Initially, Vettel was able to open up a gap of 3.1 seconds within the first two laps, but Hamilton was perfectly capable of challenging Vettel's lap times afterwards, being even able to close the gap slightly before Vettel did his first pit stop on lap fourteen. Hamilton did his stop two laps later, which played into Vettel's hands. With the benefit of the new tyres, the German in the meantime had completed a couple of considerably faster laps than Hamilton at the same time on his worn tyres before the pit stop. After his stop, the Briton came back on track more than six seconds behind Vettel. Afterwards, Hamilton lost out on Vettel and eventually finished 22.297 seconds behind the German.
Even though Red Bull did not use the KERS system neither in qualifying nor in the race, Vettel had no problem defending his pole position into the first corner.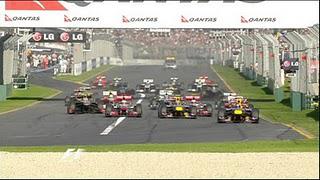 Turbulent start with Vettel first into the first corner
With Vettel in front of both Hamilton and Webber, the first three positions remained unchanged. Petrov and Massa were able to gain from a turbulent start and were fourth and fifth after the first couple of corners.
Fernando Alonso fell back to ninth place, but was able to pass Kobayashi on lap two and Rosberg on lap five. Until the end of the race he went further up and managed to finish fourth.
Vitaly Petrov drove a brilliant race and got on the Formula 1 podium for the first time. Due to one less pit stop compared to his close rivals Alonso, Webber and Button, he  managed to stay in front of Alonso by just 1.212 seconds.
Webber was unable to put his mark on his home race, he drove an unconvincing race and finished fifth, 6.999 seconds behind Alonso.
Button got a drive through penalty due to taking a shortcut when trying to overtake Felipe Massa in the early stages of the race. This cost him about 20 seconds and spoilt his podium ambitions. He finished sixth, 54 seconds behind Vettel. As far as I have seen, Jenson Button on lap 25 was the first one to make a successful pass using the adjustable rear wing, the car he passed was Kobayashi's Sauber.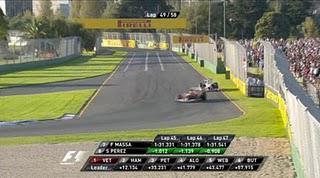 Sergio Perez chasing Massa's Ferrari.
Man of the race was Mexican Sergio Perez, who, coming from thirteenth place on the grid, in his first ever Formula 1 race outperformed both teammate Kamui Kobayashi and Ferrari's Felipe Massa to finish seventh. He was also the only driver to manage to cover the whole race distance with only two sets of tyres.
Swiss Sebastien Buemi confirmed his tenth place in the starting grid and secured one championship point for his Toro Rosso team.
Both Mercedes cars did not finish the race, Michael Schumacher as well as Nico Rosberg were involved in accidents and had to retire subsequently.
Update
Sauber have been disqualified after the race. When all cars were checked after the end of the race, the stewards decided that the rear wing on the Sauber car was outside regulations. Sauber's technical director James Key commented that no performance gain resulted from the parts in dispute. Sauber intend to object.
The disqualification implicates that both Sergio Perez and Kamui Kobayashi lose their points, Felipe Massa and Sebastien Buemi move forward to positions seven and eight and the Force India drivers Adrian Sutil and Paul di Resta gather unexpected points.
This disqualification does by no means diminish the accomplishment by Formula 1 rookie Sergio Perez, except for his being unlucky for not being rewarded.
In return Scot Paul di Resta scores one point in his first ever grand prix. See the updated results in the below table.
Melbourne Race Final Result (Ps=pit stops)
Pos.DriverNat.TeamTime/GapLapsPs
1Sebastian VettelGermanRed Bull1:29:30.259582
2Lewis HamiltonBritishMcLaren+22.297582
3Vitaly PetrovRussianLotus Renault+30.560582
4Fernando AlonsoSpanishFerrari+31.772583
5Mark WebberAustralianRed Bull+38.171583
6Jenson ButtonBritishMcLaren+54.304583
7Felipe MassaBrazilianFerrari+85.186583
8Sebastien BuemiSwissToro Rosso+1L582
9Adrian SutilGermanForce India+1L572
10Paul di RestaScottishForce India+1L572
11Jaime AlguersuariSpanishToro Rosso+1L573
12Nick HeidfeldGermanLotus Renault+1L572
13Jarno TrulliIndianTeam Lotus+2L562
14Jerome D'AmbrosioBelgianVirgin+4L552
NCTimo GlockGermanVirgin+9L492
DISQSergio PerezMexicanSauber65.845581
DISQKamui KobayashiJapaneseSauber76.872582
RETRubens BarrichelloBrazilianWilliams495
RETNico RosbergGermanMercedes231
RETHeikki KovalainenFinnishTeam Lotus201
RETMichael SchumacherGermanMercedes203
RETPastor MaldonadoVenezuelanWilliams100
NC...not classified (less than 90% of the race distance)DISQ...disqualifiedRET...retired
Related Articles
Championship Standings

Melbourne Qualifying

Melbourne Practice 3

Melbourne Practice 2

Melbourne Practice 1

And the Winner Is...

Hamilton or Button?

Estimated Pecking Order for 2011
You can have a look at the archive for a list of all articles