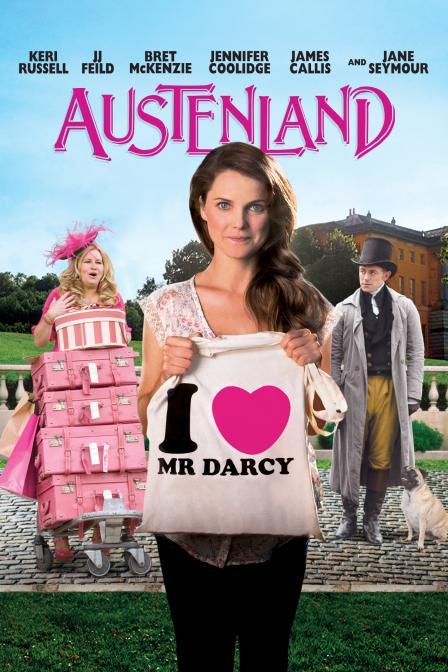 As I've mentioned in past posts, I've hunkered down in an attempt to finish my second novel, so I've been a bit out of touch. I'm getting really close to completion, but in order to get there, I've had to put other things on hold. Unfortunately, blogging has been one such thing…
But we all need a break sometimes, and so last night was movie night with my friend Jenny. We picked a winner. Creative, silly, ridiculous, but with great writing and acting, "Austenland" came to life. Produced by "Twilight" novelist Stephenie Meyer and directed by Jerusha Hess based on the book by Shannon Hale, the film stars Keri Russell, JJ Feild, James Callis, Jane Seymour, and Jennifer Coolidge.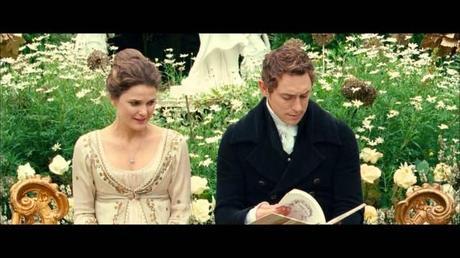 Keri Russell & JJ Feild.
If you like and appreciate Jane Austen, this movie is hilarious. At several points during the film, I laughed out loud, one scene even brought me to tears (of laughter). My friend Jenny and I even had to rewind a couple of parts and watch them again because they were just so funny.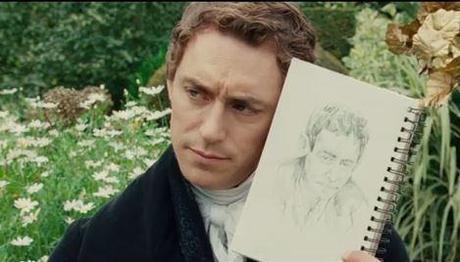 JJ Feild as Mr. Nobley.
You must be a Jane Austen fan to get all the references and to appreciate why the humor in this movie works. It's a romantic comedy, so it has sweetness to it as well. The premise is that Jane (Keri Russell) has been dumped by her boyfriend and decides to take a Jane Austen holiday to a resort in England where actors portray Austen-like characters during your stay there. In the midst of the "vacation," romance ensues, and the writing keeps us going. The characters are funny—some ridiculously drawn, and yet they work—and the setting for most of the film looks like Mr. Darcy's house in "Pride & Prejudice."
It's a romp through Jane's life, and JJ Feild, who plays Mr. Nobley (based on Mr. Darcy) is absolutely charming. You'll fall in love with him quickly, with his piercing blue eyes, lovely accent, and his portrayal of Nobley.
Additionally, James Callis, who plays Colonel Andrews, has some of the funniest one-liners and steals many scenes playing his part. You may remember him as Bridget Jones's friend in "Bridget Jones's Diary," where again, his impeccable comedic timing made his character memorable.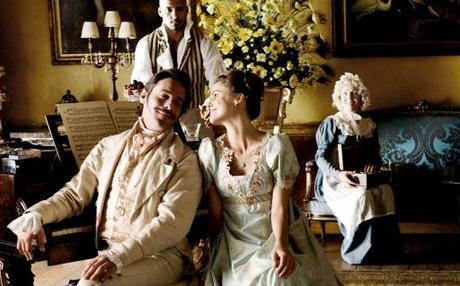 James Callis & Keri Russell.
Austen fans, grab your wit and humor, just as Jane Austen herself did, and enjoy escaping to "Austenland." Jenny and I are still laughing about it this morning.