23rd May 2004
"Finally I did it…my year long endurance has reaped in today... Yippee...am the topper of the
school
Class Xth 2004 "
Kanisha confidently quoted to her friend Soni
"Congo Kanisha…I knew you would …today is your day" Soni chuffed in
"I have decided to take Bio-Math…what about you"
"Kanisha…am thinking for the same"
"When are you going for the admissions for class XI?"
"8
th
June"
"I would be going with you…have heard classes would commence from 21
st
June"
"Yes it would commence on 21st…and am looking forward to it. The past month has really been boring for me...was missing school a lot"
"I know you are missing school after all your name would be written in golden letters for being the topper…you would be the center of attraction when school reopens"
"Stop pulling my leg soni...am eagerly waiting for the school to reopen but I have a weird feeling about it"
"Weird?"
"It seems there's something awaiting for me…I don't know what it is but am sure there's something"
"you have started hallucinating again... Kanisha"
"It's not hallucination...anyways you won't understand now…but you would someday"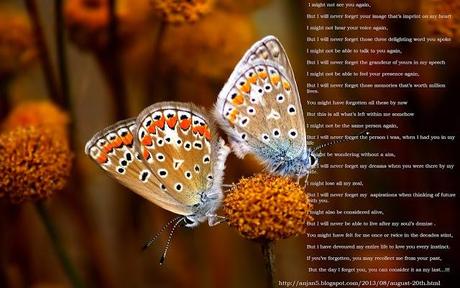 21st June 2004
"Why have they bifurcated the class?
I won't go for Section B" Kanisha retorted irritatingly
"Don't worry…Bio-Math (section B) has more than 65 strength so few of us would be shifted to Section A (Math-
IP
) where the strength is near about 30. I have also heard there are new faces in that section"
Soni buzzed.
"Soni…you started again?"
"Why…what's wrong in that?"
"Nothing"
"Kanisha…if i am not mistaken...going by the introduction I feel there are few studious geeks in our class and would give run for your money"
"As if I care"
"What about that guy, the one who spoke about the book 'You can win'
"Who? I don't recollect"
"Ah…that guy in specs, I saw him staring at you…on multiple occasions"
"Really? Let's keep an eye on him…let's see what he is up to?"
"Ok…Done…I am already smelling something fishy"
"Don't irritate…me Soni…let's first get into the groove"
"All right Kanisha"

28th June 2004
"Soni were you talking about him?" "Yes…Kanisha my darling…I was talking about him…"
"I think he can't remain seated for more than 5 minutes…looks like a Spring to me"
"Spring…nice name…I had a preconceived notion about him being a geek but today I saw him
playing cards
and he is good at cricket as well...I am forced to change my perception about him"
"Soni i believe, whatever he is, he is somewhat different..."
"How do you say that Kanisha?"
"See…he talks nonchalantly with teachers as he would with his fellow mates but is hesitant specially when speaking to a girl and yeah I once saw him staring at me…it seems, he wants to speak something but he couldn't"
"Now Kanisha you are hallucinating again"
"No listen to me first"
"Yeah tell me"
"Today in Chemistry Coaching classes…we both shook hands with him...It was our first interaction outside school periphery...though he seemed connected but i felt he wasn't comfortable…the way he spoke, the way he shook his hand…"
"You could notice all these things…wow…Kanisha"
"It's my nature I notice each and every person and that's nothing so special"
"All right Kanisha…I was just idling away"
5th July 2004
"Soni you know…He is really a decent guy and it's nice to talk to him… certainly not like the other folks"
"Yeah…so you had a long chat with him today…"
"I escorted him to Sitangshu sir's house and you would be surprised when i say he is really good at heart"
"Good at heart...hmmm...any further comments ?"
"He is jolly and always cheerful ...happy"
"Anything else?" "Nothing"
"Kanisha am predicting something…and according to my predictions…he is going to propose you someday"
"Not possible… whatever I have seen of him till now…I can guarantee you that he will never propose me...he is not that kind of person"
"Chill…Kanisha…let's see what happens in future"
25th July 2004
"Today's
Panipuri
was awesome…Soni"
"I can understand about Panipuri…but what about you two…you were not willing to stop"
"Nothing like that…we were just challenging each other"
"Next time onwards…I won't take part in any such challenges…and yeah he looks good with you"
"Soni…Stop it, he is a good friend and you are always there with me whenever he is around…did you ever notice anything unusual?
"No…"
"Exactly…He is a good friend…I see it like that"
"Ohk…Kanisha"

August 13th 2005
"Kanisha….it's wrong…you shouldn't have reacted like that…I know you are angry on him and yes his words were harsh but you shouldn't break your friendship just like that"
"Soni it's over…and please stop bragging over it"
"I have heard…he has broke his foot after your quarrel…and now he won't come to class for a month"
"What? When? How? "
"While playing football…the other day…"
"But he doesn't play football"
"I know …Apprehensive after quarreling with you ...he went to play football, a result of persuasion from boys coupled with 
mental distress
, now he is sitting at home with a
broken foot
"
"Oh...shit... I Hope he recovers soon"
"Kanisha…this shows what you really feel for him…so please cut the crap and be friends…he is your good friend"
"Not unless he approaches me and speaks sorry to me"
August 20th

 

2005
"Kanisha, he is here…he has come to school with a broken foot…actually he is being lifted all the way through"
"Where is he"
"Near the main entrance" Kanisha was the first one who rushed to see…but her ego didn't let her go and talk to him.
Later that day
"Kanisha… I don't believe you…"
"What did I do Soni?"
"You are staking your friendship for a silly quarrel? Couldn't you speak up to him and make up?"
"It wasn't my Mistake Soni…and why should I bow down?"
"
Friendship
never implies to bow down it's about how you prioritize your friendship before your ego as Friendship isn't about 'I' it's about 'US' and how you traverse from 'US' to 'WE'"
"Whatever it may be I am not going to take the first step"
"You told me -He is a good person… he is not like others…but still you are hesitant to speak to him why?
"I don't know...probably because I want him to come up first…"
"What if, he doesn't come up?"
"I will leave the matter here itself…and move forward"
"What if, he stays where he is and waits for you to come up?"
"Stop…all these…no one waits for anybody….and this is the truth of life"
……
……
……

20th August 2013
"Kanisha why your birthday showing 20
th
August on
Facebook
and not 24
th
August?"
"To know…whether people really remember my birthday or not…am glad you remembered"
"It seems you don't want to tell me the truth, anyways....tell me how's Life"
"Life is going on…what about you?"
"Life has become monotonous…everyday seems the same…school days were the best"
"Yeah…school days were the best…I want to go back to school"
"Talking about school…it reminds me of
 an incidence that occurred this very day
…" "Which incidence Soni?"
"Remember you spoke…no one waits for anybody. You were not willing to speak to him after a quarrel...will your answer be the same today?"
"I really don't know Soni…I was clueless then and I am clueless now with the present circumstances"
"Kanisha…I remember that day very clearly 20
th
August…2005…in response to your words i had replied… 'In life you will surely meet someone who is destined for you...he
will
wait for you till eternity and the day you acknowledge that person your life is bound to change….and please don't let that person go away from your life because of your silly ego.' Today I could see the same dilemma on your face as it was present on that day…that day your friendship was in stake and today the person who loves you is in stake….and certainly not coincidentally it's about the same person...and guess what today is 20th August. Years have changed but he didn't....i think a vicious circle of August 20
th
  is following you Kanisha"
"I am still clueless Soni"
"You remember Kanisha I had predicted something…and eventually it turned out to be true…yes you both sorted out your quarrel and he did propose you…"
"But how is that related to my present condition?"
"Kanisha…When he proposed you…you couldn't settle your thoughts as you were not sure about yourself…but he was dead sure…He loved you"
"Please be clear Soni"
"Today…you have your career set forth…have a clear vision about your life…but you are still clueless as you are not sure about yourself Kanisha"
"So what shall I do Soni?"
"Listen Kanisha…I am your friend and I can only suggest you…but you have to choose a path for yourself…and remember there's only one person who is destined for you and he will be there for you no matter what"
"Do you have any information about him?"
"Not much but yes I have got something for you"
"What is It Soni"
"I don't know any whereabouts about him but got this from his friend… I think he left it to him before he left"
Kanisha opened the letter…
"Kanisha,
I don't know what my fault was or where did I go wrong but today when I am forced to lose it all… I believe I wasn't wrong. Kanisha, you meant me my life but today it seems I have to give up on my hopes as well as my life …No am not giving it up not until the day I see you marrying someone else….No I won't confront neither would I try to come before you…I want you to take up your decisions by yourself but whatever your decision may be, one thing is for sure…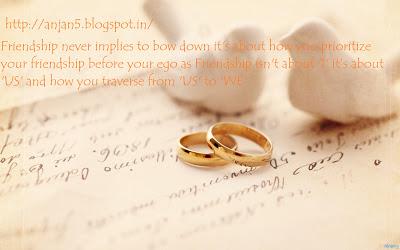 The day you marry anybody else…These two things would change for me forever
1) I would stop believing god…(you know i have a firm belief in God and about his righteous justice.)
2) My belief i.e., 'True Love exists and it will find its way' would change forever and I would stop believing in love altogether.
I know the world wouldn't change with my changing beliefs but these are the two pillars on which I exist and when it would change my mere existence in this world would be meaningless…I might be alive but it would be without a soul…a howl without a goal.
Few lines that would depict my Situation…I hope you would understand…Kanisha



I might not see you again,
But I will never forget your image that's imprint on my heart
I might not hear your voice again,
But I will never forget those three delighting word you spoke
I might not be able to talk to you again,
But I will never forget the grandeur of yours in my speech
I might not be able to feel your presence again,
But I will never forget those memories that's worth million lives.
You might have forgotten all these by now
But this is all what's left within me somehow
I might not be the same person again,
But I will never forget the person i was, when I had you in my life
I might be wondering without a aim,
But I will never forget my dreams when you were there by my side.
I might lose all my zeal,
But I will never forget my  aspirations when thinking of future with you.
I might also be considered alive,
But I will never be able to live after my soul's demise .
You might have felt for me once or twice in the decades stint,
But i have devoured my entire life to love you every instinct.
If you've forgotten, you may recollect me from your past,
But the day I forget you, you can consider it as my last…!!!
....
....
....
By the time Kanisha finished reading....she couldn't utter a single word…her eyes were heavy, she couldn't think or focus on anything…but yes she was clear on one thing I.e., something needs to change and she has to change it…she couldn't let things go as it is, She has to end the vicious circle, a vicious circle of August 20th…!!!