Paris Fashion Week Finale
So, we've reached the last day at PFW - or Fashion Month as a whole if you look at it that way - and to be honest, I've got mixed feelings about it; I'm sad because I loved my twitter feed being consumed with the constant buzz of each of the four fashion cities shows, but I'm also happy, because now I won't be taking a panic attack over having to keep on top of each show and uploading the collections to my pinterest account!
In my previous post I commented on PFW days 1 - 4 (with a small comment on day 5's up-and-coming shows) so here comes part II with days 5 - 8.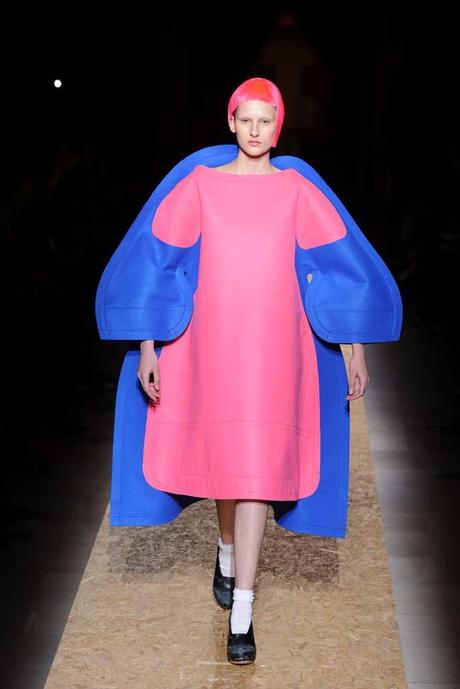 Comme des Garcons Fall 2012
Day 5
saw shows from the likes of Vivienne Westwood, Comme de Garcons, Viktor & Rolf and Jean Paul Gautier. If I were to pick one though, Comme de Garcons was one to do a double take at; Rei Kawakubo produced a show with no background music, in a bid to have the fashion elite focus entirely on the clothes and make their own assumptions, rather than rely on that of a mood or vibe that would have been present had there been music playing. The clothes themselves were on another planet. Over exaggerated and Wide were two words (OK - three) which sprung to mind when watching the collection on the catwalk. Bold, in-your-face prints on wide, cartoony dress shapes made up a collection that on paper would seem crazy and too much. In reality though, Rei Kawakubo made them look so simple and justified in their coordination. Totally unwearable (unless you like that sort of look), don't get me wrong, but amazing to look at and appreciate none-the-less!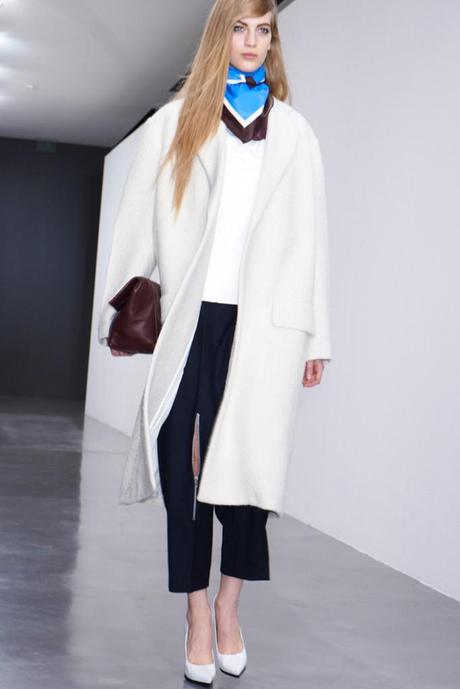 Celine Fall 2012
Day 6
was the day for the likes of Celine, Hermes, John Galliano, Givenchy and Issey Miyake to name a few. Celine cancelled its Autumn/Winter show in Paris on Saturday, for a more intimate and simpler presentation. Only a select few were given invitations to view the new season collection and the hype didn't fail to give up the goods. The clothes were simple in shape and pattern, with color blocking in electric blue, black, red, pink and tan. Mannish coats and trousers, wedge shoes, slouchy belts, neck scarves and ipad handbags made the collection very stylish, but more importantly; wearable. I definitely approved of all 22 looks and wouldn't mind the entire collection being delivered to my door any time soon!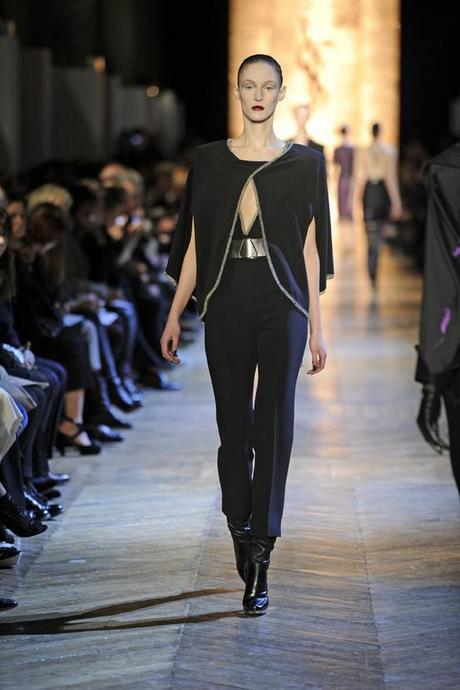 YSL Fall 2012
Day 7 - 
It's Monday and PFW is almost at an end, but today we have shows from YSL, Stella McCartney, Giambattista Valli and Chloe, so the sadness is quickly overrun with eager anticipation. The YSL show saw the final collection by designer Stefano Pilati. It wasn't quite as tearful as Raf Simons leaving Jil Saunder last week in Milan, however the standing ovation he received confirmed just how appreciated he was in the fashion design industry. The latest Paris Fashion Week 'A-Lister' Katy Perry - however late - was among those at the show to add an extra appreciation to the designers work at YSL over the years. The clothes themselves were brought back to black with slick leather, sharp tailoring and high waisted trousers cut at the ankle. Chainmail backless dresses in deep green with mirrored perspex heels created a romantic, yet seriously stylish look. Loved.It.All!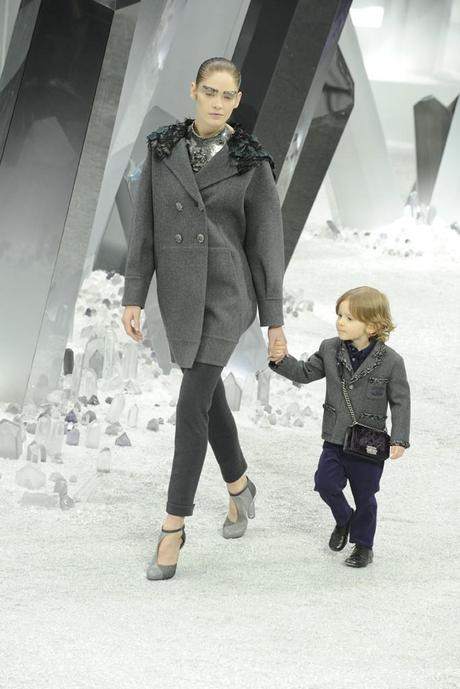 D'aww! @ Chanel Fall 2012
Final Day 8

and they saved the best for last? Quite Possibly. Today we had collections from the likes of Chanel (:D), Alexander McQueen, JCDC, Valentino, Paco Rabanne and even Kanye West thrown in for good measure. Phew! where do I begin?

Chanel.
Chanel is one of my personal favourites; from the clothes to the sheer creativity on set at the shows - everything is just sheer perfection. All the time. To start off with, the show was in the Grand Palais and although it wasn't quite as spectacular as last seasons aquatic scene, it was still as aesthetically pleasing. Large amethysts and stalagmites protruded from the ground to give the show a feel of dark magic and sorcery - right up my street if you ask me! The clothes themselves were equally as intriguing. Wide shouldered trench coats, loose knitwear, irregular patterns, glittering mohair snoods, silk muslin stain-glass-window printed dresses, crushed velvet jeans, amethyst and emerald embellishments, petrol green, black, navy, blue, mustard, burgundy, gray...it was all there in a mish-mash of Karl Lagerfeld's signature Chanel styling and design. The cutest best part of the show? Chanel Junior walking onto the set in his very own Chanel blazer, purple velvet jeans, patent black shoes and signature chain bag in purple velvet. One thing is for sure, if I end up with a little boy in years to come, he will be suited and booted much like that little man was. 
I had considered doing a mini review for McQueen and Valentino, however I then realised that you would end up reading a mini essay, so on that note I'm just going to leave you with my top 3 images from both collections. Enjoy!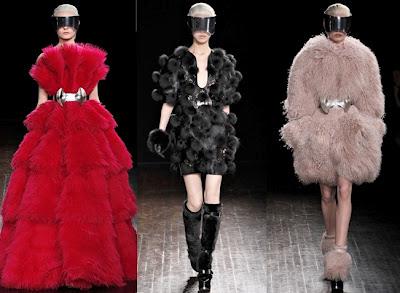 Alexander McQueen Fall 2012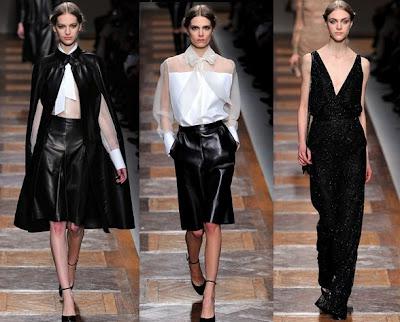 Valentino Fall 2012