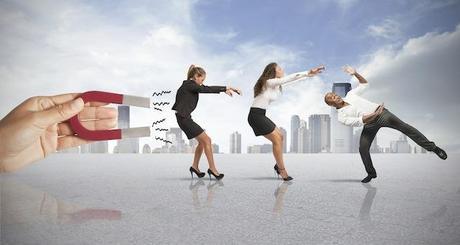 If you make service calls or drive frequently for business, you may be sitting next to some prime advertising space right there on the side of your vehicle.
For integrated marketers at small- to mid-sized businesses, the use of large traditional outdoor media such as billboards, bus boards or transit shelters can be cost prohibitive.  However, branded signage on your vehicle can serve a similar purpose at a fraction of the cost.
Vehicle wraps offer an affordable, attention-getting advertising alternative, but this route requires something of a commitment: you need to be willing to leave it on your vehicle for an extended period of time.
Who Can Benefit From Magnetic Signs?
Businesses such as real estate firms, restaurants, caterers, pet sitters, veterinarians, tailors, florists, specialty stores, attorneys, HVAC, repair and maintenance services, and many other businesses can stand out and stay top of mind longer with a magnetic vehicle sign or business card.
Magnetic signs present a way to reap many of the same benefits as a vehicle wrap, when you consider that a single wrap can generate 30,000 to 70,000 daily impressions (per the Outdoor Advertising Association of America), and offers the lowest cost-per-impression of any form of advertising.
Mobile Message Boards
Although less flashy than a wrap, one of the many virtues of magnetic signs is the ease with which they can be applied and removed without harming your car. When produced with clear, attention-getting graphics, they make effective mobile message boards that help create awareness of your brand in your service area.
In addition to your company logo, add a phone number or website URL to your sign, depending on how you prefer to be contacted. But keep it simple. Take care not clutter it up with too much information, since people may be reading it while driving.
Magnets as Cards
Do you use business cards? (who doesn't, right?) Consider how much more you'll stand out from the crowd by handing out magnetic cards in place of (or in addition to) traditional paper cards. Instead of getting lost in the shuffle, your name and number will likely get a place of prominence on a file cabinet or break room fridge and have an indefinite shelf life.