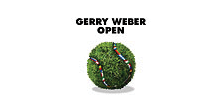 Halle kicks off Grass Season
The grass season kicks off in Halle, which divides the top players into two camps either playing here or at Queens. Federer has always been loyal to Halle, so expect to see him to do well again, although he has missed out on the title past couple of years. Hewitt defends and  I'm not sure how his fitness is and gets Federer 1st round with the winner to possibly play Tommy Haas, back from injury and 2009 champ. Some big hitters in Berdych, Raonic and Soderling here. Berdych does have a grass title to his name so I expect him to perform as well.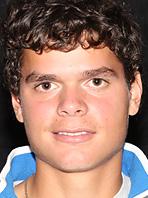 Milos 'Baby Face' Raonic
Let's look at some potential good 1st rounders, upsets and winners:
Surface: Grass
Defending Champion: Lleyton 'Rusty' Hewitt
Top 1st Round Match: Roger Federer vs. Lleyton Hewitt
Dark Horse: Milos 'Baby Face' Raonic
Wildcards: Dustin Brown, Mischa Zverev, Tommy Haas
Late Withdrawals: Benjamin Becker, Olivier Rochus
Late Entrants: Pere Riba, Phillip Petzschner
My pick: Roger Federer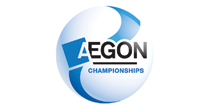 The Wimbledon Warm-Up Event
Queens is often described as having as good as if not better grass than Wimbledon. Big players have dominated in the past like Becker, Roddick and Hewitt. It will be fascinating to see how Djokovic and Nadal re-adjust from their French runs or even play, and watch out  for Llodra who has won on grass before.
The highly anticipated return of David Nalbandian is also something to watch for after coming back from hernia surgery, he gets a decent draw early on so he could do some damage. Karlovic and Kevin Anderson look to be wrecking balls for me and they're in Roddick's quarter, so anything could happen there.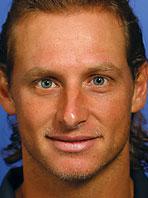 David 'Nails' Nalbandian
Surface: Grass
Defending Champion: Sam Querry
Top 1st Round Match: Sam Querry vs. Kei Nishikori
Dark Horse: David Nalbandian
Wildcards: David 'Nails' Nalbandian, Ryan Harrison, James Ward, Dan Cox, Oliver Golding
Late Withdrawals:  Maximo Gonzalez, Richard Berankis, Novak Djokovic, Mardy Fish, Richard Gasquet
Late Entrants: Igor Andreev, Jan Hajek, Alex Bogomolov, Denis Gremelmayr, Daniel Brands
My pick: Andy Roddick
Thanks for reading and check back next week for more tips, news and musings!