The inaugural ATP Challenger Tour Finals, held in São Paulo is a great idea. I've been following the Challenger Grind Tour all year and there have been some breakout players to watch for. The depth in talent in the men's game has meant that even a Challenger event in any given week, has some top names.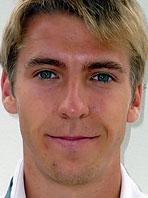 Cedik-Marcel Stebe
The top 8 that have made it to the finals have put in the time. Notable exceptions, because of the amount of main draw action they managed to get are Denis Istomin (4 Challenger titles), Eric Prodon (3), Ricardo Mello (3) and Carlos Berlocq (4). Part of me feels that with that many titles they should be in, so we'll see how the qualification process shakes out in years to come.
ATP main tour regulars Thomaz Bellucci and Dudi Sela stand out to win it, while one to watch Cedrik-Marcel Stebe could be dangerous. Journeyman Bobby Reynolds is fun to watch, so good to see him in the mix.
Let's break it down:
Surface: Indoor Hard
Players: Rui Machado, Thomaz Bellucci, Martin Klizan, Andreas Beck, Matthias Bachinger, Bobby Reynolds, Cedrik-Marcel Stebe, Dudi Sela
Defending Champion: None
Dark Horse: Dudi Sela
My pick: Thomaz Bellucci
GROUPS
Green
[1] T Bellucci (BRA)
[3] M Klizan (SVK)
[6] A Beck (GER)
[8] B Reynolds (USA)
Yellow
[2] R Machado (POR)
[4] D Sela (ISR)
[5] C Stebe (GER)
[7] M Bachinger (GER)