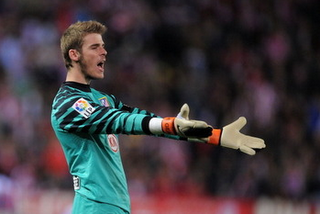 Atletico Madrid have had a fairly quiet season, especially compared to last season when they won the Europa League. While at the beginning of this season Atletico won the UEFA European Supercup over Inter Milan, after that they went on to place seventh in La Liga, not qualifying for any European competitions for next season.
In that European Super Cup victory two stars played exceptionally, helping Atleti win the trophy. Sergio Aguero scored one of the goals in the 2-0 victory, and David De Gea saved a crucial penalty taken by Diego Milito. Now, Atletico Madrid could see both of those key players leave the club over the summer. Throughout this season, Sergio Aguero and David De Gea have proved to be important, maybe even irreplaceable players.
Aguero has scored 27 goals in all competitions for Atletico Madrid while providing six assists as well. As the season's top goalscorer for Atleti, Aguero has dribbled around the best defenders in the Champions League and La Liga, attracting the attention of many clubs for years now. He's still a young player soon turning 23 years-old, and while about a month ago he said he wanted to stay at Atletico Madrid, he has now
seemingly changed his mind
.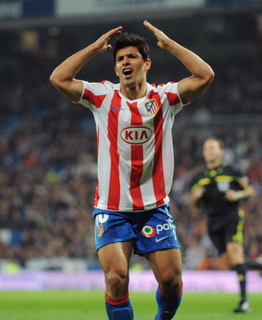 He says it's the right time to go for him, and that it has nothing to do with money. While Atletico Madrid fans might be slightly confused and unhappy with the mixed messages the Argentine has been sending out, it's important to remember that Aguero has scored over 100 goals for Atletico since joining the club.
Atletico might be losing Kun, and it's almost certain that their 19 year-old David De Gea will be leaving Madrid. It has been revealed that he has practically already signed for Manchester United, and all that is missing are the official announcements. The fee is rumored to be around 16-19 million Pounds, with which potential added bonuses could turn out to be quite a hefty profit for Atletico Madrid. While De Gea has
a few things to sort out with his agent
, Sir Alex Ferguson seems happy to have signed what should be Edwin van der Saar's replacement.
Regarding who Atletico Madrid could buy to replace the pair, most of the news has been about replacing "Kun" Aguero. Espanyol's Italian-Argentine Osvaldo could join Atletico for around 10 million Euros, but there have also been murmurs regarding Diego from Wolfsburg and Porto's Falcao or maybe even Hulk.
It will be a big blow for Atletico losing Aguero, especially if he joins the city rivals Real Madrid. But there are other clubs keeping an eye on him, including Chelsea who want the player to take a pay cut to join. If "Kun" decides to sign for Real Madrid, we could be in for a few very interesting upcoming Madrid derbys. And if Aguero does join Real, and De Gea leaves for Manchester United, who will be between the sticks to stop Aguero from scoring against his former club?
If you're interested in following all things Atletico Madrid, check out
Madrid Atleticos.
Some great writers there who report anything regarding Atleti.