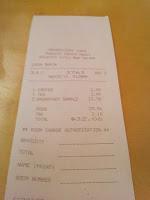 My wife and I decided to celebrate our one year anniversary in
Atlantic City
this year. We were married in
Las Vegas
last year and decided that we would save a little money by heading to the "Las Vegas of the East." We decided to go during the week versus the weekend since room prices are more affordable in Atlantic City then.  We were looking for the cheap Atlantic City experience.  Thinking of the fun we had in Las Vegas during the workweek, we expected to have the same level of entertainment options during the week in Atlantic City. We were wrong.
We booked a room at the
Showboat Casino
online since it offered a decent room at a very affordable price and it came with a free buffet with the stay. There was some initial confusion as to whether this buffet was for each night of our stay, or one for the entire stay, but none the less it was a pretty good deal at $44 a night.  This seemed like the cheap Atlantic City we hoped for.

We did get our one free buffet at the Showboat and it was exactly that - one free buffet. The
French Quarter Buffet
was plentiful with lots of variety, but the quality of the food seemed lackluster. My wife remarked that the carved beef was dry and the other foods just seemed to lack real flavor. The deserts were subpar with the mousse tasting of
cool whip
more than anything else. The
crème brulee
was just crème. One highpoint would have to be the raw bar. We ate our weight in peel and eat shrimp. I was hesitant to try any of the raw oysters, simply because it seemed eerie to have them on a buffet, but they were large and other people were scooping them up in large quantities. We both agreed that if the buffet were not free, we would be hard pressed to pay the $25 per person plus taxes for the fare.  This was the not cheap Atlantic City side.
Although
Atlantic City
offered a closer location without the hassles of air travel, there were a few things we missed compared to
Las Vegas
. Las Vegas definitely has more shows with more talent than cheap Atlantic City.   We did see an advertisement at
Bally's Casino
for
Let's Make a Deal
hosted by
Alan Thicke
.  However, when we were directed to the promotions booth to get tickets, the personnel informed us that we could only get them through
Ticketmaster
.  It seemed counterproductive to us to have a customer in the lobby of your venue only for you to tell them to buy tickets online, but what do we know? Well we certainly hope they enjoy missing out on the $50 we were going to shell out to see a show since we were not going to spring for internet in the room ($10.95 a day) to buy tickets online for a show at a place we were just standing in.
We learned quickly that food in Atlantic City is not cheap, depending upon where you eat. A breakfast at
Breadsticks Cafe & Grill
in
Resorts casino
ran us $40 with a 20% tip. Walking down the boardwalk, you can find lots of diners with cheaper prices, but we simply let hunger get the best of us that morning. Where was the cheap Atlantic City food?
As far as cheap Atlantic City food options, Bally's Casino was running a special for gamers.   If you played for an hour and earned 10 "points" then you qualified for a free buffet. This was a nice touch and since we planned to gamble some anyways, we were delighted to receive something for our hard earned coin. We played our minimum and scooped up tickets to the buffet. Upon arrival at the buffet at just 4pm, we soon realized that we were not the only people with that same idea. The line looked menacing but, lucky for us; the vouchers provided a $10 off each at the Noodle Village on the casino floor. This worked out great as our awesome meal there cost us just over $10 with tax and tip and extra appetizer.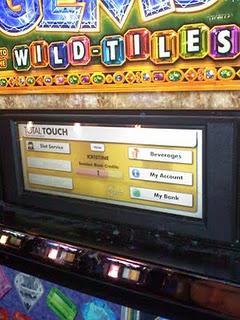 Drinks are still free at casinos in Atlantic City, well mostly free. A bottled beer was sometimes $1 - $2 while playing at slot machines, but drafts were still free. A nice touch at Bally's was the ability to order a drink at the touch of a button. The slot machines had a small touch screen and if you were thirsty, you could hit a few buttons and the drink would arrive shortly. This decreased the flash to bang time of having to wait for a cocktail waitress only to wait longer as your drink order was fetched and returned. 

By far and away,
Caesars Casino
had the best drink service on the slot machine/ casino floor with fast turnaround times for drinks and almost all of the drinks we ordered coming out as a double. In my book,
Bally's wins for best poker room
with 1/1 Texas Hold 'em games (yes, the big and little blind were $1) and cocktail waitress Linda (seemingly working only the poker room) was spot on with drinks, even for people playing in tournaments. Plus, she is a good looking young lady and most of the fellas there were gawking. This was the best poker room in Atlantic City coupled with cheap Atlantic City gambling we were looking for.
Speaking of gawking, there was a great little free Atlantic City show down at Bally's called

iCandy Burlesque

. It was starring

Angelica Bridges

of

Baywatch

fame and running Thursday – Saturday nights. Since there really was not much to do during the weeknights in Atlantic City for the 20-40 something's, we decided to give this a go. iCandy Atlantic City is billed as a burlesque show, but, if you are looking to see the nether regions, you need not look here. From what we could tell, it is a cross between the club scene and a go-go bar. The dancers would perform routines at seemingly random times throughout the late evening. This was intermingled with club music between numbers. Some, like us, decided it was appropriate to dance during the club music numbers, which only enhanced the experience. However, the $22 for a chocolate martini and light beer were all too memorable.
Considering all things, Atlantic City was a good time at a great price. I know my wife and I will find ourselves there in the future since the alternative is so far away. Next time, we might have to try a weekend adventure there since most of the events there are on weekends.   Our hope is that we earned enough of those nebulous points or comps to provide a free room or some other awesome special offer for our speedy return.