What golf course is on the bucket list of celebrities and amateurs alike...a course which evokes images of untamed beauty; the stuff of legends, drama, thrills and wonder? If you said Pebble Beach Links, then you hit the golf ball on the sweet spot!
Celebrities are more than willing to discuss their game, the course and more leading up to this week's
AT&T Pebble Beach National Pro-Am
golf tournament.
NCIS:Los Angeles actor and golfer Chris O'Donnell recently told ET Online that there is "nothing I want more than to win this tournament someday."
For stars like Larry the Cable Guy (@
GitRDoneLarry
), Chris O'Donnell and Bill Murray to pro golfers like David Duval joining in the fun with corporate amateurs like Jesse Singh (@JesseSingh), the excitement has just begun.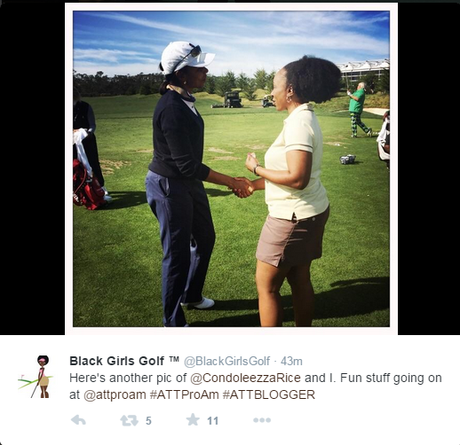 Event chatter, sunrise photos and golf course selfies are popping up all over Twitter, Facebook and Instagram like highly lofted lob wedge shots from the players and AT&T Fan's Eye View Foursome members @KTHorsford, @
Black Girls Golf
, @
TimLangGolf
(taking this photo of @
TheDanPlan
)
...and why not?
These are three of the most beautiful courses in the world and this is a once-in-a-lifetime opportunity for many - expect the cameras to be clicking all weekend long!
Check this great swing out with matching scenery!! @thedanplan #ATTBLOGGER pic.twitter.com/y98eM3f11v — Tim Lang (@TimLangGolf) February 10, 2015
Larry the Cable Guy says, "Hopefully I'll surprise Y'all and play good," and he's right on target.
Pebble Beach is not a golf course for beginners and a caddie is highly advisable as distances are confounding, the wind toys with your ball and the greens...
well
, the greens are undulating and deceptive and, although they will probably only run at only a "10" on the stimpmeter, they can run as high as "12" for the U.S. Open!
Having played Pebble Beach in November in the
Legends Invitational
, I would like to share a few tips that I took home with me - to make the Pebble Beach experience
and score
as rewarding as possible.
- Listen to your caddie
 - nothing is as frustrating as thinking you know your club distances or the yardages as stated on the markers. Distances are not always what they appear to be and bunkers or water may interfere with your shot. It is the caddie's job to inform and enhance your golf experience.
- Play it safe
- although it is fun to go for the green, look for other avenues that might yield better returns. For example, on Hole #1, don't cut the dogleg on the right; Pebble Beach website says "it doesn't pay" - it plays longer than you think.
- Visit the
Pebble Beach website
and read the hole-by-hole course tour before you play! These tips are invaluable and will start you thinking about strategy instead of leaving your game and score up to chance.
- If possible,
enjoy the majesty of Pebble Beach the day before
you play the course. A friend of mine told me, if possible, I should walk the course in advance to get the nerves and breathtaking views out of the way so that I can concentrate on the game -
it worked!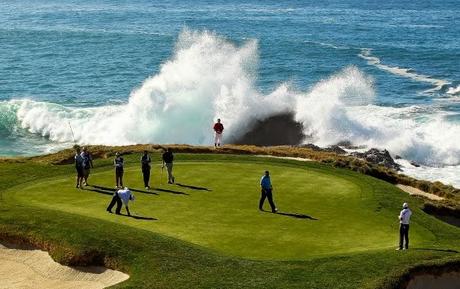 Get Ready for Hole #1
: Spend time on the Pebble Beach driving range and on your short game before heading to the links and be prepared for a crowd to gather around you as you tee off. They will applaud if you crush it down the middle but the silence will be deadening if you top the ball. You will feel as if you are on Tour, which can make even the best amateurs a little weak-kneed!
Get ready for the 18th Hole!
The iconic 18th hole is probably the one that fills most players with fear, anticipation, joy and amazement. It is easy to get swept up in the scenery or your score from previous holes and not concentrate on this 543-yard, par-5 finishing hole and, you want to finish strong,
don't you?
Chris Dunbar
, Head Pro at Pebble Beach, tells us to be very aware of swirling winds on 18. Aiming your shot to the right of the trees still leaves a right-to-left shot to about 100-yards. As for the green? Your putt will want to pull towards the ocean - "a one-putt could easily turn into a three-putt."
The goal is to have fun when you play golf and the AT&T Pebble Beach National Pro-Am is the Candyland of Events so it should be interesting to see who else shows up on Twitter with the Foursome!
I will be engaging with the Foursome all weekend on Twitter @
Golf4Beginners
and sharing some of their greatest moments from celebrity sightings to what's new at the Pebble Beach Golf Academy (
Sam Lab...Robots...?
)
Follow along using hashtags #ATTProAm, #ATTBlogger,
attpbgolf.com
and, of course, visit @ATTProAm for videos, live interviews and more!
This post is in partnership with AT&T. All opinions are my own.
photo credit: ATTPBGolf.com, @BlackGirlsGolf, @TimLangGolf