A brief encounter at the Metropolitan Museum of Art.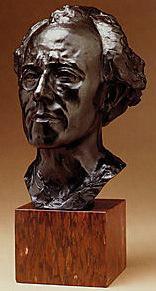 Gustav Mahler by A. Rodin.
Photo from the Metropolitan Museum of Art site.
It happened in front of the bust of Gustav Mahler. 
I was in the Modern Art wing of the Metropolitan Museum, spending an afternoon (following today's noontime press conference announcing the
Met's concert and lecture  schedule for 2012
) traipsing around the museum. I visited my usual suspects: Musical Instruments, Arms and Armor, the Greek and Roman wing and the new Islamic Art exhibit.
I had stopped in front of Auguste Rodin's bust of Gustav Mahler, a bronze cast of the composer's head without his trademark
pince-nez.
I turned to the tall, broad-shouldered fellow standing next to me, looking at the sculpture, a frozen bronze of the composer's famous head, capturing the swept-up hair, the finely formed cheekbones, the vulpine lower jaw. 
I said, "You know, there are two of them."
He said, "Oh yes?"
I burbled on. "Yes, there are two busts. One is in Lincoln Center at the Philharmonic. Whenever I take my friends to the Philharmonic I tell them 'Meet me at Mahler.' 
(I later found out that Rodin cast a number of Mahler busts, but that's not important right now.)
"He's my favorite composer," the other man said.
I said: "Really. Which symphony is your favorite?" by way of continuing the conversation.
He thought a minute. "The Second...and the Fifth."
I nodded and silently held up seven fingers. He smiled. "The Seventh. I like that one too. Actually," he added, "I'm a conductor."
"Oh," I said, trying to hide my surprise. "Where do you conduct?" 
"I am from Tashkent," he said. "My name is Aziz."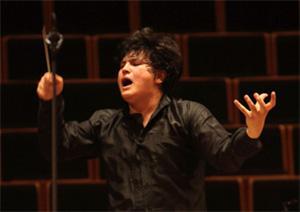 Aziz Shokhamikov. Photo provided by Jonathan Wentworth and Associates.
A later Google search revealed my new friend to be Aziz Shohkamikov, an up-and coming Uzbekistani conductor. In 2010, he placed second in the International Mahler Conducting Competition, a springboard to a budding international career. But here, we were just two guys talking Mahler. 
I introduced myself, handing him my card and explaining about my blog and what it is that I do. That accomplished, we went back to talking about Mahler.
"Who is your favorite interpreter of Mahler?" Aziz asked. 
"I like Boulez," I said. "Boulez and Sinopoli, because they're so different from each other."
"Sinopoli? Is that with the Dresden Staatskapelle?"
"Only one of them," I said. "Only
Das Lied von der Erde
which he recorded before he died. The symphonies are all with the Philharmonia."
"I conducted the Dresden Staatskapelle last year," he said. "At the Semperoper."
"I saw them once, with Sinopoli," I returned. "He conducted an all-Strauss program at Carnegie Hall. I saw them last year,with Daniel Harding conducting." 
And so it went. We talked "shop" for a few more minutes, exchanged a few more words about Mahler, and went on our way. In reflection, our chance meeting says something profound and marvelous about the artistic importance of this museum, and of this city of mine. Only here, on a sunny Spring day in this city, would it happen to be that the one fellow I get into a conversation with was an up-and-coming conductor.