With all of the art and design fairs that take place each year in New York, SOFA (International Expositions of Sculpture Objects + Functional Art), which opened to the public on Friday, April 20th and closed on the 23rd, is a breath of fresh air. While I hate to use the word "craft", because it is a bit condescending to the masterful artistry on view and makes one think of grade school arts and crafts classes, SOFA is the most sophisticated craft fair out there.
It is also an incredibly important show for artist jewelry because unlike other sectors of design there are only a few galleries dedicated to jewelry and they are all spread-out across the country. SOFA brings them all to New York (as well as Santa Fe in August and Chicago in November). The show is a great way to discover the work of new artists, which I did, and also see more from the artists whom you already know, which I also did.
Walking into the Park Avenue Armory one could not help but marvel at the white paper lanterns which beautifully transformed the drab space into a "celestial mise-en-scene" by the hand of the architect David Ling. The first booth that I noticed belonged to Sienna Gallery partly because it was hard to miss the mounted taxidermy deer head with a heart brooch made of steel belonging to the artist Lola Brooks. These pieces, ornate metal hearts with small bits of coral or large heart lockets with keys, are according to jewelry historian Elyse Zorn Karlin, is a 21st century interpretation of Victorian jewelry. Museum of Arts and Design jewelry curator, Urusla Ilse-Neuman further said that Brooks choosing to display her work on portraits of the Mona Lisa done in needlepoint is a way for her to remain sentimental yet still show her work in a fresh way. Although gallery owner Sienna Patti made it very clear that the jewelry is not sold separately from the display props. This work is part of Brooks' exhibition "Charted Territories" which is now on view at Sienna Gallery in Lenox, Massachusetts.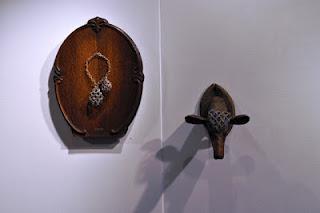 I was also fascinated by the COVET Project, a collaboration between Sienna Gallery and Ferrin Gallery, that focuses on the work of contemporary artists who are reinterpreting objects and art from museum collections worldwide. Stay tuned for a separate post on this project at a later date.
The booth belonging to New York gallery Charon Kransen Arts was exploding with wild colors and even wilder jewelry and as owner Kransen told me, when it comes to exhibiting at a fair like this, "less is not more but more is not enough." I must say that I appreciated the opportunity to see such a variety of work, especially from artists like Norwegian-born Liv Blavarp, whose work I fell in love with at Schmuck in Munich but only saw three examples at best. Moreover here was my chance to finally handle one of Blavarp's beautiful creations. I was also thrilled that Kransen found the time to take me through Blavarp's process. The artist, who comes from a long-line of wood workers and works primarily in wood herself, first creates a paper mold of her piece, then she carves and hand-sands the wood. She only uses natural dyes to add a bit of pop to her sculptural creations and, on some occasions, a lock made of whale tooth or another type of bone. Since each requires a lot of time and attention, Blavarp will only make 6-8 large necklaces a year. I discovered that aside from jewelry she also makes various decorative objects. To give you an idea what Blavarp's necklaces look like when worn on the body, I asked Kransen's associate to serve as my model. I loved the way the necklaces felt in my hands, while they had some heft to them, it was like holding a slinky in your hands.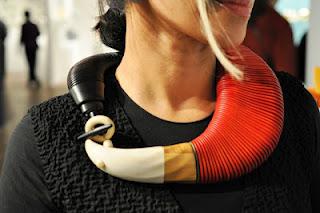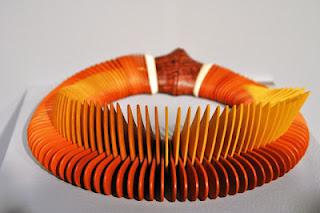 Another artist whose work I really love but have only seen sparsely, and by sparsely I mean not even in person but on a cover of a magazine, is Sam Tho Duong. For his latest collection called Frozen, the artist has turned away from unusual materials such as cherry pits and toilet paper, and is working with silver and freshwater pearls. Ornamentum Gallery of Hudson, New York had several of Duong's pieces, including his jaw-dropping necklaces and brooches which resemble freshly fallen ice on branches. Duong recently told Art Aurea magazine that "my necklaces remind me of nature. If the temperature is well below zero degrees Celsius, the bark and skin of branches, twigs, and fruits are covered with beautiful ice crystals. I try to translate this inspiration into my jewelry."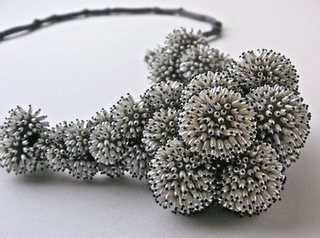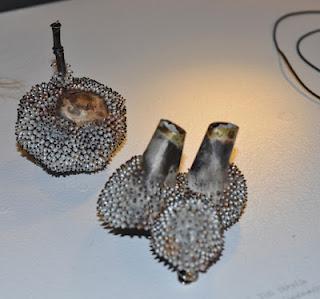 Last but certainly not least as I am a huge fan of this New Jersey gallery, was the work of relative new-comer Tobias Alm at Gallery Loupe. Alm gave a thoughtful in-booth talk titled "Guided By Intuition" about his spontaneous work method, which you may have guesses, it guided by intuition. A metal-smith by training Alm began to work with wood several years ago because it allowed him to translate his ideas into jewelry much quicker so that he could see results right away and not allow himself to be swayed by outside influences. Alm does not sketch but starts cutting away at the wood and then plays with the different forms to come up with the write composition, "nothing that I do is on purpose, I let all of my senses guide my work." Alm minimalist wooden sculptures come alive when placed on the body, "everything changes when you put a piece on" he says.