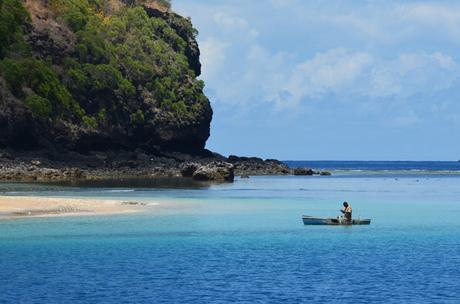 One of the draws for Comoros (outside my personal destination trifecta of minimal tourism, interesting culture, and natural beauty) is the marine park. The first protected area in Comoros, it encompasses nearly half the coastal waters off the island of Moheli – a day sail from our landfall destination of Anjouan.
The park is dominated by a series of parallel finger islands on the south side of Moheli. Viewing on Google Earth promises beautiful reefs, but precious few anchorages. GE is important here, since our charts call out most of it as 'unsurveyed' or 'inadequately surveyed', and soundings are infrequent.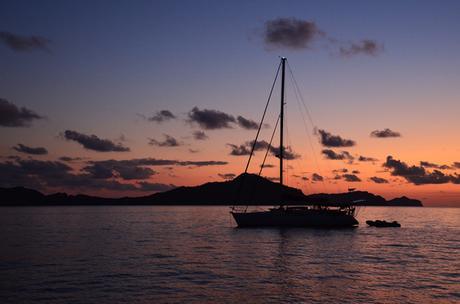 The islands are mostly very steep-to, with rapid drop-offs at the shoreline. But stray too close to Moheli, and fringing reef extends far from shore – nearly half a mile. It's OK, kinda, at high tide, but it swings at least four meters here, and when the tide bottoms out we see exposed rocks between our island anchorage and the mainland.
Waypoints from a friend (the Dutch boat Geramar visits a week ahead of us), good light, and sharp eyes for unmarked pinnacles or reefs get us in. The side of a spit gives a protected spot to drop anchor in sand, and it's deep- we're in 100' at high tide- but there's room for several boats to swing.

It's glorious. The landscape reminds me of Baja: rugged sun-burnt hills, patches of beach, pretty water. We while away nearly a week in this magical spot, where the kids play on the sandspit, extended underwater jaunts happen daily, and there are more nooks and corners then we can begin to explore.
Official visitors
Mutsamudu's port captain wants us to clear out, but is emphatic that we don't have to clear in when we get to Moheli. That's unusual (normally, you check in at the next port) but we're happy to have his assurance that this is the only formality necessary, and the only fee to pay.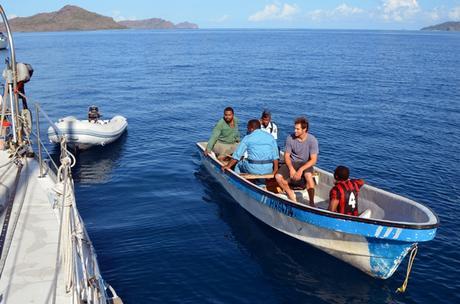 Unfortunately that message didn't make it to officials on Moheli. At 8am the morning after our arrival, a group of four men in a panga (some in uniform, some not) arrive. Roles are a little unclear, but there are immigration and police representatives. They want to see crew lists, passports, our clearance from Mutsamudu, and vigorously insist that we must check in. Naturally, there is a fee. This would involve an overland trip to Fromboni, the administrative capital on the opposite side of the island, but we can pay extra for officials to come to us from Fromboni. It feels like a shakedown, which is confirmed when the amount of the fee starts to move up. A phone call to the agent on Anjouan solves the problem. No check in needed, no fees to pay. Our printer/scanner makes a quick photocopy of the Mutsamudu clearance, so we can keep a copy while giving them one.
A second group of six (different) men arrives in the afternoon. This was mostly a repeat of the morning, but this time, they wanted to take our passports, and the port….Captain? Representative? Posturing junior official? Keeps them in a stack between his sandy shoes, while making a loud and extended speech that presumably tells us why this is essential, while underscoring his personal importance. At that moment, I appreciate that we have gone a few rounds with international clearance in the past, because we feel fine about just saying no. Nicely, firmly: no– you cannot have our passports. Guidance from our agent is they need to contact officials in Mutsamudu. It's done easily enough, although the senior official can only text to confirm as he does not have enough credit in his phone to call. Later, the boat of officials gets only a short distance away before running out of fuel. Andrew and Armand ferry out a little gas for the outboard to get them home. It's unthinkable at home that an official wouldn't be able to communicate because his phone was out of credit, or have insufficient fuel to do business as usual…hammering home both the poverty and how very, very different Comoros is.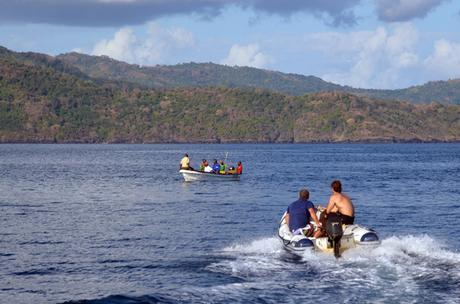 Thank goodness we have Aline and Armand on board, as the officials aren't able to speak English and everything is handled in French! Thank goodness as well for the NGO workers we met back in Mutsamudu, who had great insight into cultural nuances in communication. Monologues that feel unnecessarily long to us are normal here. A legacy of oral traditions, maybe? It's also normal for speech to sound in a manner that would strike us as aggressive or angry, if we hadn't been tipped off. But it's not. So we just stay calm, and smile, and reiterate our position…and everything works out just fine. They leave with handshakes, waves, and even a couple of smiles.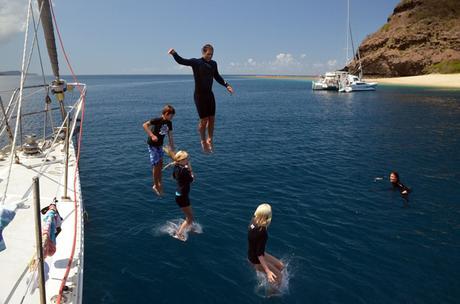 Unofficial visitors
We approached a couple of fishermen on the reef. As if our viability as a market was established after the first purchase of a few octopus (about $1 for an octopus that fed seven for dinner), an infrequent but steady stream of dugouts came to visit.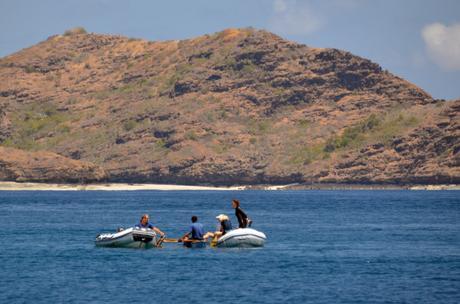 One asked if we'd like lobsters, and later brought back eight big painted crayfish that were shared between the boats (ourselves, Ceilydh and Utopia). Ours… is not one of the bigger lobsters.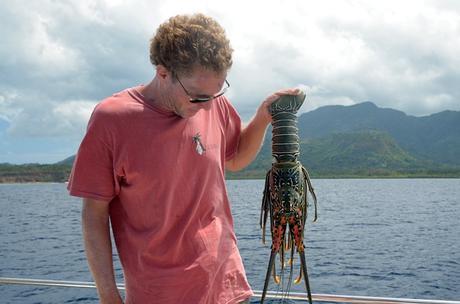 Another day, it was Spanish mackerel: five large fish in the bottom of an open boat.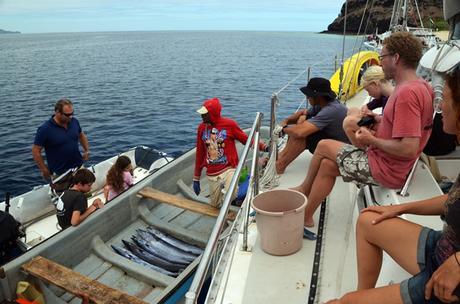 One of the last to visit came with goods they could sell locally as well also some specialties that visitors like us may like: a small bag of cloves, whole nutmeg with the lacy red mace still wrapped around the nut, and fragrant vanilla beans. We buy fire-roasted breadfruit to have with our fish for dinner, and a few eggs.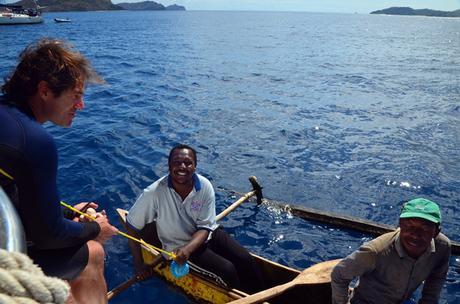 Later, they paddle to the beach where the kids are playing, and from the cockpit I watch them join the kids volleyball game- and then TEACH them better technique!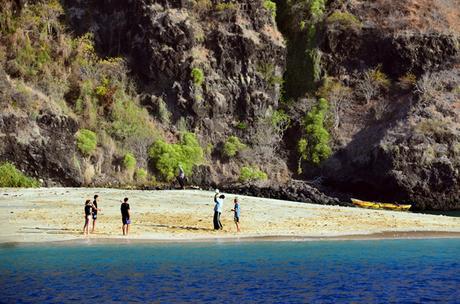 I worried if we'd picked enough supplies before leaving Mutsamudu, but it turns out the butter and garlic we purchased was vastly more useful than a frozen chicken. Lobster on the grill, butter and garlic. Fish filets with a butter/lemon/caper sauce. There are almond (flourless) brownies and veggie fried rice and oh hey lobster risotto, and one boat broke out aged steaks from fine Aussie beef. It's a feast under the stars, and before the quarter moon rises, the milky way provides a brilliant overhead lantern in our otherwise inky dark night.
Underwater
When we first arrived, a very large turtle swam near the boat. It was impossible not to get excited! But our first forways, while nice, were underwhelming.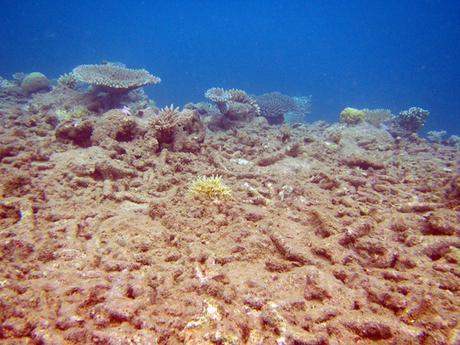 We eventually found some great spots.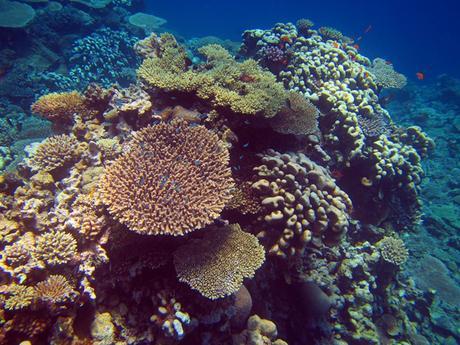 Corals are vibrant and healthy… stark contrast to Chagos this year. Hopefully it's beginning to recover from the bleaching we saw, but at least this looks so much better. And the water clarity is incredible!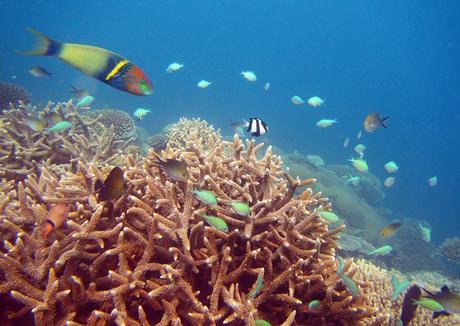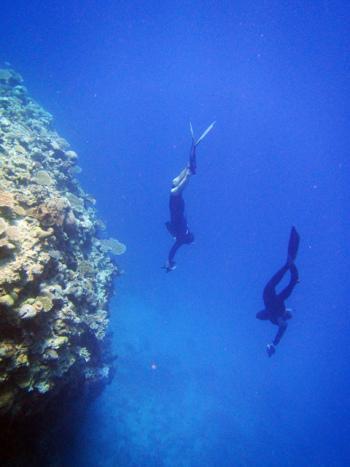 Armand and Aline, diving
On board are Aline and Armand, a French couple from Reunion. Aside from being lovely humans and all-around great company, they're highly proficient  freedivers, AND they take professional quality videos. These are my really humble by comparison snapshots… will link out to theirs when available.
The water is 80-82 degrees F, and yes, we're wearing wetsuits. After spending so much time in places where the ocean temperature is about the same as a bathtub, 80 is cold! OK, not THAT cold, but skins and suits extend comfortable time in the water.
We know whales come here, and that giant mantas are probably around. Even with our French friends aboard, we're often reduced to wild gesticulations to try and communicate what we're looking for to local fishermen.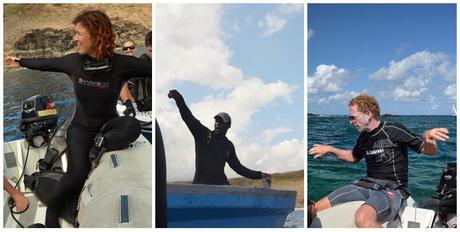 But we get through to one, and they know just the spot between two islands where mantas congregate. And then, there was that incredible chance to watch an octopus change the color, texture, shape to resemble the coral it's moving across. WILD.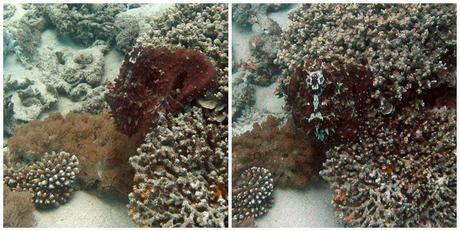 On shore
The beach at our anchorage was like our own private paradise. A spit of a few hundred feet long, and maybe a hundred across, it changed with the tide. It's pocked with the divots of turtle nests, and large tire-like turtle tracks run from the ocean to the nesting sites. At night we feel alone in our little universe, with just a couple of distant lights and a single fire offering the reminder that we're not entirely alone.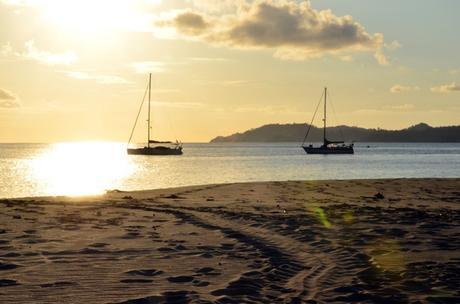 turtle tracks in the foreground, heading to the water…
On the mainland, it's just a few miles to a village that's visible in daylight. Throngs of kids on the beach are impossible to miss on dinghy jaunts to scope dive spots, and a plan to visit is hatched. One morning we hop into dinghies with a few of the Utopia crew to see what we can find. Essential equipment: a soccer ball. Inflated and stuffed in a backpack, it is the perfect icebreaker for making new friends in a place where we don't share a common language.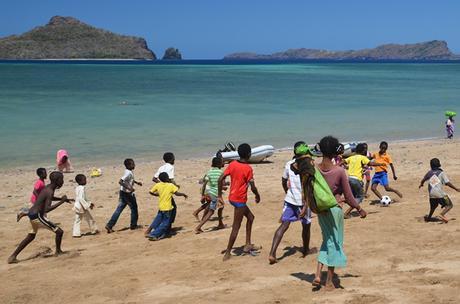 Once the kids understand this is for them, a beautiful chaos ensues. There are dozens of kids running up and down the beach, laughing and shrieking and kicking and passing. There are no clear teams, or goals, or objectives other than joyful mayhem.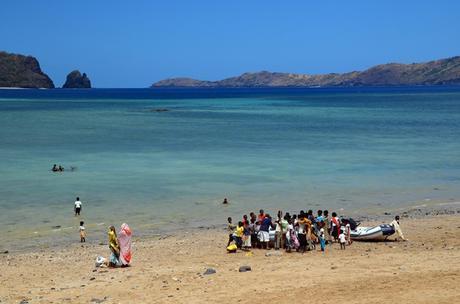 Our dinghy is hidden there, somewhere in the heap of kids…apparently a source of great interest. Utopia's is visible to the right.
The man who greets us on the beach speaks some English, and tells us he represents the police and we must come with him (but, some people must stay behind as security for our dinghies on the beach). Jamie and Andrew later report a long repetitive oration and then "it's OK to go, you can walk around." OK!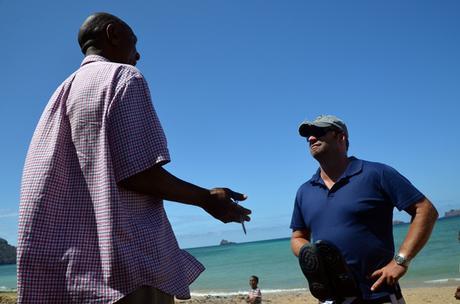 Andrew listens patiently. He told us he was a Captain about 20 times.
I've learned a little Comorian – greetings, pleasantries, and how to say "We live on a boat!"- enough to meet someone and crack a smile, but not much more than that. We keep our visit short: I use the excuse to buy sugar from a small shop, but really, everything about this morning is a ruse to engage in a little Soccer Ball Diplomacy, make some kids smile, meet a few people, experience a new place.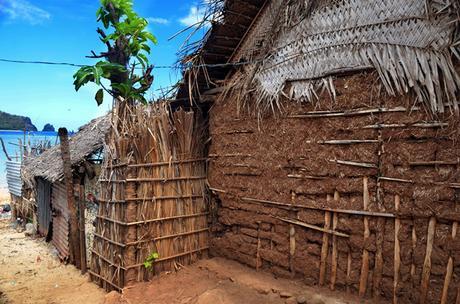 Huts from mud and straw at the waterfront: built in a day, and replaced about every three years.
Back to Anjouan
Our original hope was to spend a month in Comoros, and at least a couple of weeks in the marina park here- working on dive skills or certification with the masters in our company, learning about a new place, just chilling out. But delays in Seychelles (%[email protected]& watermaker parts!) leave us only two weeks for Comoros, and a handful of days for Moheli. But ending it with another sunset barbecue on the beach, the warmth of friends, and a beautiful place, we feel lucky just to be here at all.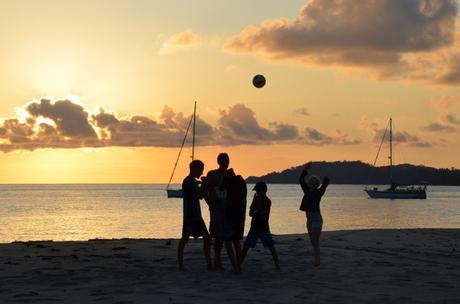 Heading back to Mutsamudu, Anjouan today – upwind in 22 apparent, oy! – we're treated to a whale show. Twice pods crosses in front of Totem: humpbacks, maybe? It's hard to tell, but there's an energetic juvenile that puts a smile on everyone's face, and cement the good feelings on board.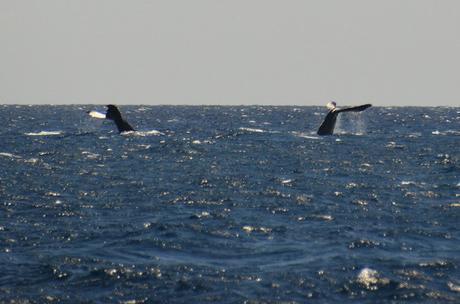 This post is syndicated on Sailfeed. Clicking through puts change in our cruising kitty – thank  you!