Have you heard the news? Asus just released its new smartphone which is the Asus ZenFone Max which is a power house. I came to know about this phone in June in an event organised by Asus. I was very much excited to see this phone on the market and here it is.
Now what makes this smartphone better than the others. Well, in my opinion every phone has pros and cons so we will not discuss what makes it better than others, instead we will discuss how it is better for you.
First of all its coming from the tech device giant ASUS that means you can assume that this is one of the best phones. More to that it has so many qualities that you will love to get this phone.
Asus ZenFone Max is a dual sim phone which accept two micro (GSM + GSM) sims. If we talk about connectivity option then it has 3G, 4G, FM, Bluetooth, Wifi and GPS.
There are still more to Asus ZenFone Max let's hear it all.
Asus ZenFone Max – Features
If you have seen the Asus Zenfone series specially the Zenfone 2 series then it would be similar to them. It has a 5.5 inch Capacitive display with a resolution of 720 by 1280 pixels. And it has a PPI of 267 pixels per inch.
So, that means it has a huge screen and a good resolution as well.
Qualcomm Snapdragon 410 processor is powering it which has a clock speed of  1.2GHz and it is also quad core. This processor is very good and can be easily used to play heavy games. Well, it may cause some lagging issue but they will be small that you will not notice them.
It comes with 2Gb of RAM that means extensive multitasking and a good gaming experience. It has an internal memory of 16Gb which can be expanded to 64Gb via Micro SD card.
That's a great thing, because most of the phone manufacturers are not giving us an option to increase the memory. More to that, it is up to you how much memory you need.
The features of Asus ZenFone Max are far from over. It has a rear camera of 13.0 Megapixels and a front facing camera of 5.0 Megapixels. It is an upgrade from previous generation of Zenfone which has a rear facing camera of 8.0 Megapixel and a front facing camera of 2.0 Megapixels.
As I have personally checked the camera of the phones of its series, I can state that it is mind blowing. I mean the clarity and the focus are very good. More to that the Auto focus feature is very fast and you can rely on it while on an adventurous trip. Asus has also made some changes in the camera app as well. Now it has more features and very innovative ways to take the pictures.
Now if you are thinking why it is named as ZenFone Max. Well, as I told you before that it is a power house. And now should be the right time to tell you about its power.
Why it is called as Asus ZenFone Max?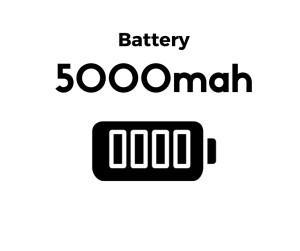 Asus ZenFone Max has non removable
battery of 5000 mAh
. Yes, you read it correctly it is 5000 mah. That is why it is called as Asus ZenFone Max and that's why I called it a power house.
Asus even said that, since it has so much battery capacity that is why it can also be used to charge other electrical devices. I mean it can even work as a power bank.
More to that, it is using the turbo charging technology. That means, it can be charged very fast. You just have to plug it in and in no time it will be fully charged.
So, to all the Game junkies out there who always have the low battery problem, may be this is your partner in gaming.
Now one more thing, the best thing which I like in this phone is its price. Its price is just Rs. 9,999. Can you believe it? So many great things and such a small price.
More features to Asus ZenFone Max
Other Features includes Compass/ Magnetometer, Proximity sensor, Accelerometer, Ambient light sensor.
It is currently running on Android 5.0 with a customized version of Asus which is called as ZenUI.
It is currently available on Flipkart and you can preorder it right now. The tentative release date is 14th Jan and the delivery date is 20th Jan.
Author information

Rohit Sharma
Author

at

TechnoCR
I am Rohit, a simple author on this website. I am still studying and learning new things everyday. I am not a perfect blogger just a newbie. I just love latest technology and have a addict to write and share what I know cause sharing is caring.
Twitter
Facebook
Google+
LinkedIn