The last few weeks, I have made this pasta dinner for a few times! Why? Because it is asparagus season! That means that the white gold is back in town! Lovely succulent fresh white asparagus pasta with a few simple ingredients. It is a super healthy pasta dinner & it uses only 4 basic lovely tasty ingredients! Let's guess!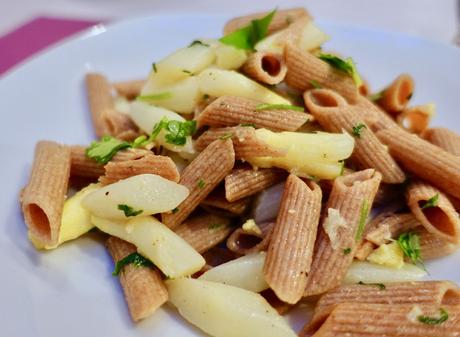 MMMM!
I used wholemeal spelt penne, fresh butter, fresh flat-leaf parsley & white asparagus! Ooh yes, so simple, very easy yet delicious to make!
Let's begin with the tasty recipe!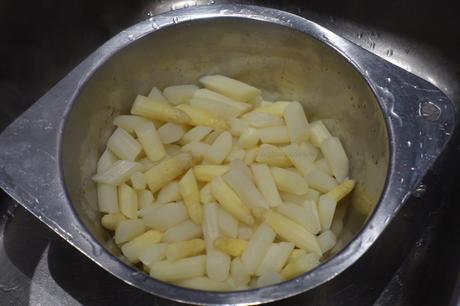 Fresh cooked white asparagus!
Recipe: For 4-5 persons
Ingredients:
350-400 gr wholemeal spelt penne
2 packets of fresh white asparagus, peeled & each one cut up into smaller bit-sized pieces
a handful of fresh flat-leaf parsley, washed, cleaned, spun dry & cut up finely
fresh lactose-free butter or fresh butter
keep the cooked water where from your asparagus
To serve: freshly grated Parmesan cheese
black pepper
Maldon sea salt
Method:
Take a large cooking pot & fill with cold water. Place your cut up asparagus in it. Place fitted lid on & bring the water to the boil. When it is well boiling, set the timer to 8 minutes. Boil your asparagus for 8 minutes or until just al dente when pierced with a fork. Taste with other pieces too. Drain well but keep about 150-250 ml of the cooked asparagus water. In the same pot, heat of a few knobs of butter. When hot, add drained asparagus & the cut up parsley too. Carefully with 2 hands, shake your pot up & round so that the melted butter & parsley have coated the asparagus. See that the asparagus are hot too. Season with some finely milled black pepper & some salt too but not too much! Keep warm.
At the same time, cook your pasta until al dente. This was 8 minutes. Drain well. Add the butted aspargus-parsley to the warm pasta & stir round carefully in the pot trying not to break the cooked asparagus! Add some of the cooked asparagus water just enough until you get a bit of a sauce. Season again if you need to.
Heat up 2 white pasta plates & place the mix onto your plate. Just before serving, add some freshly grated Parmesan cheese over the top! Now, you can taste the sweet asparagus, the parsley, the salted cheese & the yummy spelt penne! Perfect! Enjoy with loved one's!!!! MMM,…

Subscribe By Email + Get Free E-Book: Healthy Vegan Christmas! Join 1,800 email subscribers! It is free! 

Stay Tuned & subscribe by email! Click the photo link here below to subscribe!!! Treat yourself to my Free E-Book: Healthy Vegan Christmas! 10 new unpublished recipes of me & 8/10 are also gluten-free!   

I have a version for a Mac, iPad, iPhone.
I also have a version in PDF-format.

Just click onto the photo to subscribe!