Asopao is Puerto Rico's national soup and one of the most important gastronomic recipes in Puerto Rico. This version features chicken, the most classic version of this one pot wonder.

Asopao de pollo always reminds me of home and the holidays. Perfect for cold winter nights, asopao is a somewhere between soup and a stew. Tender bits of chicken are simmered in a flavorful stock, then rice is added and cooked until tender. Unlike arroz con pollo, asopao is more similar to a risotto, where the rice becomes really plump and creamy, due to the extra liquid added to the pot during cooking. It's meant to be eaten with a spoon, and also happens to be a classic recipe to serve to late-night guests during the holiday season (along with )! Asopao de pollo is the perfect dish to make when you need something warm and delish to fend off winter's grip.
What is Asopao?
Asopao is a hearty stew made with rice, , sofrito seasoning and veggies. It's sort of reminisoup and arroz con pollo! It's one of those foods that instantly reminds Puerto Ricans of home. My grandmother makes it during the holiday season in Puerto Rico, because there's always someone stopping by during the season of parrandas. I'm always amazed by how many people she is able to feed out of a single pot! Moms and Abuelas all over the island have their signature recipes for this comforting dish. It's a staple in the kitchen, whether it's for a family reunion, large gathering or simply a flavorful home-cooked meal.
What Ingredients Are in Asopao?
The staple ingredients for Puerto Rican asopao are chicken, rice and sofrito. You can use chicken on the bone or boneless, depending on your preference. Other ingredients include traditional Latin seasonings like adobo and , along with tomato sauce, chicken broth, and veggies of your choice. Canned peas are a traditional addition, but I love the color and flavor of fresh or frozen peas, so I swap those out. My mom always added cut corn cobs to this dish, and I do! I love the way the corn soaks up the delicious (broth) as it's cooking. You can also make this with shrimp, pork, or beef.
What To Serve With Asopao?
Asopao is a one pot dish, so it's perfect on it's own. My abuela always serves it with tostones (fried plantains), and you can't go wrong with some sliced rice avocado on the side as well. The tostones are a lovely, crunchy side dish to the creamy soup, and the avocado has a creamy, cooling effect on the hot soup.
More Latin-Inspired One Pot Meals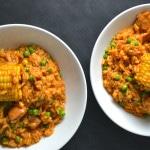 Asopao De Pollo (Puerto Rican Chicken & Rice Gumbo)