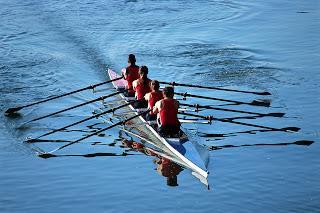 It's the time of year when many endurance athletes are considering their medical and health preparations for the upcoming season, whatever their sport.  One important consideration is pre-participation screening for heart problems.  I get inquiries like:
Should I see the doctor before training?

I'm concerned about the heart risks.  Should I get my heart checked out?

Do I need an EKG?  An echocardioam?
These are all good questions.  But the answers really do depend upon an athlete's circumstance.  There's no one-size-fits-all prescription here.
I thought I'd gather a group of experts to give you their opinions about 4 fictitious athlete scenarios.  You'll get to see how these experts approach the athletes' situation and how they'd handle the issue of pre-participation screening for each.  None of these fictitious athletes will match your own situation, but you can learn from these scenarios so that you're better able to have a conversation with your doctor about how to make plans that are suited for your circumstances.
The Experts
John M. Mandrola, MD, is a cardiologist in Lexington, Kentucky who specializes in electrophysiology, the field of cardiology that focuses on the prevention, diagnosis, and treatment of arrhythmias.  He is an avid cyclist and occasional triathlete.  Follow Dr. Mandrola on Twitter at @drjohnm and read his blog about medicine and cyling at www.drjohnm.org.
Jonathan A. Drezner, MD, is a member of the Family Medicine faculty at the University of Washington, with a clinical focus in sports medicine.  He also serves as Team Physician for the University's Department of Intercollegiate Athletics.  Dr. Drezner has an international reputation in the areas of automatic external defibrillators (AEDs) in sports settings; emergency preparedness for sports-related sudden cardiac death; and pre-participation screening in young competitive athletes.  Dr. Drezner is the current President of the American Medical Society for Sports Medicine.  He is also active with charitable organizations that promote awareness for heart conditions that affect young athletes, including Parent Heart Watch, the Sudden Cardiac Arrest Association, and Heart Screen America.
James G. Beckerman, MD, is a cardiologist in Portland, Oregon who focuses on preventive and sports cardiology.  He serves as Team Cardiologist for the Portland Timbers soccer team and as Medical Director for the Play Smart Youth Heart Screenings Program.  Follow Dr. Beckerman on Twitter at @jamesbeckerman.
Philip F. Skiba, DO, is the Program Director for Sports Medicine at Lutheran General Hospital, in Chicagoland and Acting Program Director for Sport and Exercise Medicine at The University of Exeter, UK.  He is the CEO of PhysFarm Training Systems and has coached a number of world-class triathletes.
The Assignment
I asked each of the experts to comment on the 4 athlete scenarios, with the following instructions:
What would you recommend for the athlete if he/she contacted you about pre-participation health screening--if YOU were going to be the athlete's doctor?  Please discuss your approach in light of the history provided by the patient in a short telephone conversation.  Assume that the athlete has typical employer-based health insurance, with $1000 annual deductible, and no special wellness benefits.  Would you schedule an office visit for history and physical examination?  If so, what would be your focus?  Would you plan any diagnostic testing--chest x-ray, blood tests, EKG, echocardiogram, stress test, etc.?  If the answer is "maybe," discuss how you (and the athlete) would decide.
The experts' responses are listed with each scenario.
Scenario #1

24-year-old woman wants to join her girlfriends in training for her first 5k run.  She is slightly overweight, but sees this as an opportunity to lose weight.  She has no chronic medical problems and has no family history of heart disease.  She sees a primary care physician annually and reports that her last physical examination was 8 months ago.  She takes an oral contraceptive.
Dr. Mandrola:  I would do nothing.
Dr. Drezner:  I would encourage her to start her training program, and offer a more comprehensive heart screen that would include an ECG.  The risk of sudden cardiac death in young athletes is lower in females than males, but I would still offer a screen.  Most young athletes with a pathologic heart condition have no symptoms.  An ECG helps to identify silent diseases that place athletes at risk of sudden cardiac death.
Dr. Beckerman:  No diagnostic testing.  I would counsel her that it is possible that she will not experience significant weight loss from the 5k training, but would emphasize the health benefits--short and long term.
Dr. Skiba:  If I were the primary care physiciansh e sees annually, I would clear her for participation, with the caveat that she should immediately contact me for any strange symptoms, and I would carefully delineate signes or symptoms that should trigger concern.  If I were not her primary care physician, I would not clear her without the pre-participation history and physical exam I provide to all athletes.
Scenario #2
35-year-old man is a former high school track athlete, is currently a recreational runner, and now wants to begin structured training for his first-ever marathon.  He is a former smoker, having quit at age 28 after smoking 1 pack per day for 8 years.  His last complete physical examination was during high school.  He injured his ankle a year ago, prompting an ER visit where he learned it was sprained.  At that visit, his blood pressure was high.  About 8 months ago, along with his wife, he visited a health fair where he had his cholesterol tested.  The cholesterol and LDL were elevated.  His mother has high blood pressure.  He currently takes a fish oil supplement.
Dr. Mandrola:  I would recommend a complete physical exam, including an ECG and stress ECG.  Even if they were normal, I would advise him to begin training very slowly and consider delaying his marathon a year or two.  This will allow him to embark on such a lofty goal when he is fitter and likely with a better blood pressure.  This last caveat comes from personal experience.  It took me 3 years to successfully run a marathon, as each attempt was felled by an over-training related injury.
Dr. Drezner:  This patient has multiple risk factors for atherosclerotic coronary heart disease--the usual culprit in adults over 30 years old that causes heart attacks or sudden cardiac arrest.  I would strongly encourage this patient to come in for an evaluation, counseling and treatment of his high blood pressure and high cholesterol, and discussion of an exercise stress test.  An exercise stress test is the best way to look for coronary artery disease and recommended for adults with cardiovascular risk factors who are starting a new or more intensive training program.
Dr. Beckerman:  If he has normal blood pressure today, I would not recommend any diagnostic testing.  I would recommend some dietary changes and would recheck his lipids in 3 months.  Warrants a full cardiac exam to focus on blood pressure, murmurs, abdominal bruit if BP elevated.
Dr. Skiba:  I would provide the patient with a preparticipation history and physical exam.  As exercise is effective treatment for both hypertension and hypercholesterolemia, my advice would depend upon the level of elevationand,  whether he required urgent treatment or whether a trial of exercise would be appropriate.
Scenario #3
44-year old woman is currently a competitive masters swimmer who wants to take up triathlon in the upcoming season.  She has no chronic medical problems.  There is a remote history of goiter for which she had subtotal thyroidectomy.  She has two healthy children.  Her mother and sister have high blood pressure.  She takes a daily multivitamin with iron.  She reports that she "blacked out" 3 years ago at the conclusion of a swim workout, but had no specific medical evaluation or treatment.  She occasionally has bothersome palpitations.  Her last complete physical examination was 3 years ago.
Dr. Mandrola:  I would recommend a history and physical with an ECG.  If the ECG and exam were completely normal, I would stop.  If the QT was borderline or the palpitations struck me as ominous, I would likely add a Holter monitor and treadmill.  The Holter to look for AF [atrial fibrillation] or other arrhythmia and the treadmill to look for exercise induced arrhythmia or abnormal QT response.
Dr. Drezner:  This patient needs an evaluation to check her blood pressure, ECG and stress test, and perhaps a 24 hour Holter monitor.  Passing out is not normal.  Although it is usually benign when it occurs after exercise (not during), everybody who passes out should have at least one ECG.  Her age suggests a stress test is also indicated for exercise related passing out.  She also has palpitations which may indicate the presence of an arrhythmia.  Extended ECG monitoring (ie, 24 hours) can sometimes capture an abnormal heart rhythm if present.
Dr. Beckerman:  I would check an ECG.  If palpitations are nonexertional, I would consider a Holter monitor or event monitor based on frequency.  If palpitations exertional, consider exercise treadmill test.  Check TSH.  Warrants a full cardiac exam with a focus on murmurs.
Dr. Skiba:  This is an athlete who deserves a thorough workup.  Syncope during or at the end of a swim workout could be the result of shallow water blackout (depending on what she was trying to do during that last bit of swimming), or could be the sign of something more sinister (i.e., an arrhythmia).  The chances that an isolated syncopal episode 3 years ago were a sign of some cardiac issue that has not presented itself again is admittedly somewhat remote, however in the setting of continued palpitations I am more suspicious.  She should at least get at EKG, with possible addition of an echocardiogram and/or Holter monitoring depending on where the workup goes.
Scenario #4
56-year-old man, currently a triathlete, wants to begin structured training in preparation for his first-ever Ironman triathlon.  He is particularly concerned about his heart risk because a friend, and fellow triathlete, recently died after a heart attack.  He is a former smoker, having quit at age 38 after smoking 1 pack per day for 15 years.  He currently takes an ACE inhibitor for high blood pressure and a daily aspirin.  His father died at age 52 of a heart attack.  Although he visits annually with his primary care provider, his last complete physical examination was 4 years ago.  He feels that he is about 20 pounds overweight.
Dr. Mandrola:  I would do a history and physical, blood sugar, lipid panel, ECG and stress test.  If these were normal, I would stop.  I can't believe I'm saying this, but given his medium risk, a coronary CT scan might help here.  In the presence of coronary calcium, I would recommend statin therapy and strongly explain the risk of doing long-distance marathon/triathlons.
Dr. Drezner:  This patient has multiple risk factors for coronary heart disease, including his past history of smoking, high blood pressure, and his father's history.  A family history of early heart attacks should be taken seriously, as genetics often dictate one's risk and the timing of potential events.  Combined with his other risk factors, his family history places him at high risk for heart disease.  Before he enters a vigorous exercise program, I would want to screen for coronary artery disease.  A CT scan for coronary calcium scoring can detect calcium deposits in atherosclerotic plaques and provide some assessment of risk.  A stress test, or in this case a stress echocardiogram, will show if there is an obstructive lesion that limits blood flow to the heart during exercise.
Dr. Beckerman:  Full physical exam.  Check ECG.  If normal, exercise treadmill test.  If abnormal, stress echocardiogram.  Check Chem 7 [serum electrolytes] and CBC [complete blood count].  Recommend screening colonoscopy.
Dr. Skiba:  This is another patient who requires more careful monitoring.  In addition to a pre-participation history and physical exam, I would be concerned with how well the patient's blood pressure was controlled, as well as how his lipid panel looked.  By strict interpretation of guidelines, he may not require testing because e is seemingly not symptomatic.  However, in roughly half of people the first sign of cardiac pathology is death.  I would therefore very carefully question him with respect to symptoms he might be ignoring or "brushing off."  Given that he is hypertensive, he has a long smoking history, and a strong family history, my inclination would be to stress test him, especially if he is not (or has not) been training vigorously.