This salmon sheet pan meal with roasted napa cabbage uses citrusy Ponzu sauce and sriracha to give it a sweet and spicy Asian flavor without a lot of fuss.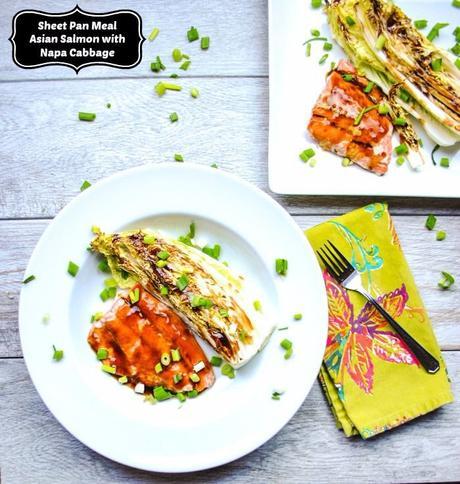 I'm skipping 5 Ingredient Friday this week in favor of my latest love - sheet pan meals.
A sheet pan meal is a dinner that requires one baking sheet pan to make. No surprise there, right? You can combine almost any protein and vegetable with seasonings and sauces, then roast them in the oven to make an easy, healthy and family-pleasing dinner.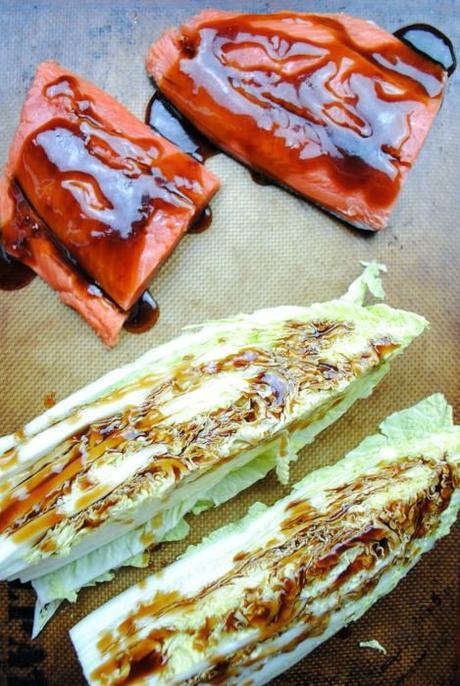 Asian flavors are a perfect match for this salmon sheet pan meal. If you aren't familiar with Ponzu sauce, it's a soy-based citrus sauce when combined with sriracha, sesame oil, and cornstarch makes a sweet and spicy sauce for the salmon and napa cabbage I've piled on my baking sheet.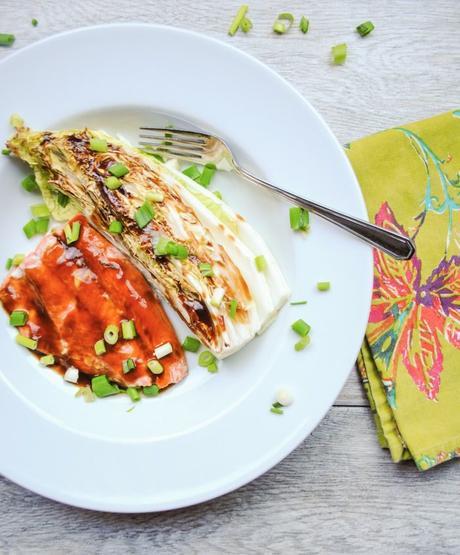 It took me awhile to get behind the idea of roasting cabbage and greens, but I'm a fan now. Roasting brings out the same nutty sweetness it does in other vegetables but retains a crunchiness that I can't resist.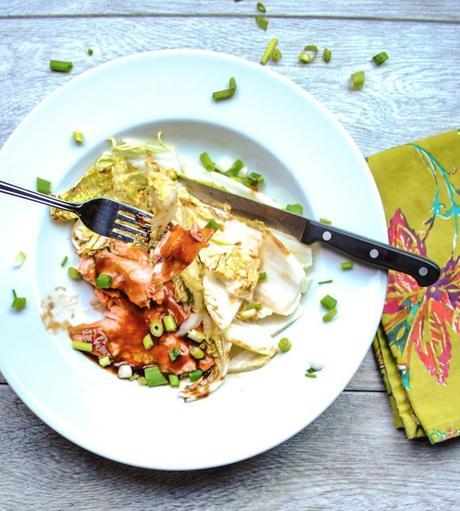 It's the sauce that my family finds most appealing when it comes to Asian-inspired dishes, and this salmon sheet pan meal is a perfect example. With a sprinkle of delicate green onions on top, the flavor is fantastic!
Shake It Up!
This sheet pan meal is super flexible. Swap the salmon for cod, tilapia, shrimp, pork, or chicken. Toss broccoli, zucchini, or almost any vegetable into the mix in place of napa cabbage.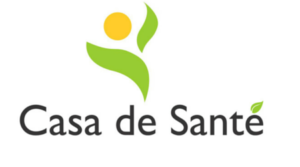 Before I leave you for the weekend, don't forget to enter our giveaway of Casa De Sante's gluten free and FODMAP friendly spice packs. The giveaway closes on Monday, October 10th, 2016.
Have a terrific weekend everyone!
10 minsPrep Time
30 minsCook Time
40 minsTotal Time

Save Recipe
Ingredients
10 ounces salmon filets
½ medium napa cabbage, cut the cabbage in half lengthwise leaving stem intact. Then cut halve again so you have 4 quarters. Trim the stem from the ends.
½ cup Ponzu Sauce
½ teaspoon sriracha, more if you like heat
½ teaspoon sesame oil
½ tablespoon cornstarch
2 large green onion, sliced
Instructions
Preheat the oven to 275. Spray a nonstick cooking sheet with cooking spray or use a silpat.
Combine Ponzu sauce, sriracha, sesame oil, and cornstarch in a small microwave save bowl. Microwave on high for 1 minute, stir, then microwave another 30 second. Sauce should be thickened.
Place two salmon filets and 2 quarters of napa cabbage on the cookie sheet and drizzle sauce over the salmon taking a spoon to spread over the meat, and the cabbage.
Roast in the oven for 25 - 30 minutes until the salmon is opaque in the middle and lightly flakes. Never overcook salmon or it will be extremely dry.
Remove the salmon to plates and turn the oven to broil and cook the cabbage under the broiler for 3 - 5 minutes to just brown the edges and soften the cabbage.
Serve salmon with cabbage topped with green onion.
Notes
http://motherrimmy.com/asian-salmon-sheet-pan-meal-napa-cabbage/
Products I used for this recipe - Calphalon Nonstick Bakeware and Silicone Baking Mats.
Periodically, Mother Rimmy's hosts giveaways for readers. These events are sponsored by brands I approve of. I use Rafflecopter as a fair means to choose winners. The intent of giving away products is to add fun to this site and is not meant to be a form of gambling or sweepstakes.
If you decide to make a purchase, Amazon will pay me a commission for it. This doesn't cost you anything additional. These commissions help support the cost of authoring this blog, so thank you!
If you like this, then you'll love these!