Ashley Tisdale Engaged to Boyfriend Christopher French
The Disney star and soon-to-be E! star is now also a bride-to-be! Ashley tweeted the good news last night, saying "We're on top of the world!" This may have been a reference to their location – the VIP exclusive 103rd floor of the Empire State Building. But we're thinking it was more likely an engagement announcement! A source confirmed to Us Weekly that the joyous tweet, which also called Thursday August 8th the "best night of [their] lives," was in fact a reference to a brand new engagement ring and an impending marriage!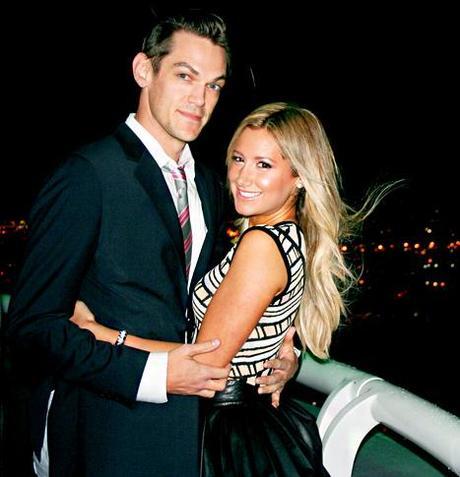 via US Weekly
The musician reportedly had been planning to propose for quite some time, and while Ashley may have been expecting it, she was still surprised when he actually popped the question. The Annie Automatic rock star got down on one knee atop the iconic New York landmark, but their sightseeing tour didn't stop there. The couple were spotted out and about today doing some shopping in SOHO.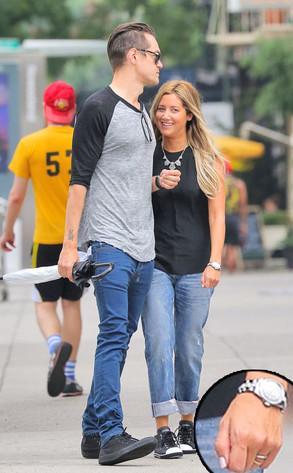 via E!
Of course, we've got our eyes glued to the internet waiting for a ring pic, but it appears Miss Tisdale is being coy. We don't believe Christopher proposed with either of those bands alone, but that one is turned around to hide a sparkly diamond. Why is she hiding the ring? Maybe she'd rather her family see it in person before she shows the whole world. Maybe she's so focused on that newly engaged warm fuzzy high that she doesn't want to subject her new ring (which we're sure is 100% fabulous) to the scrutiny of Twitter, etc. Whatever her reasoning, there's definitely a diamond on the other side of that hand. More evidence?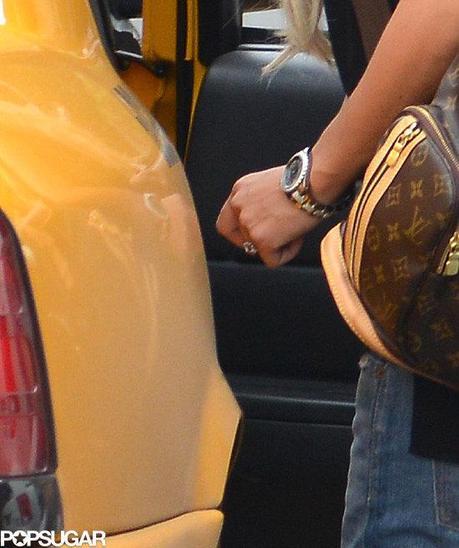 via PopSugar
Here's the star's left hand as she's entering a taxi – hello gigantic rock! From this blurry picture it's hard to tell exactly what's going on with this engagement ring, but you know we're always happy to speculate. It looks like a large, high quality white diamond (cushion or radiant shaped if we're being wild) with micropave accents. Ashley totally strikes us as a halo type gal, but we wouldn't be surprised if there are diamonds on the white metal band too. Maybe something along these lines, but with a brilliant cut center stone: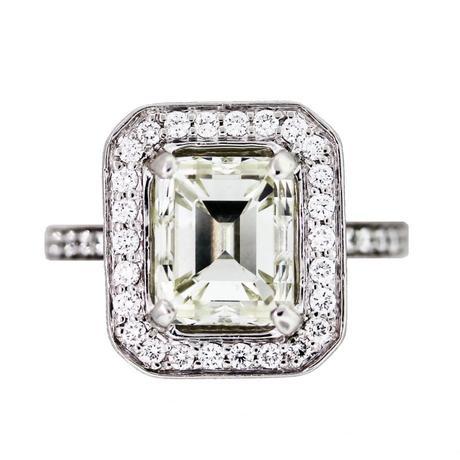 4 Carat Emerald Cut Diamond Platinum Engagement Ring in Halo Setting