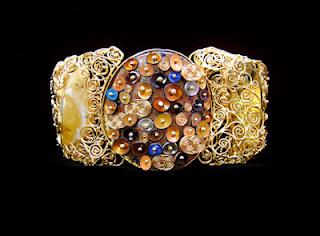 Asagi Maeda, "Spirits of Klimt", September 2007,  Sterling silver ( 24K gold plated), enamel, milky amber, green amber, 18K gold (for balls on the center of the enamel pieces)
I have been writing about Klimt so frequently on this blog lately that I think I need to create a Klimt tag. I recently came across this stunning bracelet by Asagi Maeda called "Spirits of Klimt" (2007). Maeda is a brilliant Japanese jewelry designer who lives in Tokyo and lectures on jewelry making at the Jyoshibi University of Art and Design.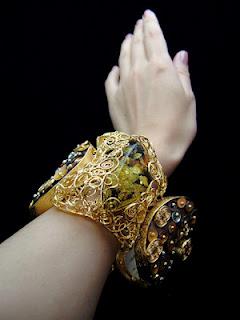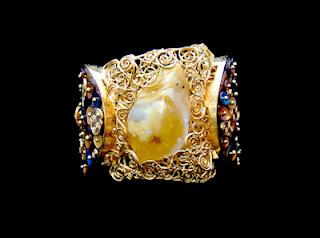 I love how Maeda took the decorative aspects of Klimt's paintings and translated them into a piece of jewelry. She used the enamel pieces to convey the different colors that bring Klimt's work to life and incorporated swirls of gold on the sides of the cuff reminiscent of the leaves in his frieze from the Palais Stoclet Dining Room (1905- 1911) in Brussels. Maeda is certainly not the first artist to be inspired by Klimt but she has done it in a beautiful and original way.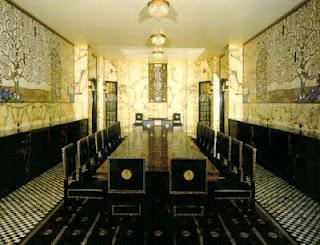 Palais Stocklet, Brussels, Belgium, 1905-1911. A collaboration between Josef Hoffman and Gustav Klimt.
Maeda's "Train Necklace" is currently on view at the Museum of Arts and Design as part of the "Hanging Around: Necklaces from the MAD Collection" exhibition on view through May 21, 2012.
Visit Asagi Maeda's
website
for more information on her work.