October 26th we gathered inside High Society Hookah Lounge for our Artist Development Showcase with performances by Orlando acts: Reepicheep, Akazia, Spiritual Warfare, Rkind, Nate Larson and Eden.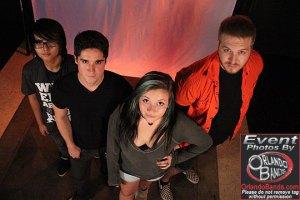 Akazia
"We like to joke and call our sound "Pop-Core"…"
What would you like our readers to know?
(Answered by Everyone)Hummus is good, drugs are bad, spay and neuter your pets, and keep your eyes and ears open for our first single "Hysteria", which we plan to give out for free at all of our live upcoming shows within the next month! Also don't forget to check out our website, AkaziaBand.comand like us on Facebook at 
Facebook.com/AkaziaBand
, to keep up to date with our live shows and future recordings!  
How does the band write together?
(Answered by Drummer Danny Asistin) The best way to describe our writing process is that we come up with a concept for a song and build from there. It usually starts with a melody or guitar riff and builds from there. We recently wrote a whole new song during just one practice which really speaks for how much chemistry we have as a band.  
Who would you say are your musical influences:
(Answered by Guitarist Rene Perez) We have a number of musical influences ranging from Mozart(yes you read that right!) to Icon for Hire, Paramore, Tonight Alive, Sleeping with Sirens, Silverstein, Lydia, There for Tomorrow, A Day to Remember, and Pierce the Veil, just to name a few…or several!
Why that band name?  
(Answered by Lead Singer Hannah Siegel) I was wandering through a Target and came across a mystical book, referred to as a Dictionary! In it I found the word Acacia, which was a type of tree. We liked Acacia as a name, but wanted something more unique. We played with the spelling, tossing up versions of the word like Akasia, Acasia, Akacia, and more, eventually agreeing on Akazia.