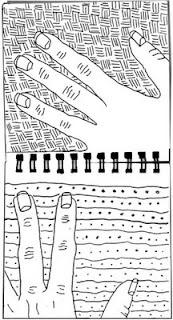 I find that students often think that art equals drawing and if they are not good at drawing, they are not good at art. I try to show them that drawing skills come from taking the time to see details, and lots of practice.


1. With a journal or drawing paper, ask the students to trace their hands with a pencil.
2. Once they are happy with their hands, they are to take either a thin marker or pen and draw in as many line details as they can (nails, wrinkles, etc.)
3. Lastly they chose a line pattern and completely fill in the background. The goal is to have them get into a kind of "doodle" trance, which is a great place to be!
CA Visual Art Standard: Creative Expression, Grade Five 2.2 Create gesture and contour observational drawings.