Art: Art Spin by Celeste Ramos | Insider's Toronto - Toronto Travel Guide | Canada Travel Services
It's a sad thing to admit, but summer is on its way out and the autumn leaves are beginning to fall. Although this turns Toronto into a swirling mix of beautiful fall colours, it does mean I am waving goodbye to the warm days of summer and so this weekend I decided to make the most of Canada's great outdoors by getting on my bike and trying Art Spin.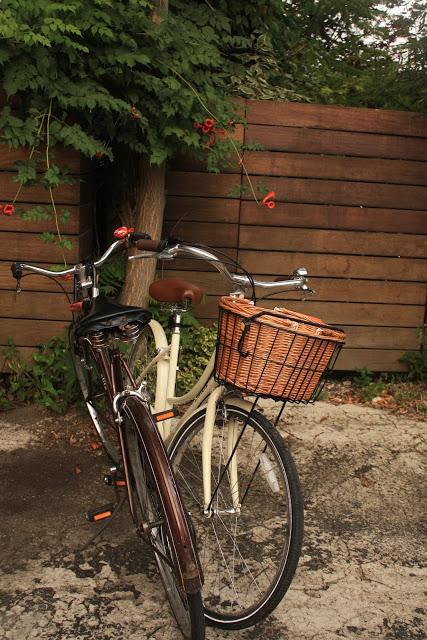 Art Spin is a totally free way to get to know the city, lead by the friendly team at the Art Spin Organisation. Art Spin is a new 'spin' on the concept of the bar crawl and involves touring the city by bike while 'art crawling' through Toronto's galleries. You visit some commercial, some public and some artist run art spaces, taking in out-of-this-world art performances, marvelling at elaborate installations and taking a peek into where the magic happens inside the artist's studios, all spread out through the heart and suburbs of the city.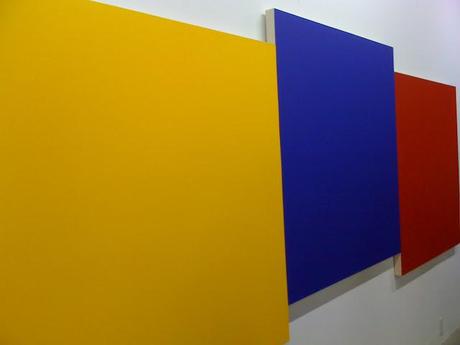 My adventure started at 6.30 in the evening: the weather had cooled off nicely making it perfect cycling weather. We met at Dufferin Grove – when I say 'we', I mean me and the 300 other cyclists who had shown up for the event. I don't think I've ever seen so many bicycles in one place! We were welcomed by our expert Art Spin guide Michael Louis Johnson, who explained the importance of sticking together and showed us a trumpet that he would be using to act as an audible guide so every cyclist group would know where the head of the pack was while we were riding.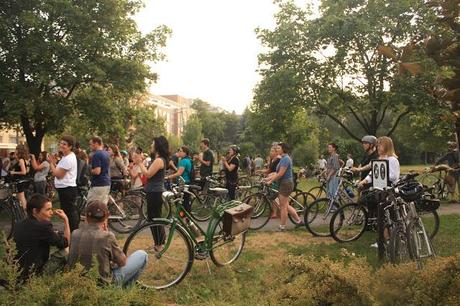 Setting off, our first stop was at an art performance 'Under the Tree' – an interesting installation centered around a tree and a clothes line!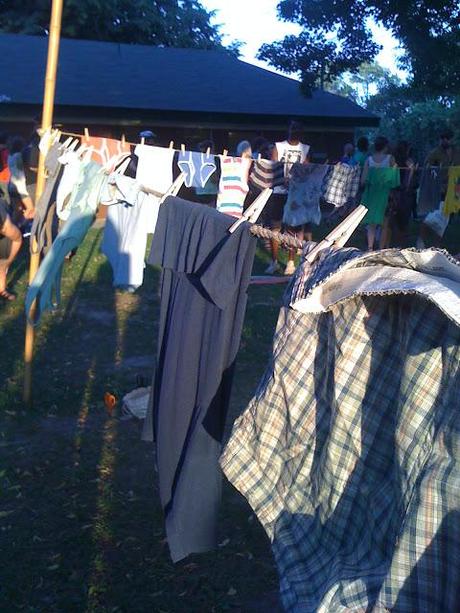 After this, we were back on the bikes to follow Michael for another couple of blocks before we were led to a shared studio space used by artists Nathalie Quagliotto, Laura Paolini, Erika James and Robert Hengeveld. We stayed to view some of their work for a while before Michael blew his trumpet and it was time to move on!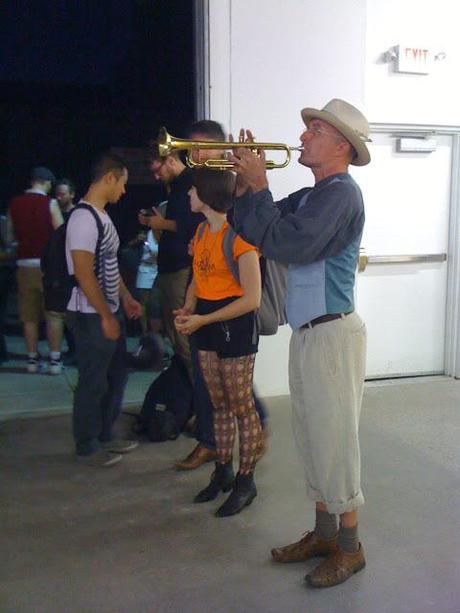 After a quick stop at a dirt mound to watch another art performance by a pair of girls, we moved on to the gallery art space of Arsenal Toronto to watch a show by Montreal galleries Division and René Blouin. This was favorite my part of the evening – the performance of an excerpt from 'Mortified' was exceptional. Artists Jenn Goodwin and Camilla Singh acted out the music and movement based performance, which saw them half fighting, half cheerleading in the dark, before a drum performance ended things with a bang!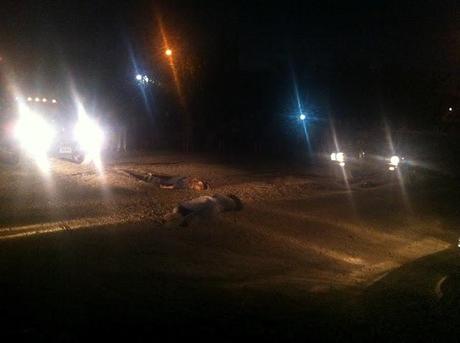 Our last stop on this magical mystery tour was at 50 Edwin Avenue, a recently reclaimed and raw industrial space which is the new home of the Metropolis Factory. There were a number of art performances to watch, which included artists rather spookily wriggling around under red sheets, some marvelous paintings, captivating films and a number of fascinating sculptures which had all been curated by the Art Spin team. Everything closed with a live band, dancing and delectable drinks at the Metropolis Factory bar.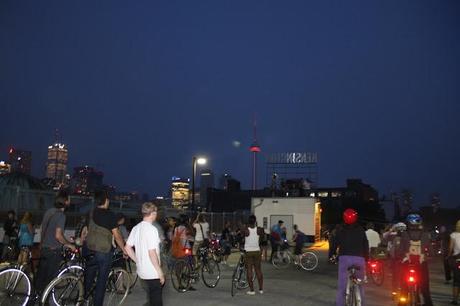 Just like summer, Art and Spin's adventures might be over for the year, but keep your eyes peeled for their 2013 Art Spin tour. One of these rides is the experience of a lifetime – when else are you going to get the opportunity to ride around neighbourhood blocks with hundreds of people while expanding your mind with incredible art? It's certainly going to be an experience that sticks with me for the rest of my life!
Where: Downtown, different locations
When: Last Thursdays of summer months, June – August, meet 6:30pm, leave 7pm.
Cost: Free
Transportation: Bicycle is necessary
Rentals: Mike the Bike, Curbside Cycle,Sweet Pete's, Amego Electric Vehicles
Website: http://www.artspin.ca