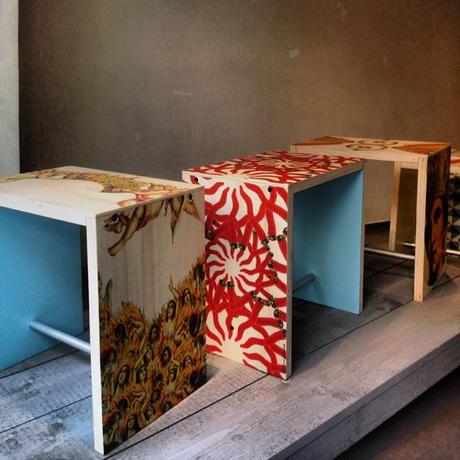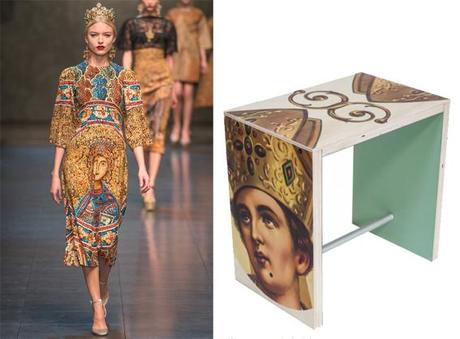 " Nordico verace " is the title of an idea behind a line of furniture made of basic and primitive design of the past to which is given a second identity.
Symbols, memories and colors belonging to an ancient imaginary taken from Southern Italy tradition are added like a second skin and bring back to life old tastes, smells, sounds and voices. And so, an old seat is transformed into a shelf or a contemporary library.
The surfaces are decorated inspired by iconographic imagery belonging to Southern Italy.
Old decorative potter , antique flooring or ancestral patterns that refer to crowns and Saints where the predominance of the color gold refers to a glitz imaginary wealth despite of the shapes of the furniture .
And because of my attitude to find the ideal and the real connections between various disciplines, I could not help comparing this experience with the concept behind the Dolce&Gabbana collection that show the iconography of Sicily on all of their dresses that are real sculptures and mosaics of golden tiles.
In this project Art and Design made in Italy is promoted.
I visited the small gallery set up for this Italian architect, Marcello Panza, in Naples where the event Wine & the city has turned on some of the different pixels of the city.
Small galleries, designer shops and enchanting rooms open their doors bringing in the streets secret and hidden contents.
The alleys and streets of the city suddenly become natural extensions of these places at open air.
Small dining furnished with care.
Made of recycled cans that become vases for flowers and cocktail. Tasty finger food .
All in a perfect marriage of exchange between art, design, photography and lots of creativity .
❤︎❤︎❤︎
"Nordico verace" è il titolo di una idea dietro una linea di mobili dal design basico e primitivo del passato a cui viene data una seconda identità.
Simboli, memorie e colori appartenenti ad un immaginario antico soprattutto del Sud Italia diventano come una seconda pelle e riportano in vita vecchi sapori, odori, suoni e voci.
E così una vecchia seduta si trasforma in uno scaffale contemporaneo o in una libreria.
Le superfici vengono decorate ispirandosi al patrimonio iconografico tipico dell'Italia Meridionale.
Vecchi decori di ceramiche, antichi pavimenti o ornamenti ancestrali che rimandano a corone e Santi dove la predominanza del colore oro rimanda a un immaginario di sfarzo e ricchezza, pur nell'essenzialità delle forme degli arredi.
E nella mia attitudine a volte un po' ossessiva di trovare collegamenti ideali e reali tra le varie discipline, non ho potuto fare a meno di paragonare questa esperienza al concept dietro le collezioni di Dolce & Gabbana che riportano l'iconografia della loro Sicilia su capi che sono vere e proprie sculture o mosaici di tessere dorate.
La piccola galleria allestita per questo architetto italiano, Marcello Panza originario del Sud e travasato al Nord,  l'ho vista a Napoli dove l'evento Wine & the city  ha acceso alcuni pixel della città.
E così piccole gallerie, negozi di design e stanze incantate aprono le loro porte portando in strada contenuti segreti e nascosti. I vicoli e le strade del centro diventano improvvisamente estensioni naturali di questi luoghi.
Piccoli punti ristoro arredati con cura e gusto predominanti.
Fatti di barattoli riciclati che diventano vasi per fiori e bicchieri da cocktail. Assaggi di cibo finger food.
Il tutto in un perfetto connubio tra arte, design, fotografia e tanta creatività.