If you're heading on a Grand Mediterranean cruise this summer, you'll be in the enviable position of having an amazing city as your start or end port: Barcelona!
The second largest of all Spanish cities, Barcelona is also the world's second most-densely populated city. Yes it is busy and somewhat noisy but it is also intrinsically alive.
There's nothing quite like the energy that Barcelona exudes; bursting at the seems with innumerable tourist attractions, a seemingly endless myriad of fantastic eateries and boasting a temperate climate England could only dream about, Barcelona really is the perfect holiday destination.
Consider spending a few days here, either before or after your Mediterranean Princess cruise, and enjoy the very best this gorgeous corner of Spain has to offer. While the sites and sounds of the city center will be hard to miss, we'll nudge you along two spectacular day trips to be had instead. So book a hotel, brush up on your Catalan and start (or end) your cruise in fabulous style.
Montserrat Mountains & Monastery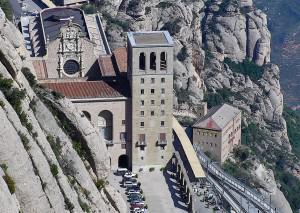 'La Moreneta", the patron saint of Catalonia, lives in the mountains just outside Barcelona; and enjoys some of the best views in the whole country. The Montserrat Mountains are about a one-hour train ride north-west of Barcelona, and home to some pretty bizarre rock formations. On a mountain top, almost 1300m in the air, sits the Montserrat Monastery, home to a venerated statue of the "Black Virgin Mary".
Once here, there are breathtaking views to be had (both of the cliff-top monastery and surrounding valleys) as well as plenty of mountain trails to follow , fresh air to breath in and a gob-smacking museum to visit. The Montserrat Museum houses work by Dali, Picasso and Caravaggio and would have to be one of the most idyllically located museums in the world! One can marvel at both Mother Nature's priceless creations, and some of the world's most valued art, all in one day. A visit to Montserrat is a truly unforgettable experience.
Enjoy the comfort of an English-speaking guided tour from Barcelona (but share your time and space with a group), or self-guide using public transport. The choice is yours, but we would lean towards the self-guided option here. You'll have all the relaxation in the world on Princess Cruises, so make a little effort to do this day trip on your own; you'll be so wonderfully rewarded.
Figueres & Girola
Now here's a day trip aimed specifically at Salvador Dali fans. Actually, never mind that. Even if you've never heard of Salvador Dali (where have your been hiding?) you should still consider this tour!
Dali was obsessed with all things visually distorted: clocks, giraffe statues, his own moustache etc, and is often regarded as the most prominent surrealist artist of all time. The Spanish Maestro was born in Figueres and this town, about 140km north-east of Barcelona, now houses the star's epitome collection in the aptly named Dali Museum. The building itself is a work of art, but it's the contents of the various collections which are sure to entertain, enthral, and sometimes baffle, all who take the time to visit.
If you decide to visit here on an organized tour from Barcelona (something we highly recommend in this case due to the distances), you'll also pay a visit to a special little town called Girola. This old, Roman walled town plays host to the 'best preserved Jewish quarter in Europe' and is an absolutely delightful city to get lost in. When booking a tour, make sure you pick one which includes entry to the Museum and lots of free time to peruse both towns at leisure.
Whilst it is handy to have an air-conditioned bus and an English-speaking guide at your disposal; no one needs to be baby-sat for the entire day! This can also be the only chance you'll have to get away from the crowds for a few hours.
Princess Cruises offer a lot more than just sun, sail and sea; take advantage of your ports of call and you'll be well on your way to having an unforgettable adventure.