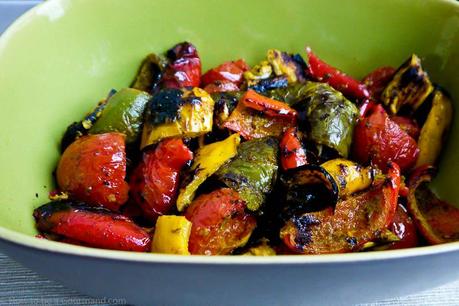 A Taste of Morocco
Not sure about your experience but I haven't been particularly fortunate when it comes to Barbeques. I don't own one but have always been met with sheer disappointment whenever someone is hosting a BBQ. The scent tends to overdeliver on the actual taste.
Let me set the scene; it's a warm, bright sunny afternoon, birds are tweeting, the lawn is a vibrant green colour; picture perfect for al fresco dining. All is well with the world, all I need now is a cold drink and some charcoal infused meat, dripped with their wonderful juices, wrapped up in a soft, floury bun. Ahhhhh….
What I actually end up getting is meat which is burnt to a crisp on the outside, cold and raw on the inside. Urgh!
It's true, I haven't researched enough in terms of what makes a good BBQ but I've been put off by all the horror stories so much, that I 've tended just to avoid them altogether. The only things I would tend to BBQ would be either fish or vegetables. I don't have a BBQ of course, so the next best thing for me is the grill. For those participating in National BBQ Week, this recipe for Aromatic Moroccan Salad can be prepared using the BBQ. Who knows? It may even conjure up thoughts of Marrakech!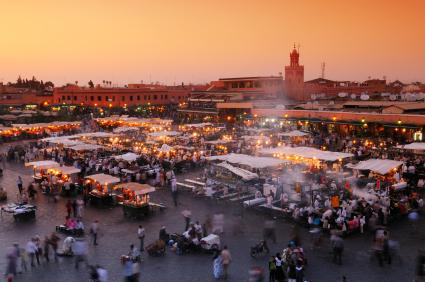 Djemaa el Fna Town Square, Marrakech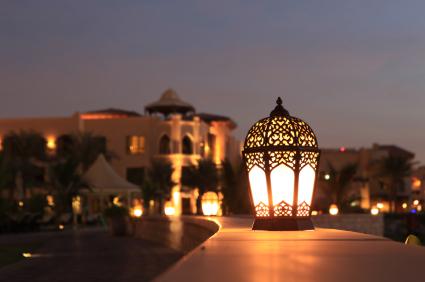 Have a bit of downtime, Moroccan style
This recipe has been adapted from Allrecipes.com. When I make this next time round, I'll probably replace the tomatoes with courgettes (zucchini) as the texture of the tomato means that it does not hold the marinade as well as the other ingredients.
Ideally, you want to be wearing polythene gloves to prepare the marinade. Being a complete numpty, I didn't and as a result I had yellow fingers and a yellow stained worktop. Not a great look!
Print Aromatic Moroccan Salad
Prep Time: 2 hours, 40 minutes
Cook Time: 10 minutes
Total Time: 2 hours, 50 minutes
Serving Size: Serves 2 for Main course with Couscous
With this recipe, allow extra time for marinating the vegetables and allowing them to cool post grilling/BBQ.
Ingredients
For the Salad

3 medium size peppers (red,yellow and green), seeded and cut in half lengthways
2 small aubergines (eggplant), peeled and cut lengthwise and then into 1 inch thick slices
2 plum tomatoes, cut in half lengthways
1 jalepeno chilli pepper (red or green), cut in half lengthways, remove seeds if desired

For the Marinade

1/2 cup of lime juice (I used 2 large limes)
1/2 cup of coriander (cilantro), leaves and stems, roughly chopped
4 cloves of garlic, pressed
35ml of olive oil
1 tsp of cumin powder
1 tsp of tumeric powder
1/2 tsp of red chilli flakes

Season with

1/2 lemon
1 tbsp of olive oil
salt
Instructions
Put the olive oil, cumin, tumeric, garlic, lime juice, chilli flakes, coriander into a blender and pulse until mixture is sufficiently blended.
Arrange the aubergines, peppers, chilli and tomato in a large bowl and pour over the marinade. Toss the vegetables around in the bowl to ensure they are well coated in the marinade.
Allow to marinate for at least 2 hours.
Pre-heat the grill.
Arrange the vegetables on the grill and cook for about 5 minutes for each side or until a blackened coating is achieved.
Remove from grill and allow to cool on a board.
When ready to serve, cut the grilled vegetables into bite-size pieces.
Add the vegetables to a serving dish and season with lemon juice, salt and olive oil
Notes
The flavours in this Moroccan Salad are quite intense, so it makes sense to serve it with something that has a subtle flavor. Following the Moroccan theme, some fresh couscous served with salad would do nicely.
Schema/Recipe SEO Data Markup by
ZipList Recipe Plugin
2.0http://howtobeagourmand.com/aromatic-moroccan-salad/Unless otherwise stated, text and photographs © 2011 How to be Gourmand. All Rights Reserved. Kindly request permission from the author to copy or reproduce elements of this blog.
Have you had any BBQ Disasters? I'd love to hear about them