Hi everyone,
It is summer time in India. It has started to get a lot warmer now. Once the festival of Holi is over it starts to get very hot and humid. If you are a follower of my blog you would know that I had visited The Professional Beauty India Make up Expo which was held in Mumbai last June 2014 and Aroma Magic had their own stall there with all the products for disposal and sale too. I wanted to try their products did not buy any but we were given 2 to 3 samples of products like a mask, face wash etc. Hence I thought would try some day. To my amazement Aroma Magic was kind enough to send me few products to test out. I have been using it for quite sometime now. I shall be reviewing Aroma Magic Grapefruit Face Wash in my post today. Read on to know more...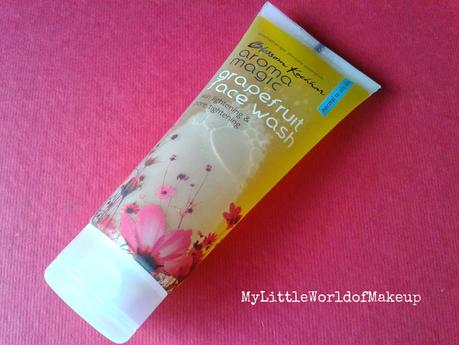 Price: Rs. 70 for 50 ml & Rs. 125/- for 100 ml. You can buy it here
Ingredients- Aqua, decyl glucoside, cocamidopropyl betaine, olive esters, cymbopogan martinii oil, aloe barbadensis leaf extract, grandis seed extract, citrus medica limonium extract, fruit derived beta carotene and citrus aurantium oil 
What does the brand say and how to use: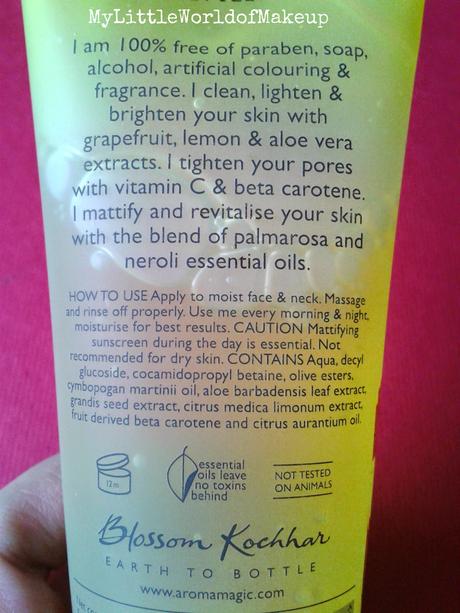 The face wash comes in a pretty looking squeeze tube which is  greenish yellow in color.It comes with a flip cap. It is one of the cutest packaging with pink flowers printed on the tube. The tube is semi transparent and one can easily look through the tube for how much product is remaining. Since it is very liquidy it can create a mess hence better if stored upside down. I love the cute packaging.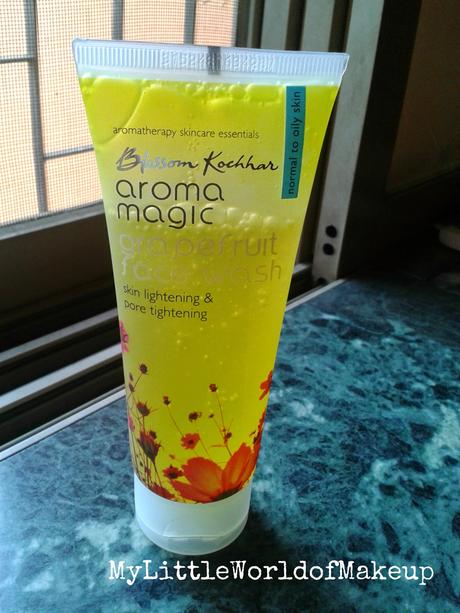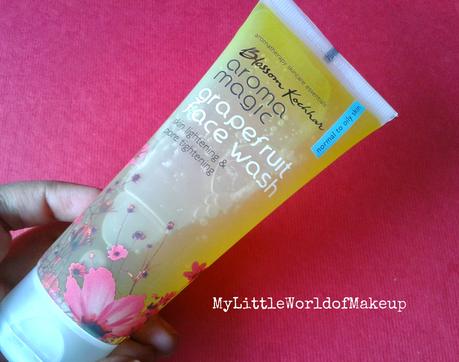 The face wash is almost yellow in color and very liquidy and gel like consistency. First thing first the smell ahhhh !! it smells like lemon and in fact a lemonade I would say. While opening the tube one needs to be careful as you may end up using more product due to its runny consistency. You need a small amount for the face and neck. It lathers well.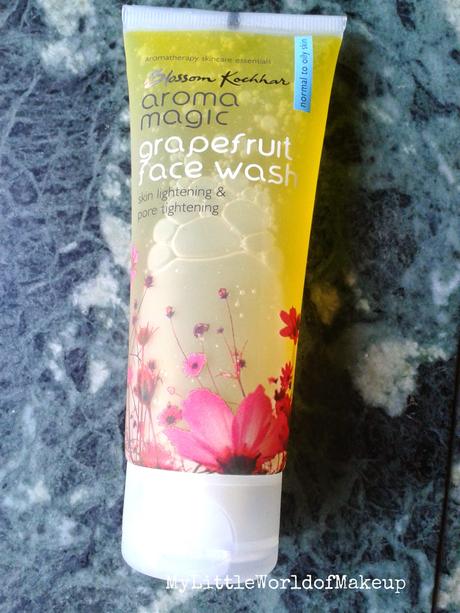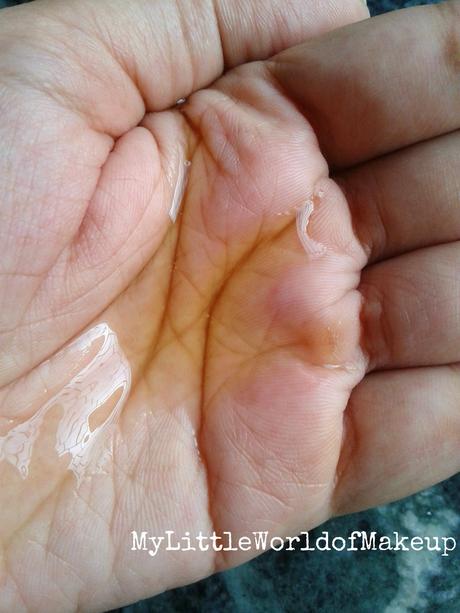 My skin is oily to normal just like what the face wash is for. Right now it is combination. My nose and forehead get oily. On the packaging it clearly says not for dry skin so that is one point to be noted. It cleansed my face super well I did not find it drying and the smell made me feels so fresh. The pores look less once you wash your face with it but if it  is hot and humid the pores will definite open up and ooze oil in summers. Hence using it 2 to 3 times a day is a must. Now what it claims it does about controlling acne I can't say as I get a zit probably 2 to 3 times a year (touchwood) and not frequently but since it controls the oil on the face and matifies it, it will definitely help in the long run. Since this face wash suits me I like it already.The Good:InexpensiveEasily availableNo parabens, soap or alcoholCleanses the face well.Brightens the skin tone over a period of time.Reduces the appearence of open pores over time.Smells so good just like lemonade.Loved the cute packaging.
The not so Good:Since it is liquidy can't say it would be travel friendly could leak.Not apt for dry skin.Rating: 4.5/5Aroma Magic Grapefruit Face Wash is my choice for a perfect summer wash as it cleanses, brightens and mattifies the oiliness on my face. Those with oily to combination skin this is a perfect bet for you. Go grab it right away!!
I hope you found this review helpful  & informative. Please leave a comment below with your inputs. As much as I want to visit everyone's blog it is getting so difficult due to lack of time it is not possible but I will try my best. New bloggers/visitors may leave their blog links for me to check out.Until next time..  Take care xoxo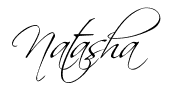 P.S: The product was sent to me by the brand for consideration but that does not affect my honest opinion of the product.