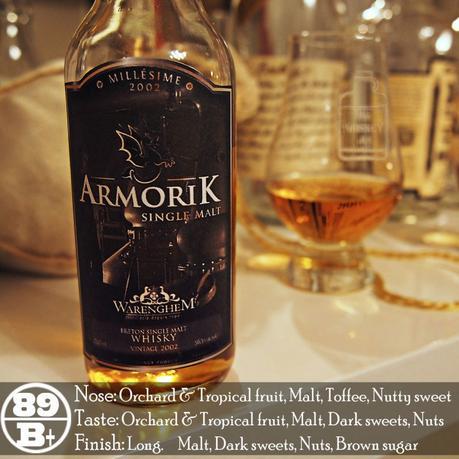 A few months ago I got the chance to try several Armorik releases and I enjoyed them all, but kept thinking that they'd be even better at a higher proof; enter Armorik Millesime 2002 (Armorik cask strength). This is an undiluted version of the Armorik whisky aged in both ex-Bourbon and ex-Oloroso casks.
Normally 46% is the proof I consider whisky to be really stepping into its stride, but the Armorik single malt seems to be a more delicate and nuanced spirit and as such would benefit from even less water being added to the whisky. This was my theory when tasting the others so let's see how that theory pans out when revisiting them next to the Armorik Millesime 2002.
Armorik Millesime 2002 Info
Region: Brittany, France
Distiller: Warenghem
Mashbill: 100% Malted barley
Cask: ex-Bourbon (7 years) & ex-Oloroso (4 years)
Age: NAS (11 Years)
ABV: 56.3%
Vintage: 2002
Cask Strength | Non-Chill Filtered | Natural Color
Price: $110*
Armorik Millesime 2002 Review
EYE
Copper
NOSE
Complex orchard and tropical fruit followed by waves of malt, toffee and a dark nutty sweetness that pulls in light notes of brown sugar, honey, graham and dried berries. An aroma that's as pleasant as you could ask for.
PALATE
Again it starts with complex orchard and tropical fruit followed by malty sweetness, dark sweets, toasted nuts, honey and bit of sherry sweetness. Light notes of brown sugar, spice and graham head into the finish.
FINISH
Long and malty with layers of dark sweets, nuts and brown sugar.
BALANCE, BODY & FEEL
Decent balance, full body and a round oily feel.
OVERALL
Tasting the Armorik Millesime 2002 next to the Armorik Classic it was clear… the Millesime is head-and-shoulders above it. Next to the Armorik Sherry it was a few steps up and a good step above the Armorik Double Maturation. Adding water does open it up a bit, but it doesn't take too much for it to start coming across as watery so don't add too much – go light with the water.
Yes the Armorik Millesime 2002 is a cask strength Armorik, but don't think of it like a cask strength bourbon or Islay whisky. Think of it more like a cask strength Speyside that naturally has a lighter character. This is definitely the best Armorik release I've had and would be more than happy to have a bottle in my collection at home.
SCORE: 89/100
*Disclosure: This sample of Armorik Millesime 2002 was graciously sent to me by the company for the purposes of this review. The views, opinions, and tasting notes are 100% my own.