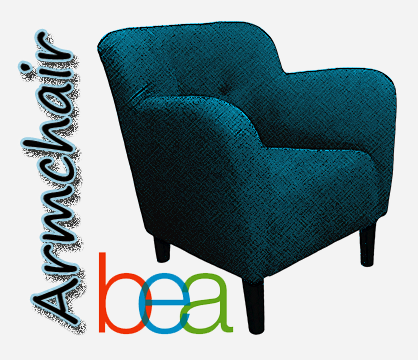 I'm getting started on this a little bit late because I wasn't really sure if I was going to participate. But after seeing a few of the posts that have gone up, I've decided to jump on in! Since I'm late getting started, I'm going to try to do a few posts over the next couple of days to catch up!
To find out more about Armchair BEA and to join in the fun, go here.
So this is my post for Day 1, starting with a little bit about myself!
1.
Please tell us a little bit about yourself: Who are you? How long have you been blogging? Why did you get into blogging? Where in the world are you blogging from?
I'm Emily, and I've technically had this blog up and running since 2009, though I've only started seriously blogging over the past year. I got into it because I reviewed new releases for an online arts & entertainment magazine and I wanted somewhere I could do the same for books that weren't brand new as well. Over time, though, I've discovered that I love participating in link-ups and writing the occasional discussion post, in addition to reviews. I'm blogging from the west coast of Canada. 
2.
Describe your blog in just one sentence. Then, list your social details -- Twitter, Facebook, Instagram, etc. -- so we can connect more online. 
 A place for me to talk about books as obsessively as I want without getting shushed! I'm on Twitter as @Backlist_Books, on Facebook here and on Instagram as @west_coast_kid.You can find all my social links in the sidebar over there --->
3.
What genre do you read the most? I love to read because ___________________ . 
Over the past year I discovered the YA genre, and I've been reading a lot of YA books because I feel like I have SO MUCH CATCHING UP TO DO!!! I'm starting to mix in more of a variety though, so you'll be seeing more "grown up" books reviewed as well. I love to read because... well, what don't I love about it? I love being transported to another world by a really good book. I love meeting characters I'd never come across in real life, an experiencing their diverse lives. I love that reading teaches me about the world and about what it's like inside other people's heads. I think it's as close to magic as you can get in the real world, and that my mental health always suffers if I'm not reading enough. Books are my teachers and friends. 
4.
What was your favorite book read last year? What's your favorite book so far this year? 
As I said, last year I discovered YA. Thanks to a little book I'm sure none of you have ever heard of (*sarcasm*) called
The Fault In Our Stars
by John Green. I know it's predictable, I know there's a ton of hype about it right now, but that doesn't change the fact that this was an amazing book and most definitely the best one I read last year. This year I've read a few really great books so far, so it's hard to pick just one! The top three are
The Storied Life of A.J. Fikry
by Gabrielle Zevin,
The Uncommon Reader
by Alan Bennett and
All My Puny Sorrows
by Miriam Toews (thanks, Karen!)
5.
Spread the love by naming your favorite blogs/bloggers (doesn't necessarily have to be book blogs/bloggers). 
There are so many amazing book sites and blogs out there, many that I haven't discovered yet, that it's hard to make a manageable list. But here are a few I've enjoyed in the recent past (in no particular order): While these are the first to come to mind at the current moment in time, this is by no means an exhaustive list. Check out my blog list over in the sidebar for more! ------>
6.
Share your favorite book or reading related quote.
I'm going to cheat and pick a few:
"You can never get a cup of tea large enough or a book long enough to suit me." - C. S. Lewis
"Outside of a dog, a book is a man's best friend. Inside of a dog it's too dark to read." - Groucho Marx
"Sometimes, you read a book and it fills you with this weird evangelical zeal, and you become convinced that the shattered world will never be put back together unless and until all living humans read the book." - John Green, The Fault In Our Stars
That was one more than the required 5, so I'm going to stop there! If you've written your own BEA intro post, share the link and I'll come check you out, or feel free to share some of your own answers to these questions (particularly quotes - I LOVE book quotes) in the comments!