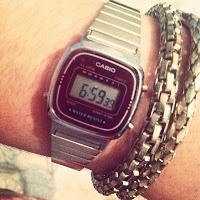 Hi everyone!
 I received this lovely old school Casio watch in the post this morning from a wonderful company called The Watch Hut. The Watch Hut are a company that sell branded watches at bargain prices. They were kind enough to send me this beautiful silver 
Casio
 bracelet watch. I have seen these in Urban Outfitters and have never picked one up so I am glad I was sent this product. 
The product came in a postage packed in a plastic watch container. The watch itself has a silver band and silver round the face rim. The frame on the watch face is dark burgundy. I think this watch is easy to style and provides a vintage feel to your outfit. I personally think the watch might need a link removed as it is a bit big around my wrist. In my opinion this watch is perfect for casual outfits and looks great layered with bracelets. The watch is very lightweight and is easy to fasten. I will most likely style this piece with a basic t-shirt, skinny jeans and a large tartan scarf. 
The delivery of this watch was extremely quick, I received the product within a week of sending my details over to the company. I recommend the Watch Hut company to anyone looking for a new watch or searching for a gift for someone special.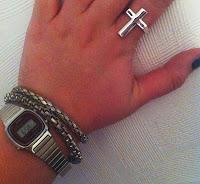 Keep smiling!

xxx