After a lazy start this morning we set off for Wicklow Gaol. All the usual jokes were coming out, 'watch it Jimmy, they won't be letting you out!', 'I haven't had breakfast yet, I'm going for porridge!' And they were still finding the same jokes funny after they'd been repeated 7 times! Don't get me wrong, they are lovely people, but I do get sick of the repetition! We initially had two guides in traditional costume to introduce us to all the things we'll be seeing and the history of the place. The gaoler immediately picked on jimmy for wearing an Aston Villa shirt, and later because jimmy had said he'd been shoplifting but forgotten something! We were there for an hour before leaving with our release forms!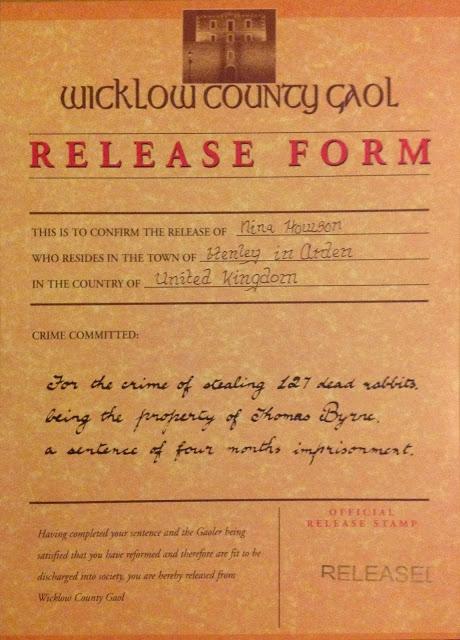 From there we headed inland to Tinahely. The countryside in this county is stunning and there were some fantastic views along the journey. 

We had lunch in O'Connors pub followed by lots of Guinness for most and unaccompanied singing on the microphone.

After dinner we headed out to Annacorragh where we had been invited to an irish gathering. On the way the group were informed that the gathering was held in the church hall and so there was no bar! There was uproar! Can you imagine telling 50 paddy's there will be no beer for the evening! When we arrived, everyone was glad to see the pub opposite! I went in to watch the dancing first. It was all what they call 'set' dancing. I suppose I would describe it as a cross between line dancing and irish dancing except you have a partner. The couples make up groups of varying numbers depending on the dance, and they all interact with each other within their group to a 'set' dance where each movement is announced by a caller on the microphone. It was very energetic and completely mental!

After watching a few dances I made my way to the pub and was surprised at how few of our group were in there! By 11 O'clock, everyone was in there although the dancing hadn't finished. We arrived back at the hotel just before 1am and I am grateful for another late start tomorrow. All in all, another good day today, although quite uneventful. I can't imagine tomorrow will be very exciting either as we're only going out shopping. But at least it should be an easy day.