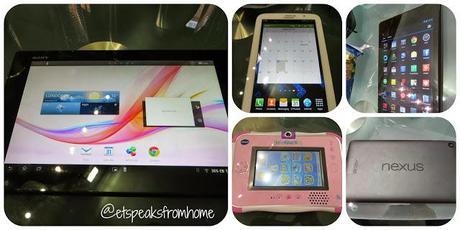 Yesterday, I was invited to attend Argos' Top Technology Predictions for Christmas hosted by Markettiersdc4.  There are a selection of tablets and accessories for us to play with.  It was great to play with them and understand their functionality.  I am an iPad fan but I do use an Android phone.
First up is the CnM Touchpad £249.99.  It has a fantastic 13.3" capacitive screen with 10 multi touch points, dual core processor, quad core graphics giving a superb viewing experience.  It come with dual cameras 0.3MP and 2MP which are ideal for using Skype or taking quality photographs whether for business or leisure.  The powerful 10,000mAh battery will give up to 6 hours use (depending upon application).
Other specifications:
•   1.6GHz Cortex - A9 processor.
•   1GB RAM.
•   16 GB internal storage.
Samsung Galaxy Note 3 £599.95 
This is my favorite.  It is a cross between a phone and a small tablet and is very stylish.  It comes with a 5.7 inch screen and a 13 megapixel camera.  The new S Pen reinvents and modernises the classic note-taking experience by allowing you to do everyday tasks in just one click.
Other specifications:
•   32 GB internal memory, expandable with a memory card of up 64 GB.
•    
3 GB RAM
•    
1080 x 1920 pixels Super AMOLED display
•   Quad core processor
Samsung Galaxy Tab £139.00
Make the most of all your multimedia content and discover great new unlimited entertainment with the Samsung Hubs. You can discover all the latest and best books, music tracks, videos and games.  It comes with a 7 inch screen and 1.2GHz processor.  It is slim and very light.  I think they are great for teenagers as it is relatively affordable.
•   1GB RAM.
•   8 GB internal storage.
•   Android 4.0 Ice Cream Sandwich operating system.
Nexus 7 £159.99
The ASUS Nexus 7 is all about having your favorite things available, even when you are not close to WiFi.  It features a mobile data connection that allows you to access your favorite media content in non-WiFi areas.  The 7 inch screen is the perfect size screen for commuting - small enough to fit into your pocket or bag. 
•   1.2GHz NVIDIA - Tegra 3 Quad-core processor.
•   1GB RAM.
•   16 GB internal storage.
•   Android 4.2 Jelly Bean operating system.
Bush Mytablet £99.99
Bush MyTablet is a sleek 7 inch tablet designed for fun and tailored to you, with free pre-loaded games and apps, social networking, internet browsing, and a home screen that you can personalise with your favorite apps, photos and with your name.
•   1.6GHz processor.
•   1GB RAM.
•   8 GB internal storage.
•   Android 4.2 Jelly Bean operating system.
Sony Xperia £79.99
Experience the brilliance of the fantastic Sony Xperia E mobile phone offering high definition entertainment in a premium design. Xperia™ E's elegant design with precision-crafted co-moulded aluminum frame looks beautiful and feels superb and with a 3.6" screen which is so vivid you will feel like you're really there!
VTech InnoTab (kids) £49.99
This multimedia handheld tablet combines educational games, creative activities and e-books.  The InnoTab features a built-in twist camera, 5 inch LCD touch screen and G-sensor for fun game play.  This is perfect for younger children.
Leapfrog (kids) £109.99
The LeapPad looks like your tablet but it's kid-tough with an ultra-tough frame and friendly controls.  They can write, draw, take photos, make videos and have access to 500+ games, eBooks and music which have all be approved by LeapFrog learning experts. The browsing option even has parental settings for easy fine-tuning. 
Personally, what I look for in a tablet is one which will endure and be used for a few years.  I would be more inclined to go for the 
Samsung Galaxy Tab
 for example rather than a 
kiddie tablet even though they are possibly more durable than adult tablets.  It is relatively affordable, the screen is brilliant and with the wealth of Android apps, it can be used by all the family.  It is lightweight and easy to use too.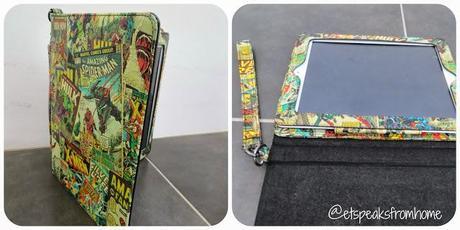 I also received this Marvel iPad case from Argos for my iPad.  Any Marvel fan will sure love this casing!  My son was so excited and ask if he could have it.  Even though this casing is for the iPad 3, my iPad 2 managed to fit in nicely.  It is made from thick material which it great to provide good protection around the tablet.  I love how the Velcro works to create a different angles for when you want to stand the iPad up.  It also comes with a small pocket and a carry strap. 
Thanks to Argos and Markettiers4dc for putting up a great event for us to check out the latest technology.
Disclosure: I had received a goodies bag for this event.  I am a member of Markettiers4dc.