… and seared skirt steak!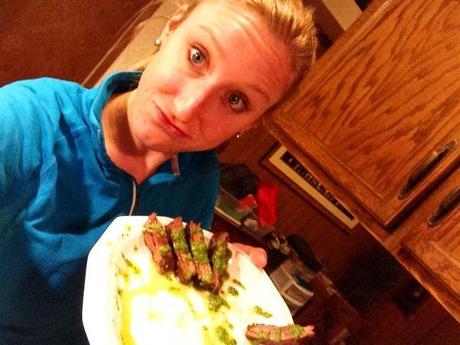 Mhmm… Argentinian.
That's right!
Hello! Welcome to Sauce Week!
Sauce week has already turned out to be cray-cray good! I think everyone at this end is muy feliz (very happy) and full.
I can report that we ate the steak and chimichurri sauce with our fingers, the green beans straight out of the pan, and the bread was for trying all the left over juices. It was messy classy!
Chimichurri sauce is a raw sauce. Raw sauces are a type of sauce that require no cooking. All the ingredients are raw. This doesn't mean that what you put it on has to be un-cooked, just all the ingredients in the sauce. Spike says that chimichurri sauce is best on seared meats. It doesn't have to be beef, just a meat that has a good seared/barky flavor to it.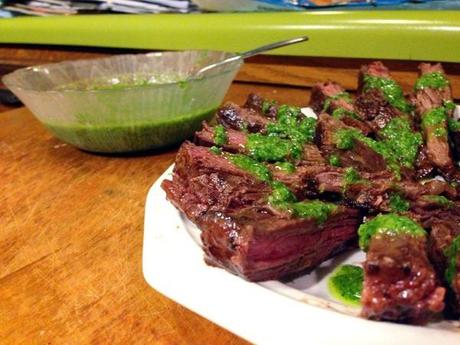 Things I did in this recipe that I'd never done before…
I used the Cuisinart Food Processor for the first time (thank you Santa, you did good!!!)
I know what fresh oregano looks like
I used a cast-iron pan
I now know what tarragon tastes like
I've made something Argentinian, which just sounds sexy!!
Argentinian Chimichurri Sauce and Seared Skirt Steak
Spike teaches this recipe and it can be done in 15 minutes with prep. I think it serves 4 people when on meat and paired with bread and veggies. But It would make a fab. appetizer!!!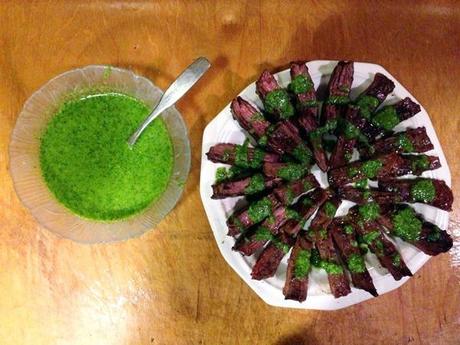 Ingredients
1 shallot, peeled and chopped into big pieces
2 cloves of garlic, crushed
3 TBSP red wine vinegar
juice from 1 lemon
1/2 tsp lemon zest
1/2 tsp chili flakes
1/2 bunch fresh chives
1/4 bunch fresh parsley
3 sprigs thyme
3 sprigs tarragon
2-3 TBSP fresh oregano leaves
salt and pepper
1 1/4 cups evoo
1 skirt steak
Directions
Heat a grill, cast iron grill pan or skillet to medium high heat. Season the skirt steak with salt, pepper and a drizzle of evoo on each side. Place on the grill (cook 3-4 minutes on each side, or longer for more well-done meat)
While the skirt steak grills, thrown the shallot, garlic, lemon zest and lemon juice, and half a cup of evoo into a food processor or blender. Blend until smooth. Add the herbs and pulse until the herbs are chopped and well incorporated. Add the rest of the evoo, chili flakes, and vinegar. Blend until smooth. Taste and add salt and pepper if needed. Top the steak!!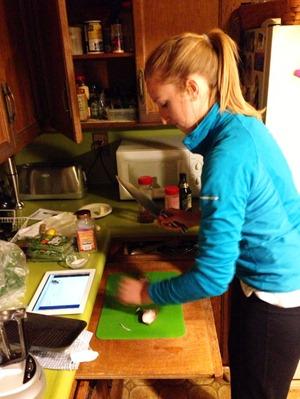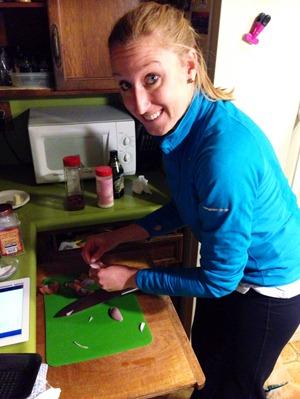 Santa brought me a food processor and I've been dying, just dying for a reasonable reason to use it. I could have made about 18 vats of Caesar dressing by now, but I chose to be responsible and wait until I actually needed it. Tonight was the night. Chimichurri sauce was the first thing I food processed!!!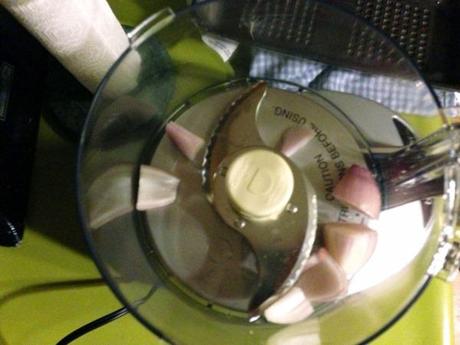 Very exciting!!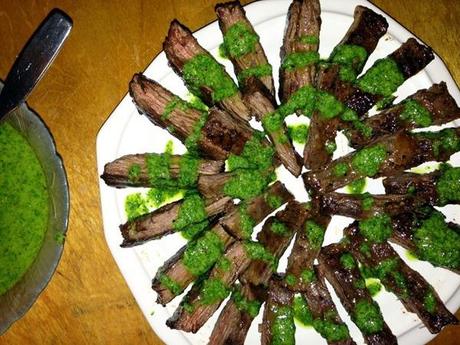 A little novice cooking person's tip I'd like to add to this recipe is…
if your chimichurri sauce is a little thin after your final phase of blending, that's okay. Just add a little bit more herbs. I did it and it worked out. We actually liked the flavors better after the added herbs.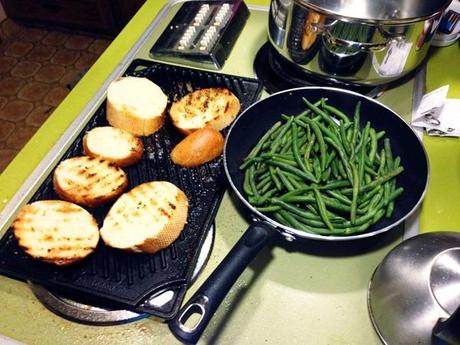 At the last minute we threw some sliced french bread on the cast iron grill and I steamed some green beans. The green beans were a gamble but I thought they tasted really good with the sauce.
Let me tell you!!! I Google searched 'veggies to eat with chimichurri sauce' for almost an hour. This topic is very heavily debated by just about everyone and no one agrees!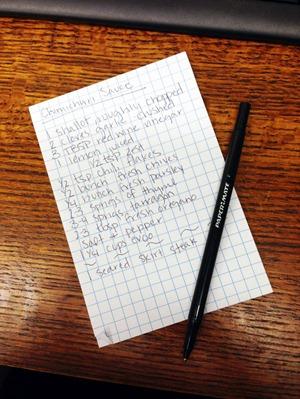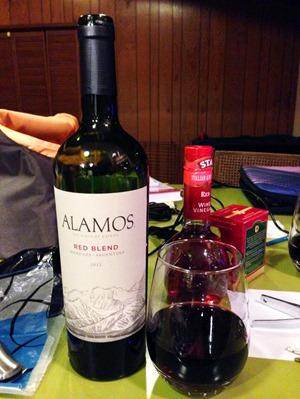 I've been trying to pair wine with each of the recipes so far. I haven't done great. They've all been tasty on their own, but with the food… not so much. This Argentinian blend was PERFECT with the chimichurri sauce!!! SCORE one for the Normal Wine People!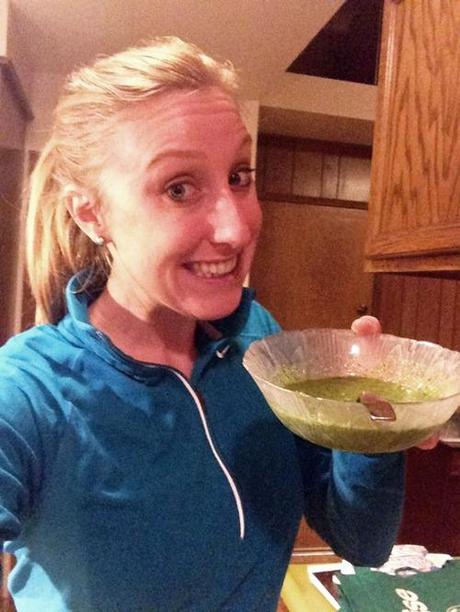 I'll ship some to you! Send me your address!
Next is marinades!!! Get ready.
Tell me about you!!! I want to know…
Have you ever made anything Argentinian? and felt sexy?
What are you having for lunch today?
I'm already secretly planning my lunch-capade
Have you had chimichurri sauce before? What did you have it with?