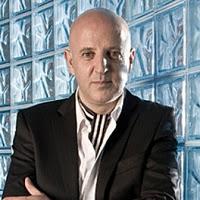 While browsing through many fashion show slides last weekend I bumped into a very talented Argentinean designer, usually I get distracted by the super powers of the "super designers" such as Karl Lagerfeld, Valentino, Dolce & Gabbana but if you look around at your local "fashion week" you will be surprised to find amazing new talents showing a refreshing taste in fashion.
Fabian Zitta is not only a fashion designer he is a doctor as well. Since 2004 Zitta Costura has shared  its unique "demi-couture" style with a classic retro line with a perfect Avant Garde touch. What does this really mean? Just like the french fashion terms "Haute-couture" (High Sewing) or the very famous "Prêt-á-porter" (Ready to Wear), "Demi-Couture" (Half Sewing) is a mixture of custom made with ready to wear garments, making his designs a 75% machine and 25% hand made.
His collections have been in Cibeles (Spain), Moscow Fashion Week, Argentinian Fashion Week in Panama and a showroom in Brazil,  Buenos Aires Runway and for the first time in 2010 he had the opportunity to participate in New York Fashion Week SS10. Have a look!