In my quest for going au naturel in the products that I use for my face, hair and body, I chanced upon this post about the use of Moroccan Argan Oil. It's interesting the facts that surround this very expensive oil.
No, it isn't an essential oil. Yes, it comes from the argan tree that grows only in Morocco (and is now considered endangered by the UNESCO) but how it's extracted is the fun part.

Argan oil extraction is a project for the women of Morocco, particularly the Berbers. The oil is extracted from kernels inside the nut from the tree. The nuts are very hard to crack and cannot be processed by a machine so it has to be manually done. Not sure if this is true, but they say that goats climb up the argan tree, eat the nuts and the kernels are produced from their excrements (disgusted yet?) that the women gather and process for argan oil. This reminds me of the Kopi Luwak gathered from monkey's feces!
Anyway, I read about Argan oil and its benefits from a blog whose owner I found that I share the "natural-only" belief with. Her tips in this particular post are very useful especially on which BB creams and peels to use, and of course, the argan oil.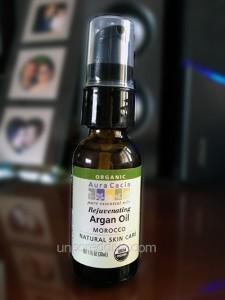 I couldn't find the Josie Maran bottle that she featured, but I did find the Aura Cacia Organic Argan Oil (that claims to be 100% pure) at Healthy Options, Shangrila Mall. The 30ml bottle set me back Php 950. I've been using it on my face as a moisturizer for a few days now and it does get absorbed rather quickly (compared to the almond oil that takes forever to dry). I hate putting stuff on my face and I very rarely use make up, or any moisturizers and creams for that matter. So the 2-3 drops of argan oil is a very good alternative for me. Not only does it save me time but I found that it actually works its magic. No wonder they call it "liquid gold"! It's an all-around natural "food" for the face and hair. My sister whom I was just talking to on FaceTime earlier asked me if I had been working out because my face glows. I did work out this morning, but I think she was seeing the effects of the argan oil

. Read more about the benefits and uses of the miracle oil here.
Well, if it's going to replace all the anti-aging creams and moisturizers out there (that I frankly do not use), then I'm definitely going to stick with this. Even if it comes at such a hefty price tag, think of all the money we save if we only had to use one (natural) product instead of a multitude of (synthetic) ones!