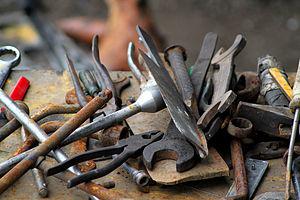 Tools (Photo credit: Wikipedia)
A warning quote on talent for this hump day by Ethel R Page,
"As tools become rusty, so does the mind; a garden uncared for soon becomes smothered in weeds; a talent neglected withers and dies."
This is a good call to us all – are we using our talents? How can we use them more?
You Create Your Day by the way You Think! Be Present!
Go make it a Magnificent Day!
Blessings, Shawna Schuh