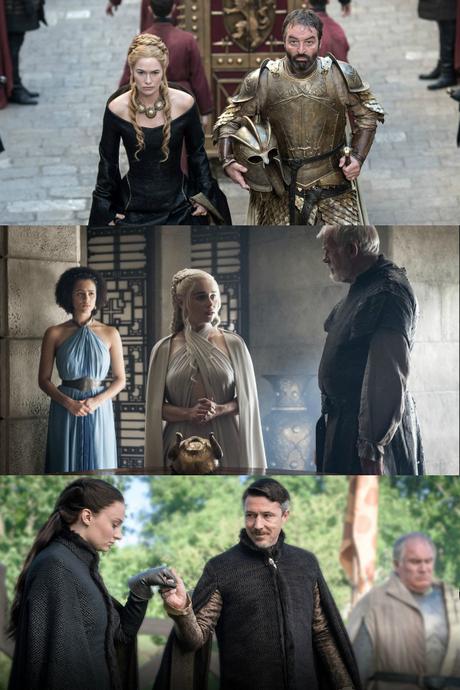 Game of Thrones Season 5 hit the UK TV screens one day after the US last Monday and the fifth season is proving to be as good as the previous ones. 'The Wars to Come' episode took off just where the Season 4 ended with some of the most unlikely alliances. One of them is definitely Sansa Stark's (Sophie Turner) and Littlefinger's (Aidan Gillen). *Shivers*

Another one will definitely have to be Tyrion Lannister's (Peter Dinklage) and Eunuch Varys' (Conleth Hill) unexpected alliance. At the end of last season Varys smuggled Tyrion away from King's Landing after Tyrion killed his father. Now in safety Tyrion is happy to drink himself to death, but Varys has big plans for him with Queen Daenerys Targaryen (Emilia Clarke). Intriguing!

In Meereen the Dragons remain locked up in the dungeon for now. And looks like they are going through their 'teenage years' as when visited by the Mother of the Dragons they did not want to talk instead they just started spitting fire – literally… The Unsullied are also under attack by a masked gang. On the positive side Daario Naharis (Michiel Huisman) is back at the Queen's side and in her bed.

In Castle Black things are not going well either. The King Beyond the Wall Mance Rayder (Ciarán Hinds) has a choice either to kneel to One True King Stannis or burn alive. Poor Jon Snow (Kit Harington) has the miserable task to try to convince the Wildling King to pledge alliance to King Stannis (Stephen Dillane). Mance is not playing ball and is more worried about screaming when burning in front of this people. Nothing good follows and the fire is set by the resident-evil Melisandre (Carice van Houten). Jon Snow – being Jon Snow – shows mercy by firing an arrow to Mance's heart and killing him before the flames reach him. I fear this does not pave a smooth path for Jon Snow in the future.
Where's Arya (Maisie Williams) and Bran Stark (Isaac Hempstead Wright)? And what is Cercei (Lena Headey) up to after her father's death? All questions that will be answered soon enough as I continue to be completely hooked on Game of Thrones.
Check out Game of Thrones Season 5 trailer here:
Catch Game of Thrones Season 5 Sunday nights in the US on HBO and Monday nights in the UK on Sky Atlantic.
Photos: HBO