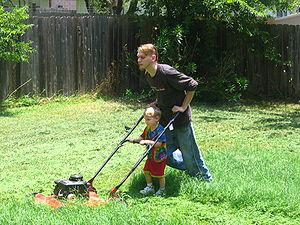 Frysk: Jonge dy't it gers meant. Nederlands: Jongen die het gras maait. (Photo credit: Wikipedia)
Grant Wood said something that made me smile about ideas,
 "All the really good ideas I ever had came to me while I was milking a cow."
People don't do that anymore so what can we replace cow milking with?
Walking the dog, mowing the lawn – what do you do that is simple and physical that lets your mind wander and work?
And more importantly – when you go about that walk, or mowing, or washing the car – can you set yourself up for idea success by starting off with a positive spirt?
It seems ideas show up most for those people who are open, curious and ready.
You Create Your Day by the way You Think! Be Present!
Go make it a Magnificent Day!
Blessings, Shawna
www.RelationalResults.com